Bog oak is a type of wood that can be called a pure treasure obtained in Poland. This is oak wood that has been under water for at least several hundred years. Oak wood contains tannins that react with iron salts present in water or soil, turning the wood gray black to dark blue black. Such a precious and beautiful material is used in our workshop to create unique table tops.
Poplar Burl is nothing more than a material formed as a result of swelling of the trunk. Growths, thickenings and bulges form on the tree, causing the arrangement of wood fibers and the grain pattern to change significantly. Under the bark, therefore, characteristic patterns are formed - spots, small knots, spiral patterns. Such wood is healthy, but with a definitely changed structure. This turn of events makes burl wood highly valued for its uniqueness.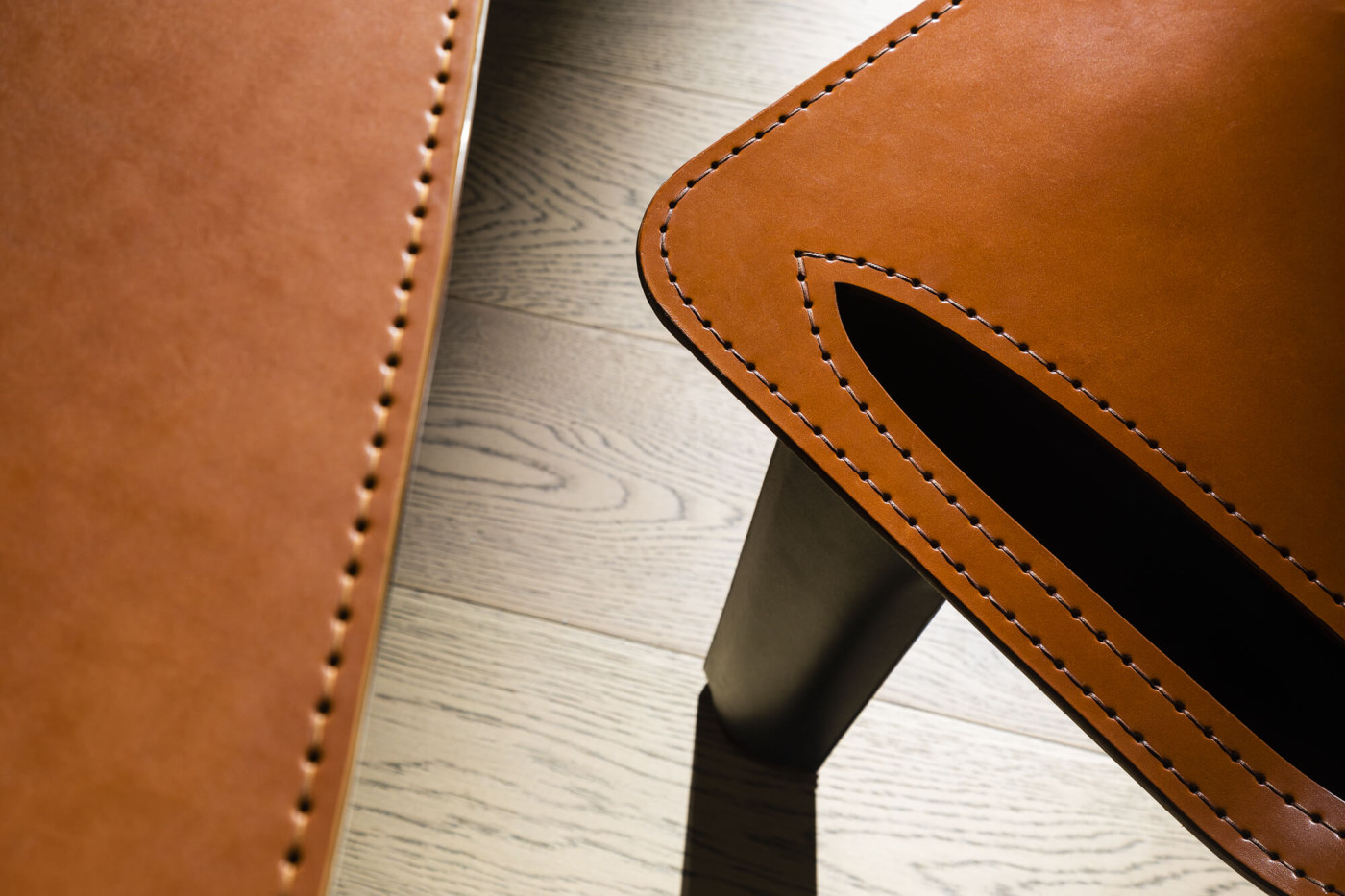 Artistic craftsmanship is an art enchanted in everyday objects. Although nowadays it is losing popularity, mainly due to the decreasing number of professionally oriented manufacturers and widespread mass production without much attention to quality and detail.
Leathercraft art is characterized by its uniqueness. The items are made by skilled craftsmen in their workshops using traditional technologies and the highest quality grain leather (grain leather is the most durable type of leather. It is made from the top layer. It is from this material that the finishing elements of our objects are sewn) - usually by hand and simple tools. Applied art differs from mass art in that its items are made individually, for a specific and unique purpose. There are no two identical objects, each has an individual character and its own soul.
Queen of them all - stainless steel which is used to create the mirror finish. It's our expert technique that we use to create high quality objects. As a result of this polishing, the stainless steel has a high reflective surface. This gives it a modern, clean and fresh look that is a good fit almost all architectural kind of designs. The mirror polished stainless steel that we use is ideal for design elements both inside and outside.
Zinc spray metallization is used in the industry mainly to protect the metal against factors associated with the formation of corrosion. We see beauty where others do not see it and we appreciate this technique because of its interesting aesthetic values. After metallization, the metal gains its original color, amazing grainy structure and is protected.
Brushed stainless steel is obtained in an advanced, abrasive finishing process. Thanks to this treatment, it is easier to bring out the surface structure, but this happens without losing the thickness of the element. The device used for such processing is the so-called satinist. It is equipped with special rollers with appropriate granularity. Thanks to the gradation used, the rollers do not damage the surface, but only make it visually change - brushed stainless steel takes on a satin finish.
Corten is steel that is covered with a characteristic rust-colored patina. The rusty coating on the steel is both a decorative element and anti-corrosion protection. The oxide layer forms a barrier to further corrosion. It is said that "corten is alive" - ​​that is, it constantly changes its color depending on factors such as humidity, sunlight, time, etc. The new corten sheet is gray, after it starts to cover with oxides, e.g. when using Cortenol, it changes color to light red - rusty. Over time, it darkens to brown and eventually may even turn black.
Copper is one of the earliest metals used by man. Thanks to its properties, such as unusual color, lack of corrosion and antibacterial properties, it is often used in industry. At the customer's request, we also make our objects in this material. Poland is home to one of the largest copper deposits in the world.
Art glass tabletops are unique. Created in short series, each time they retain their uniqueness due to the manual and original process of building the mold and casting the glass. The massive, over 3-centimeter thickness of the top, combined with great properties - transparency and delicacy of texture and color - creates a unique product on a global scale.

Those who prefer simple solutions can choose a classic solution, which is crystal clear, smooth and uniform glass of the highest quality and transparency.
Concrete tabletops and countertops are currently a strong trend in the interior design of kitchens and bathrooms in a minimalist or loft style. The tops that we order are made from the beginning to the end of the highest quality raw materials from Polish suppliers. The top layer is smooth, finished by a careful polisher. The concrete worktop has natural discolorations and abrasions for this type of material, which give it an individual character.
We are not only inspired by nature, but we eagerly reach for the treasures it offers us. We offer a selection of stones that can be matched to tables and consoles as a top, for example diorite or quartzite. These stones are famous for their exceptional strength and beauty. What is most remarkable is that each piece is unique. In addition, such an object literally connects the past with the present, because such stones date back hundreds of millions of years.