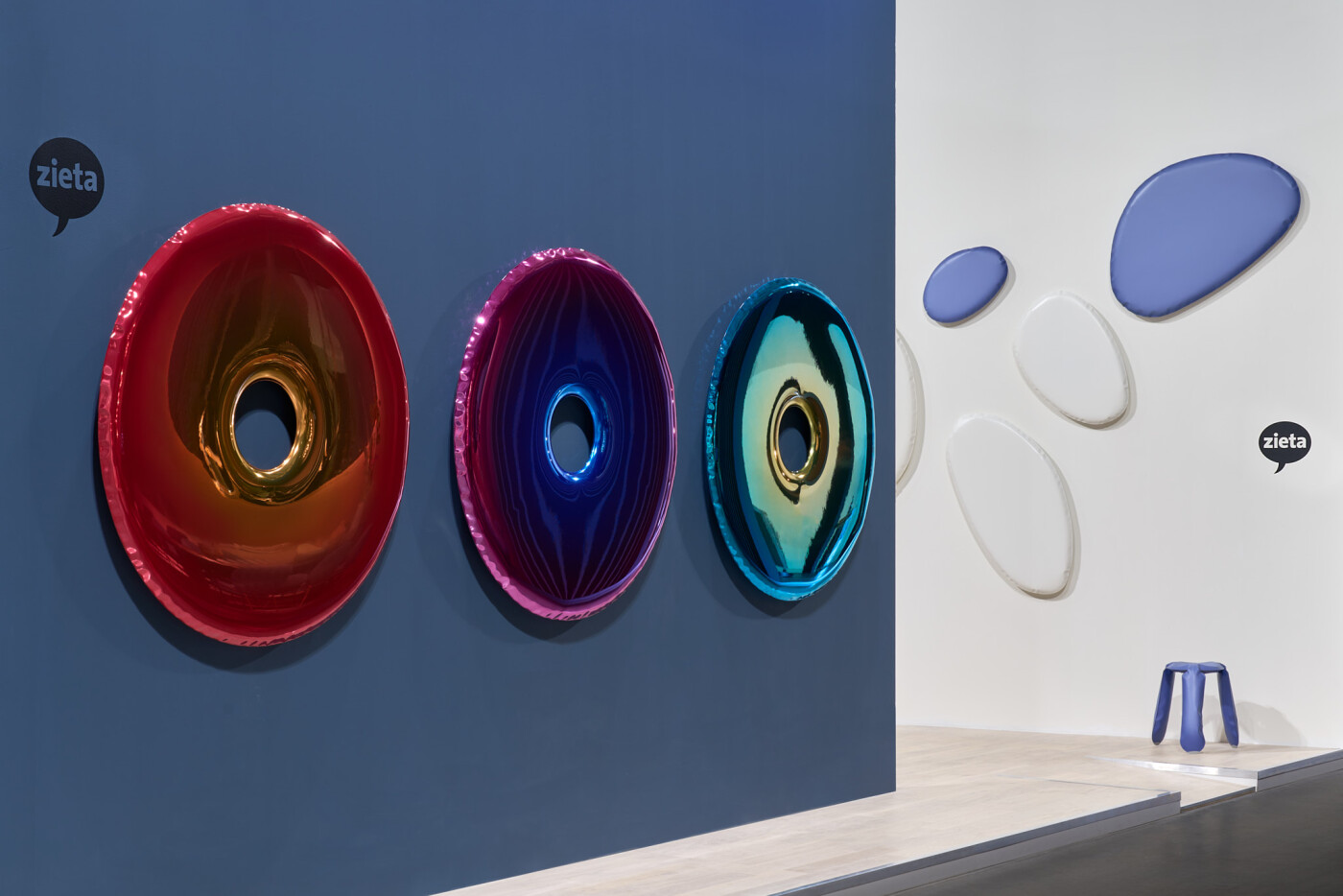 The fair was a superior opportunity to meet prominent brands and figures from the field of design, lighting, art, technology, performance, education, and communication. During this week in April, the whole city teemed with designs in various shapes. Besides exhibitions and presentations, a number of discussions, meetings, and lectures was held.
Many thanks to our dear partners:
Ridex
,
Barlinek
and
Jan Kath
who helped make our stand at the fair even more beautiful and to
Michał Mazur
for capturing it in a perfect way in photos.
The eye-catching but intimate architectural form of
TAJDO
is an innovative, semi-transparent partition wall or decorative element that complements the aesthetics of unique interiors and is widely customizable.
The
COTTON CANDY collection
in its extended arrangements: the cottony matte finishes drive the steel surface into different perceptual dimensions.
Oskar Zięta's mirrors framed in bionic shapes always provoke. In their flexible deformations they refract light in an unobvious way, creating an unusual experience for the senses—now broadened with new gradient finishes driven by Zięta's admiration for all things cosmic. They enrich the Inox mirrored surfaces of
RONDO
objects and expand the
TRANSITIONS collecion
with the shape and shade of
HELIX NEBULA
.
Zieta Studio presented a new, characterful offer of accessories, with the main role of ZIETA VASES, which complete, continue, or expand the narrative of steel reflections.
Also not to be missed is the continuing story of CRASH—objects with ambitious and advanced manufacturing—in the form of the unique
CRASH table
.
All of Zieta Studio's objects are based on the fundamental value hidden in the manifesto "less is less": technological studies in lightweight index optimization, advanced technologies of volumetric expansion of metal, and parametric algorithms. All of these sum up to a narrative of constant reduction of material, energy, and data usage. Oskar Zięta's works are therefore not only a detailed narrative about aesthetics and form. In parallel, they also pursue a social dialogue about responsible consumption and production for the sake of future generations.
Once the chapter on horizontal surfaces is touched, HUBA console must also be mentioned as the premiere from the consoles category just like the well-known
G-Console
in light blue finish.
Zieta Studio's presence at the 2023 Salone is a continuation of the ultralightness manifesto—the ULTRALEGGERA family with its full lightweight potential. This concept has been developed from the side of the award-winning ULTRALEGGERA chair, when Oskar Zięta first took up Gio Ponti's Superleggera challenge.
Last but not least, a new chapter in a totally new line of objects, ZIETA LUMINARIES are a superior fusion of craftsmanship, technology, and fascinations with light. The collection is the result of a study of the proprietary
FiDU technology
potential in lamps as well as its smooth junction with traditional metal spinning technique.
The Italian gathering around the best of world design—has just ended, enriched with the 23rd edition of the biennial Euroluce, which returns to Milan after four years. Continuing the worldwide narrative from former editions of Salone del Mobile.Milano, social and environmental issues played a major role.