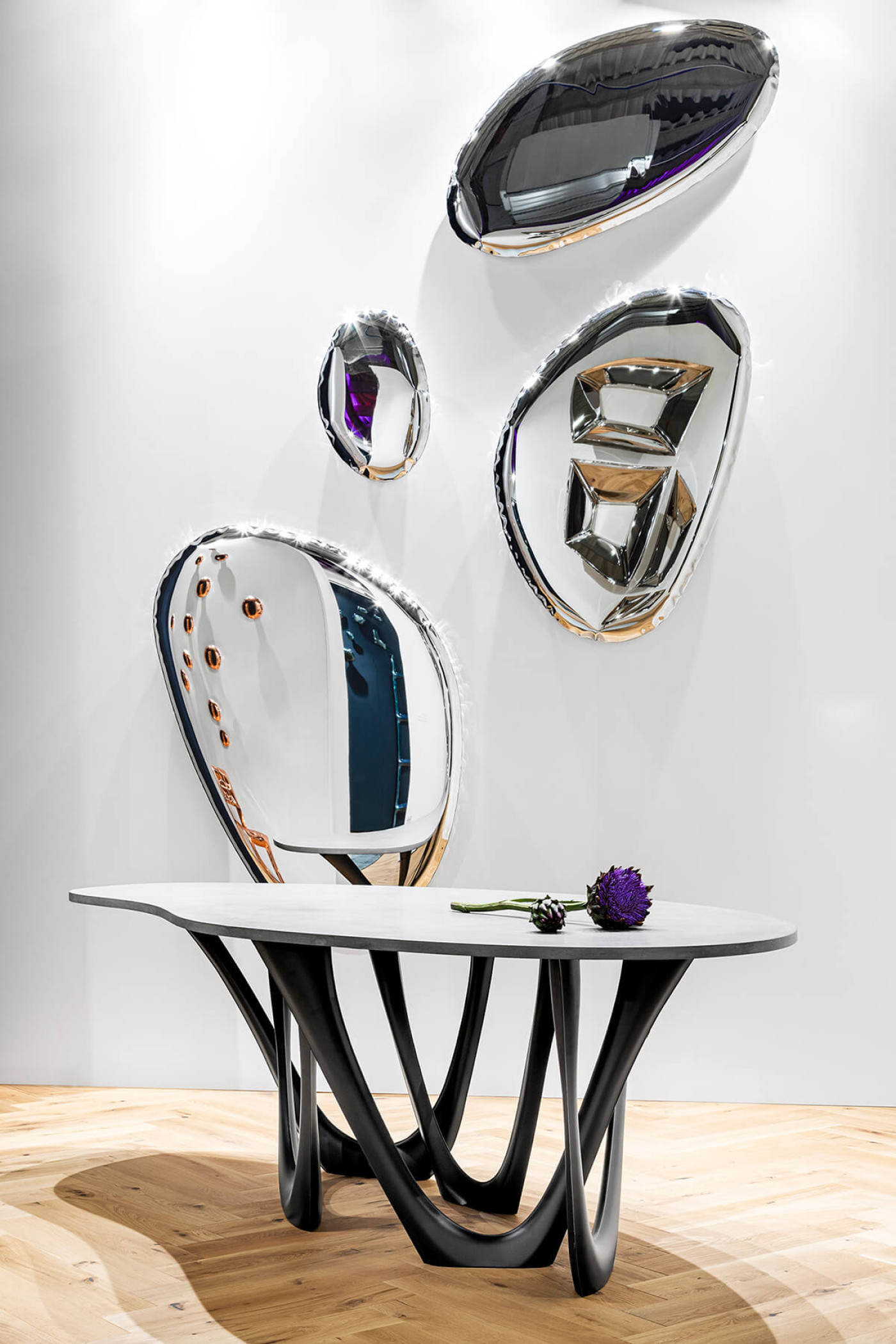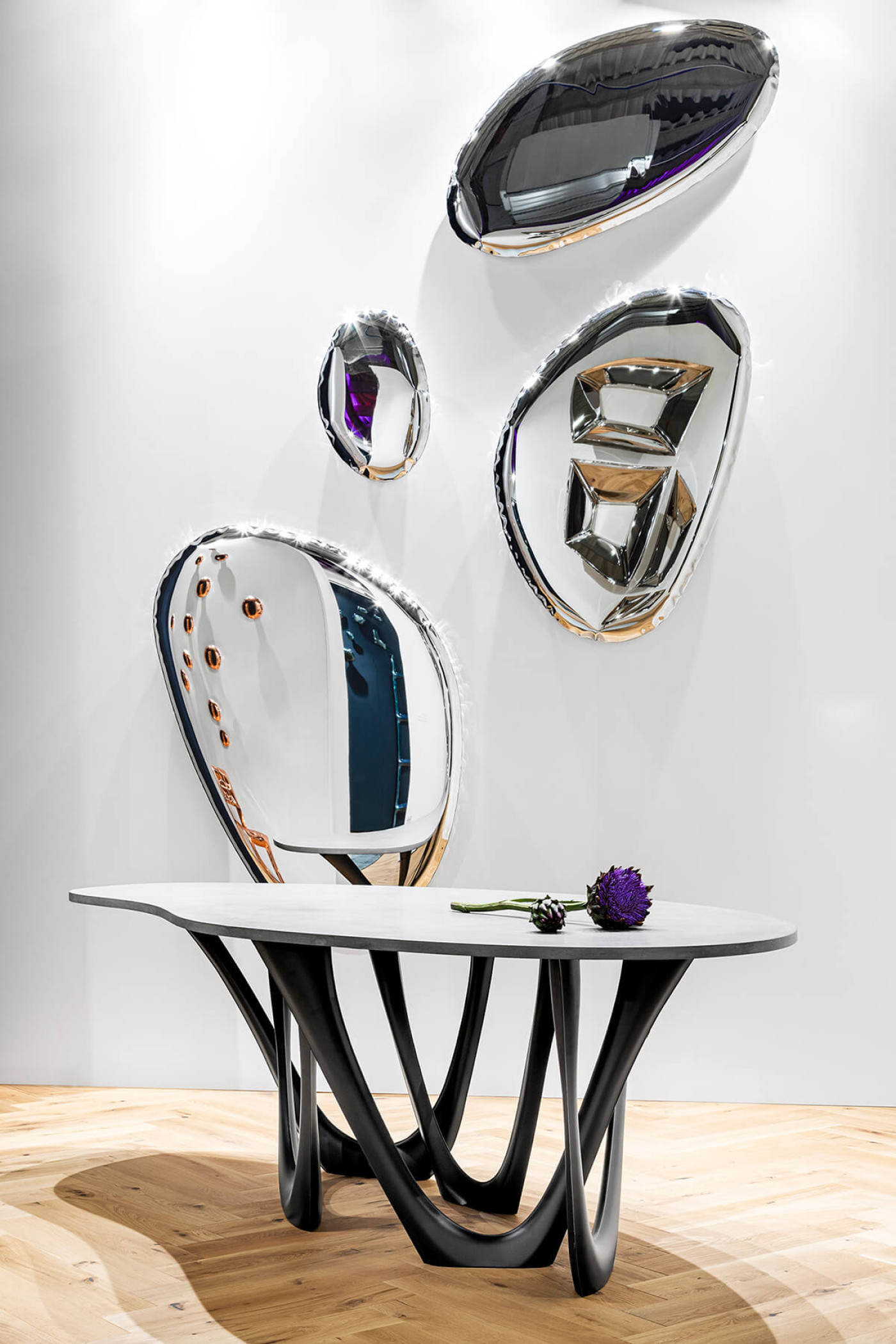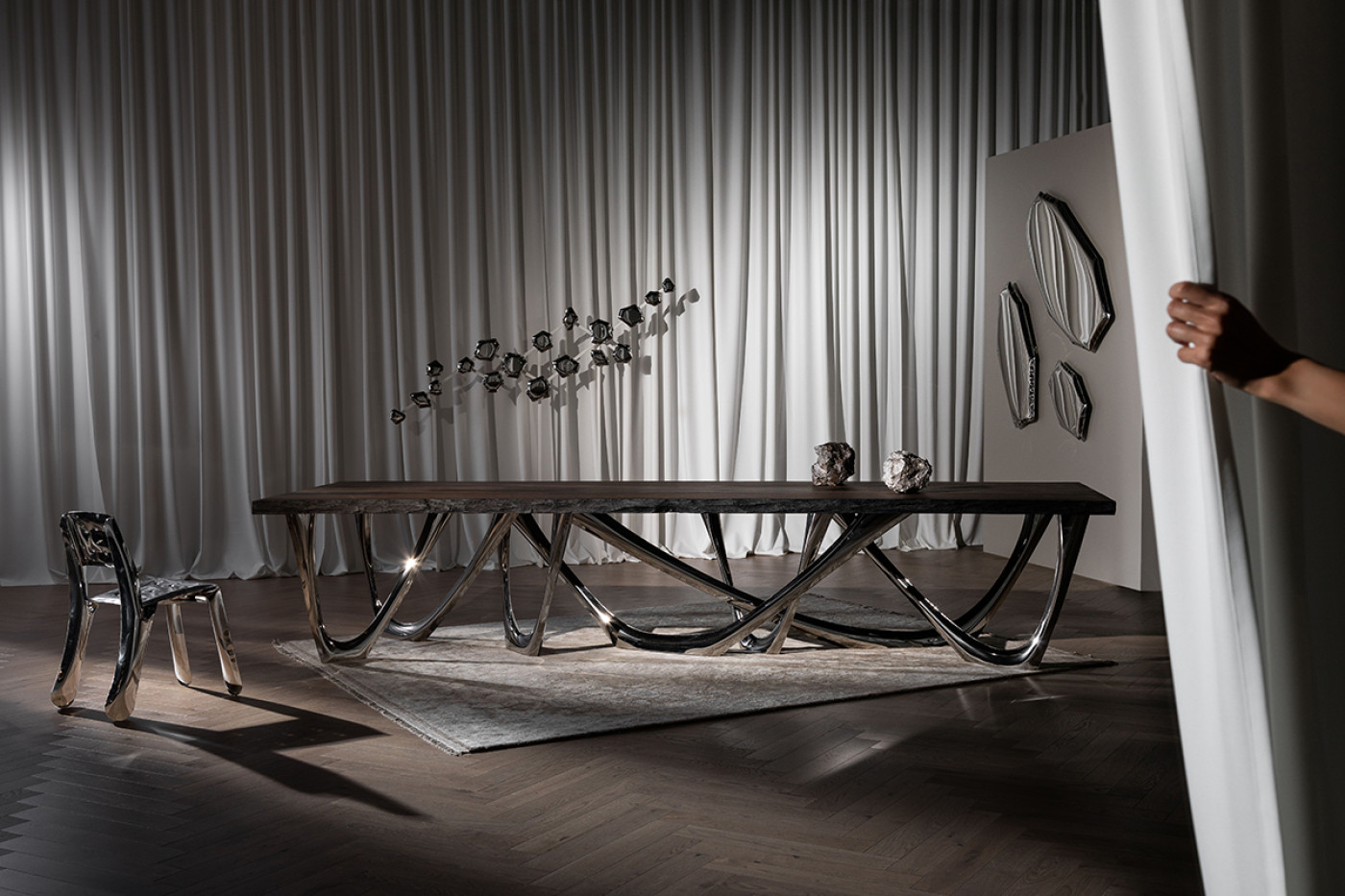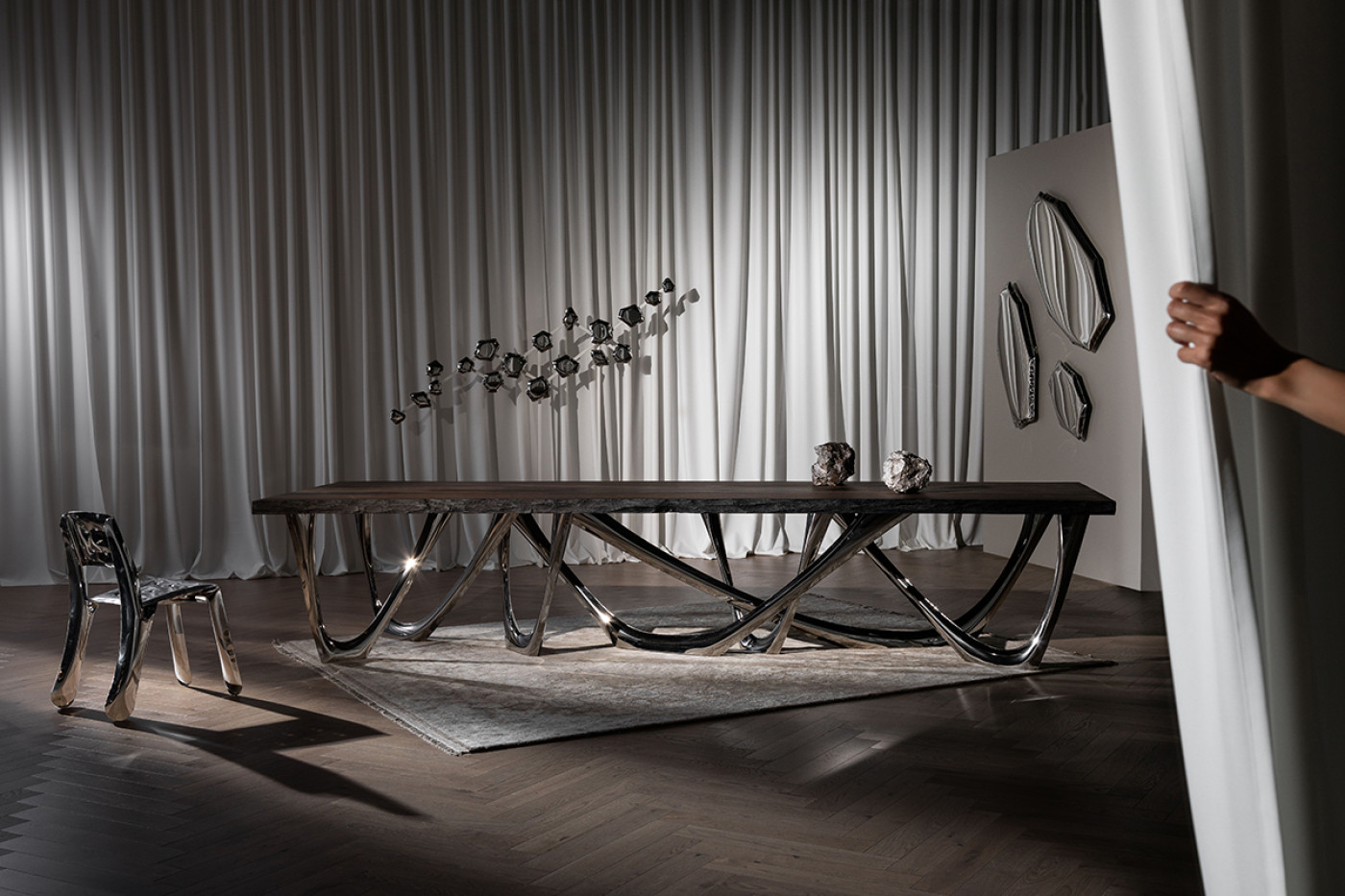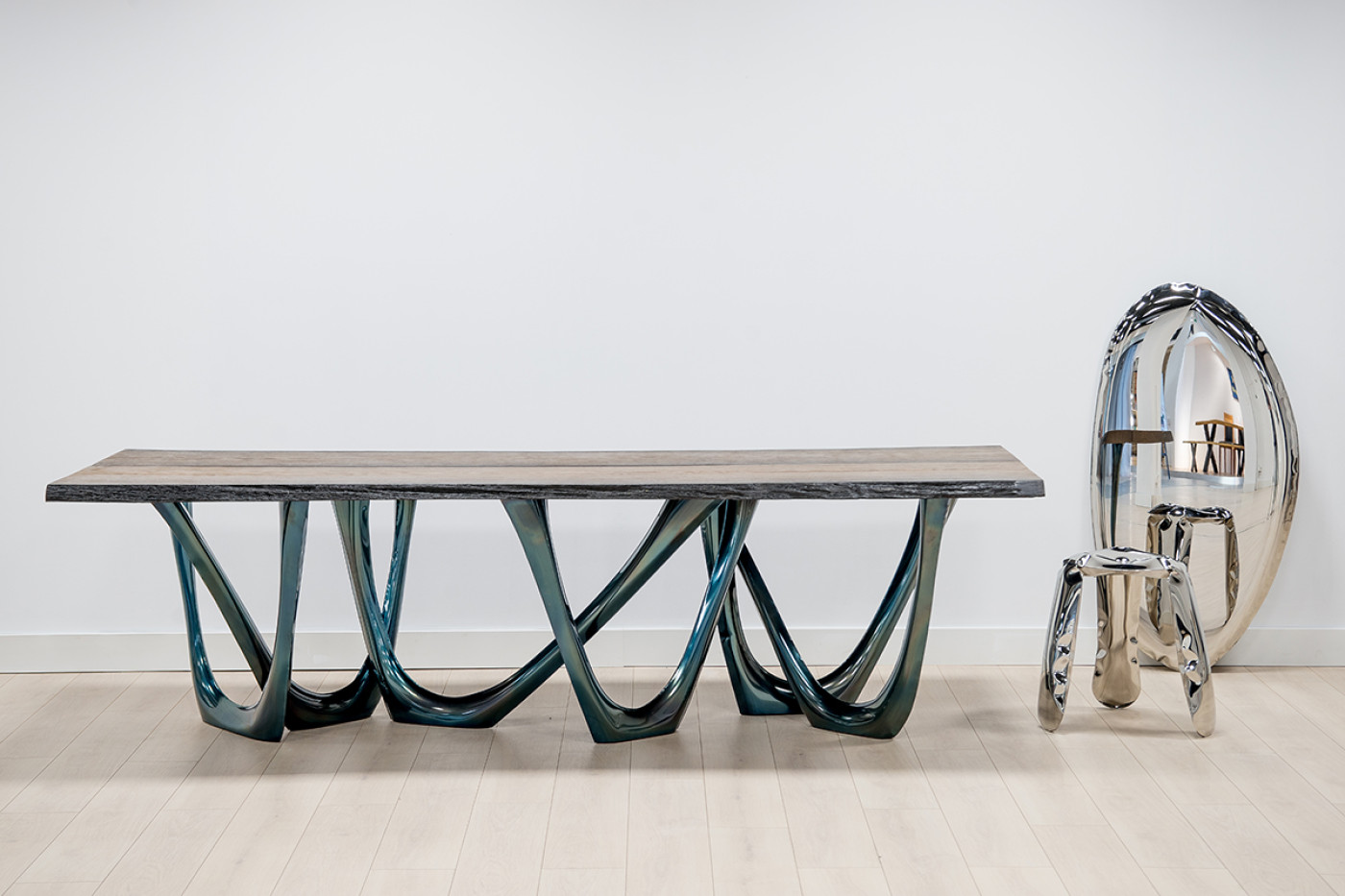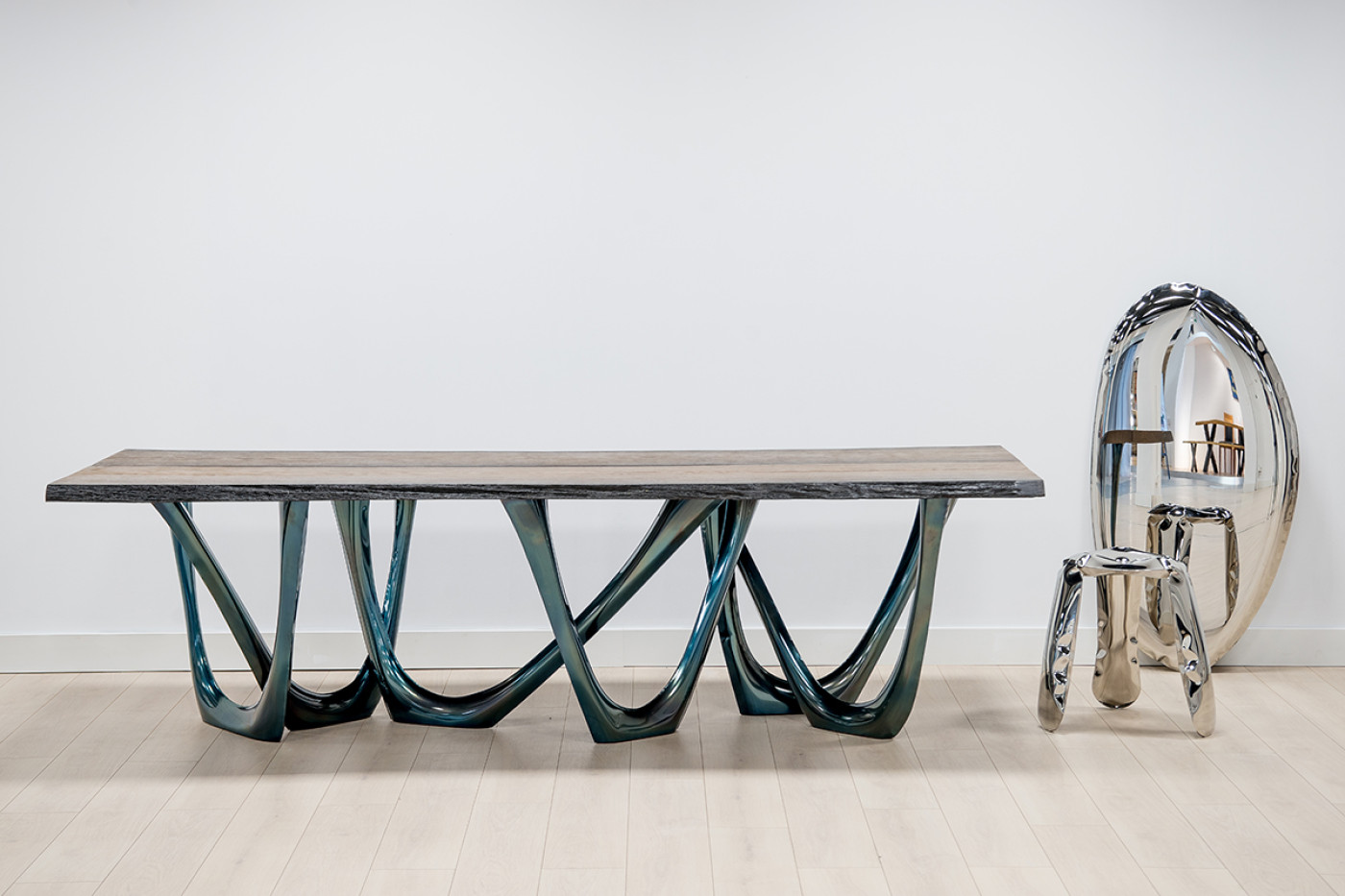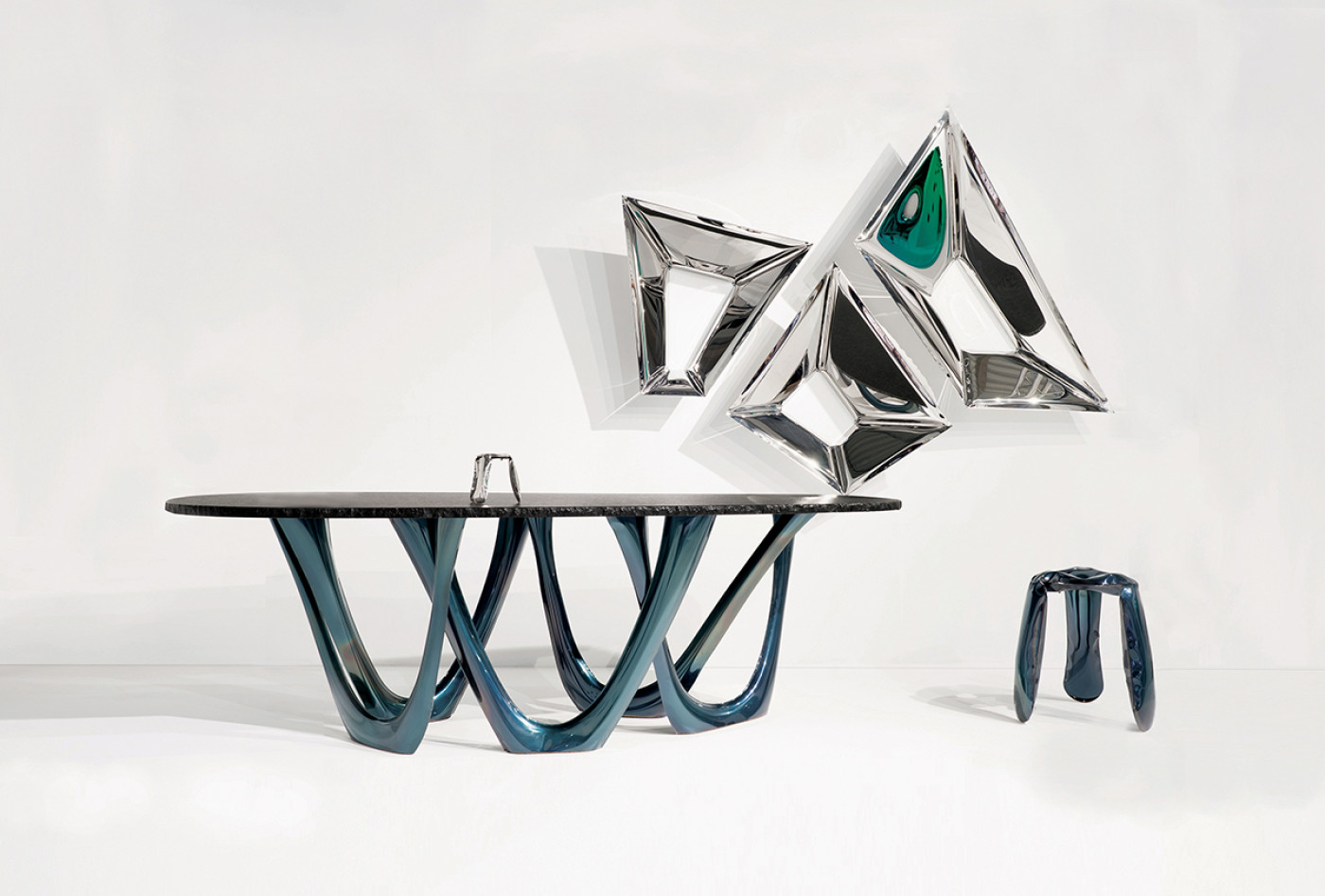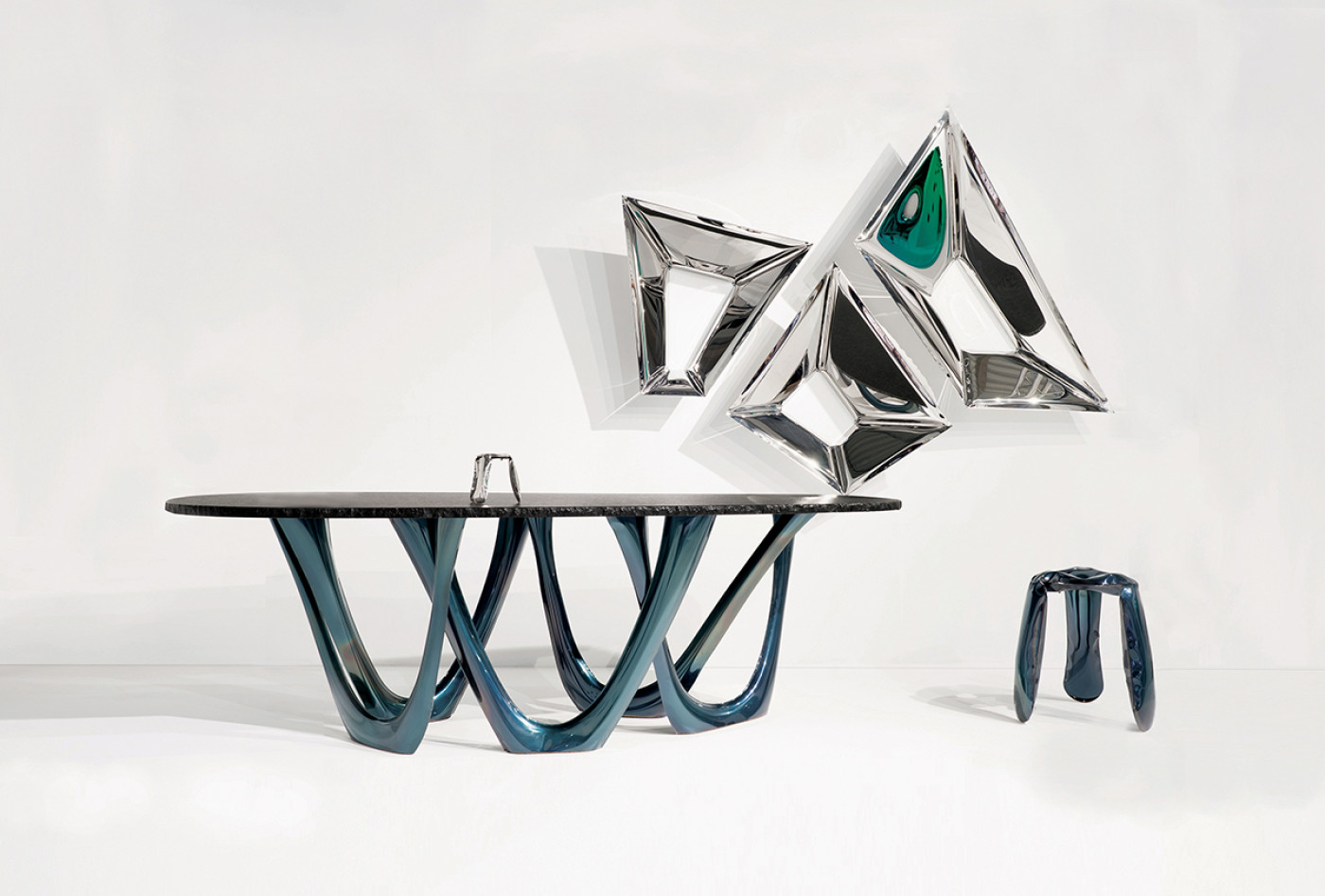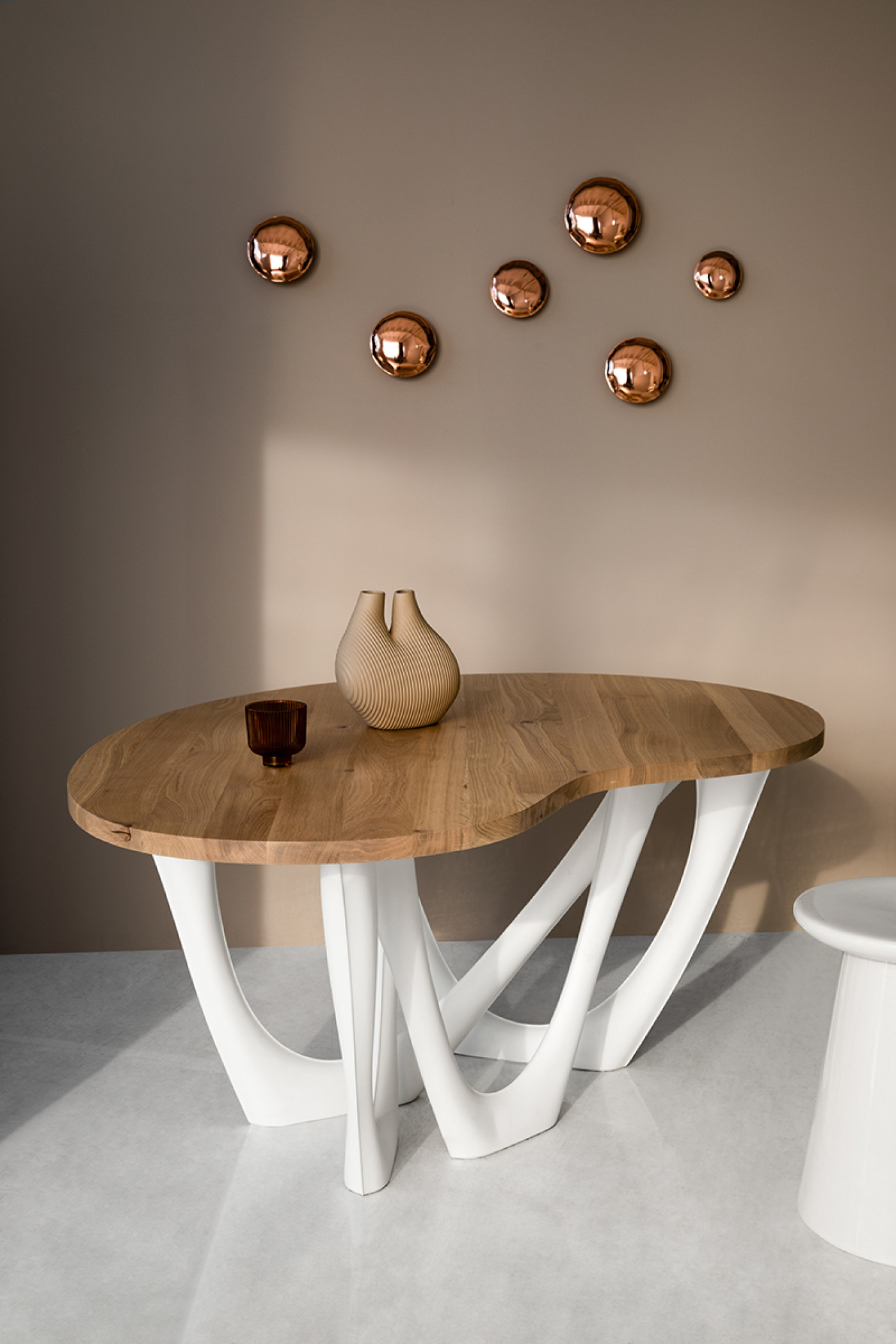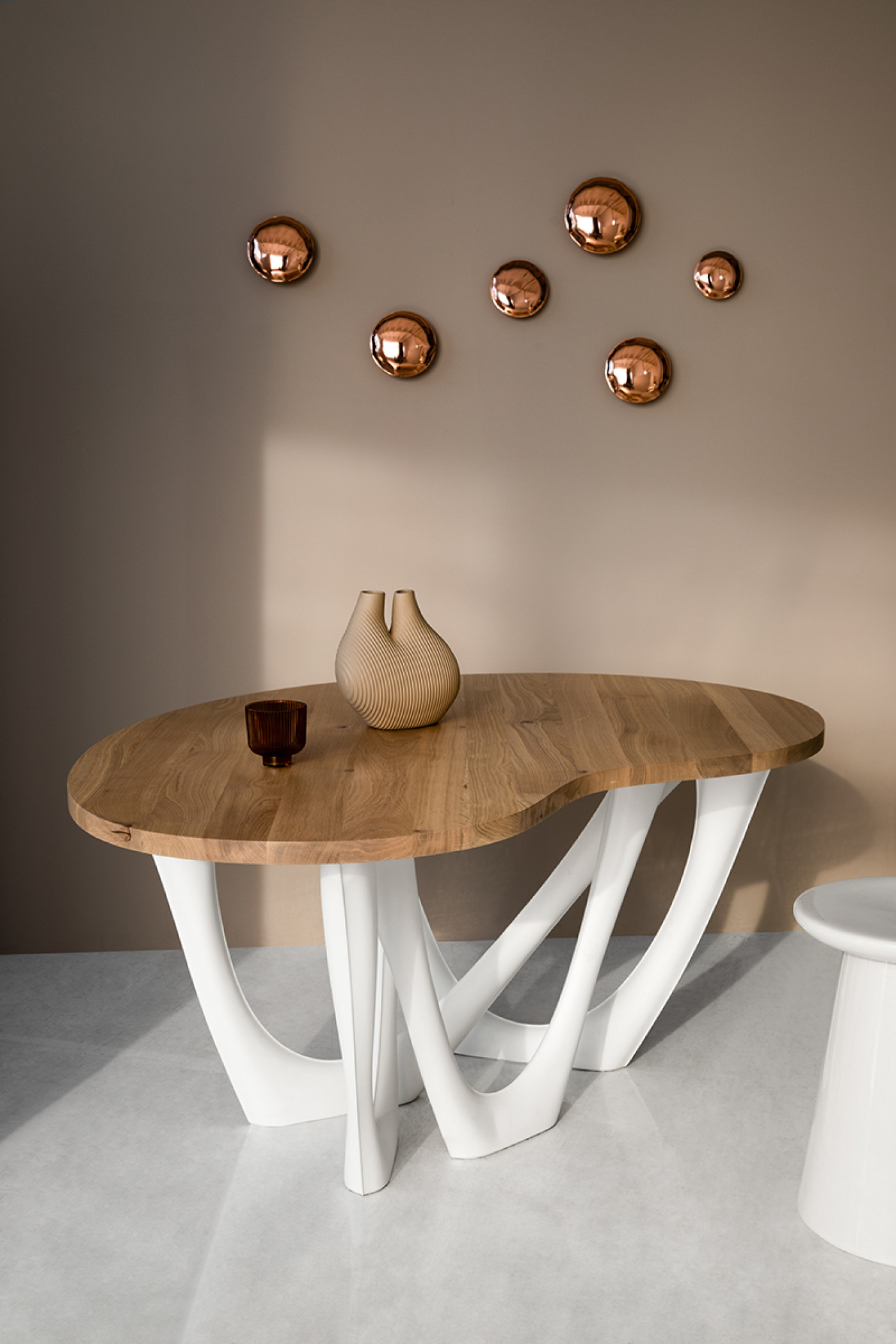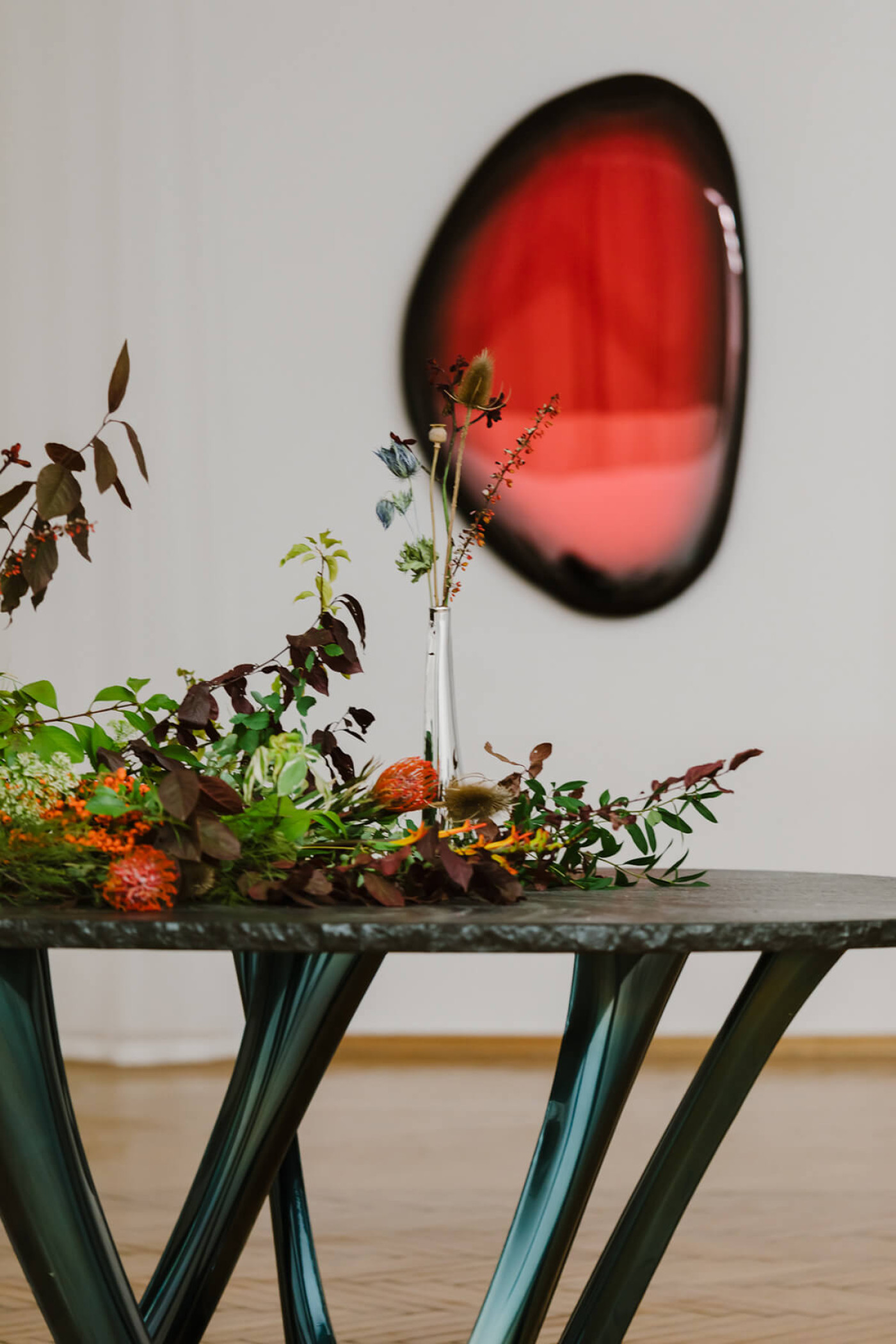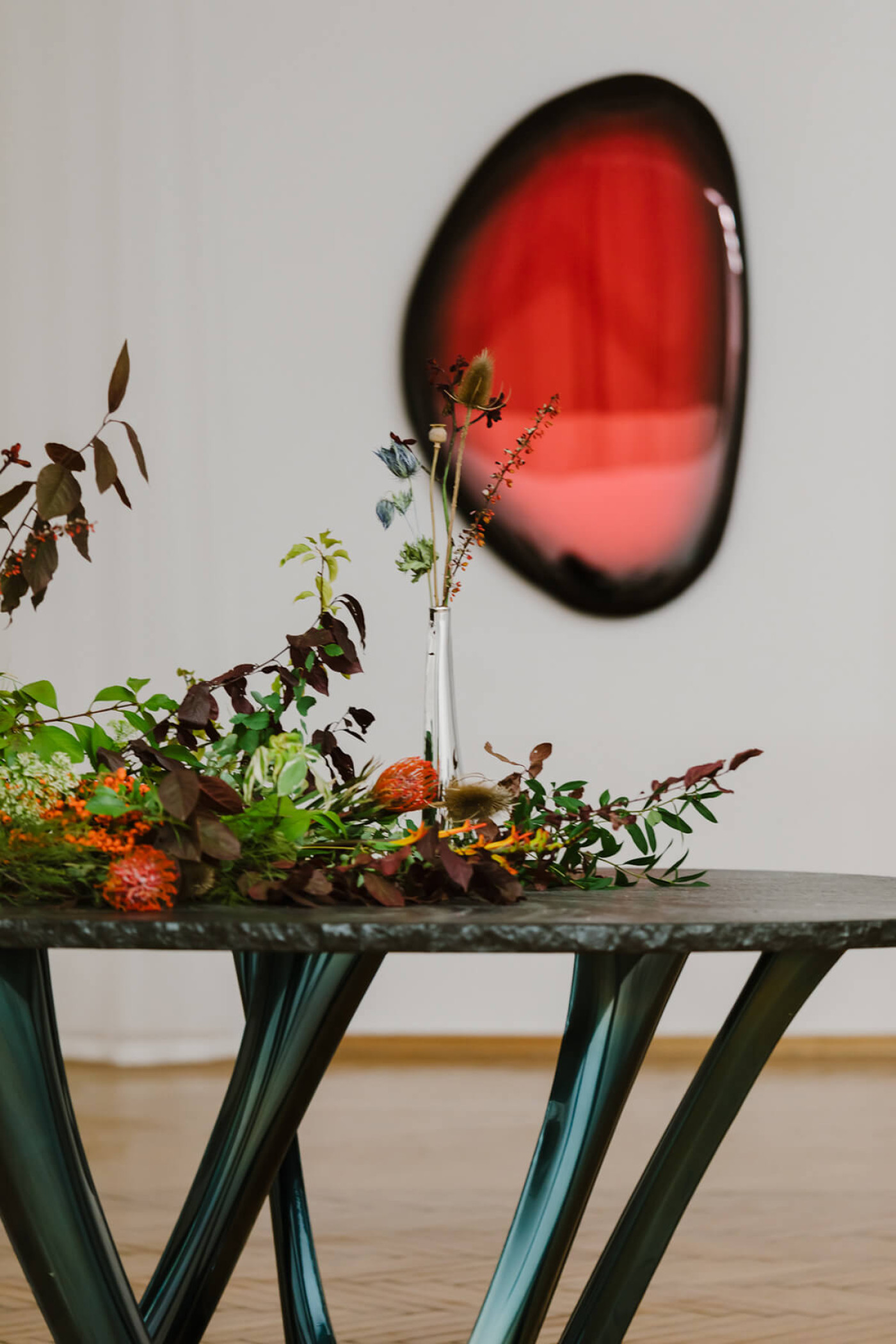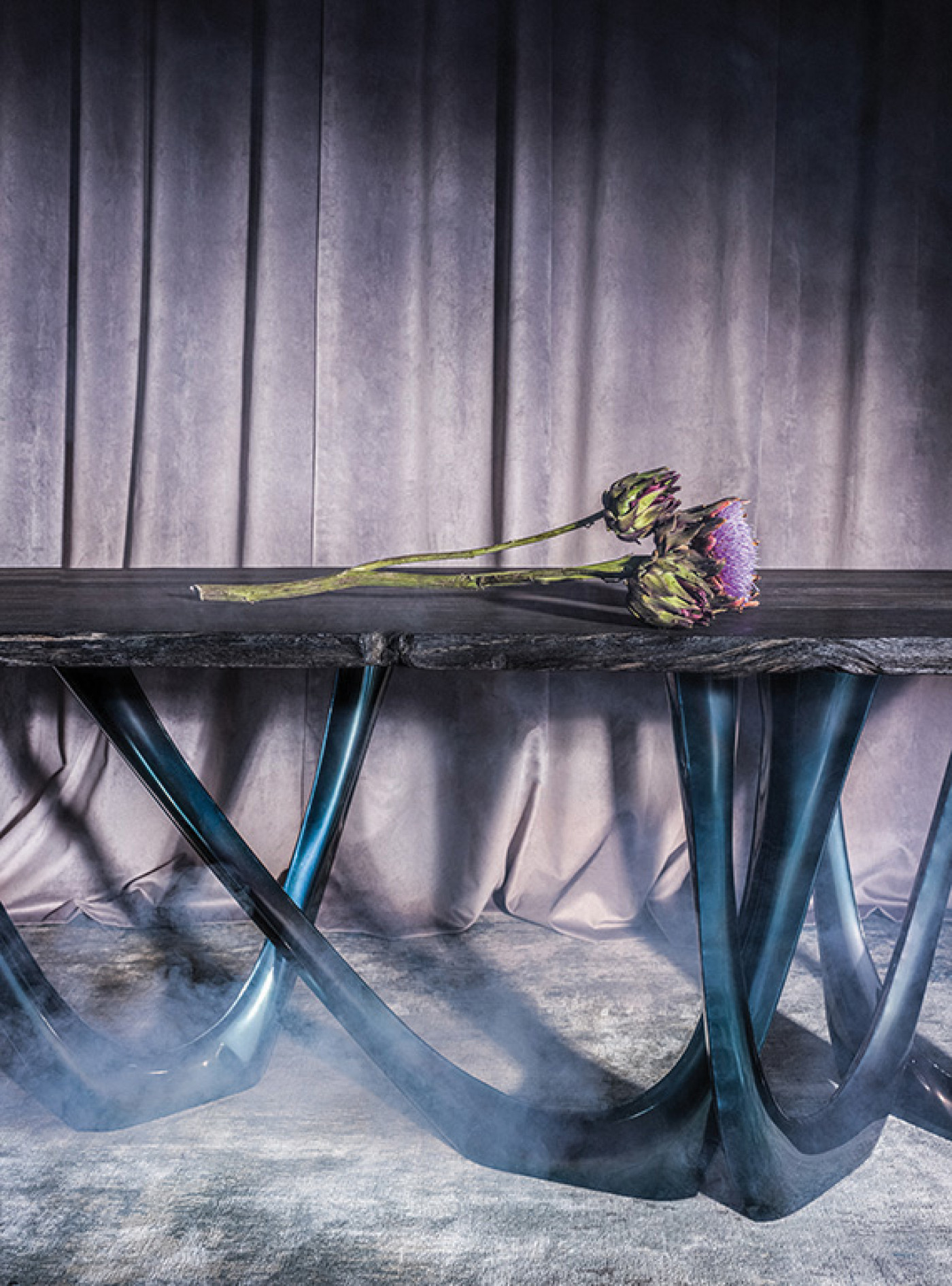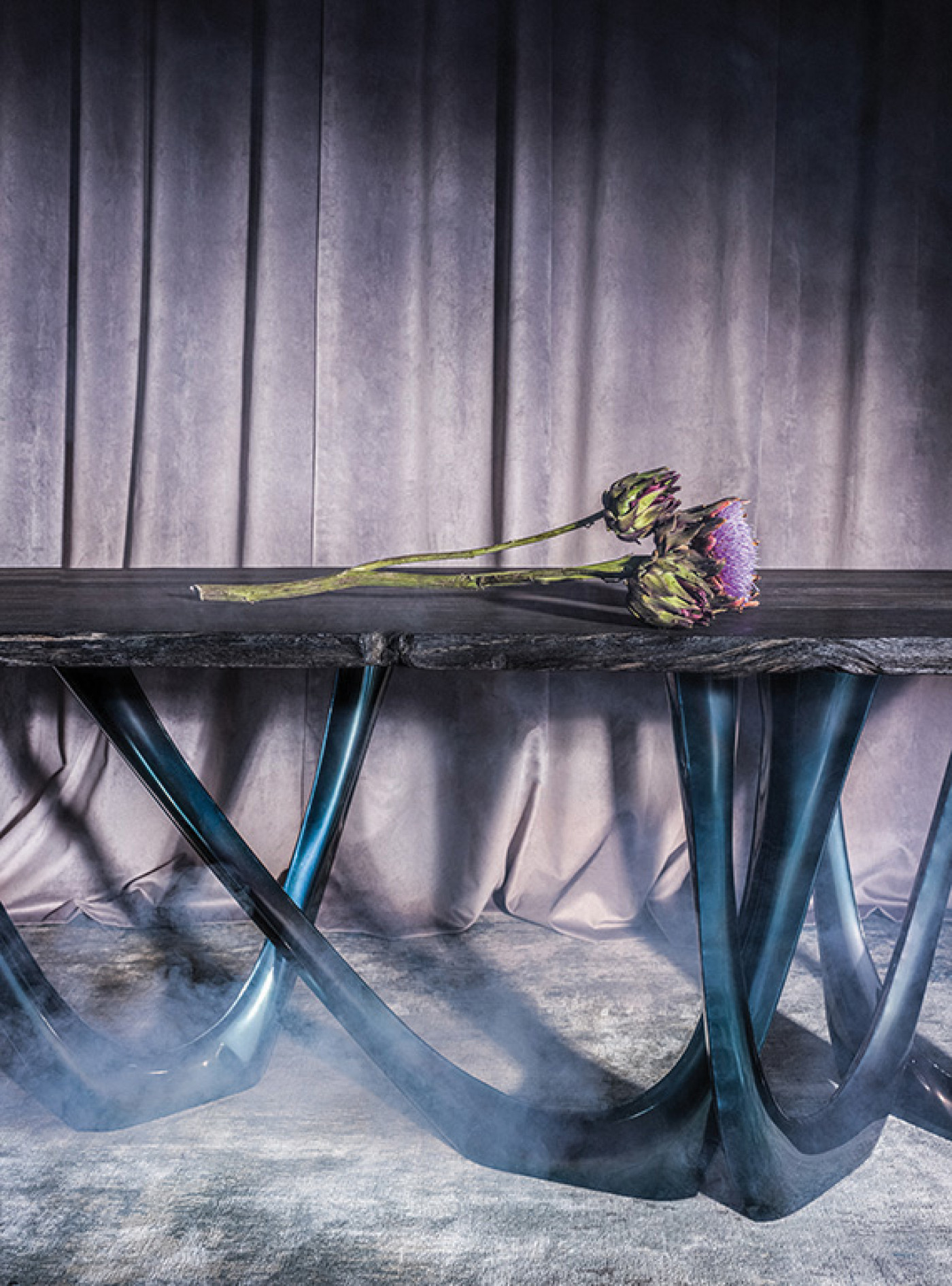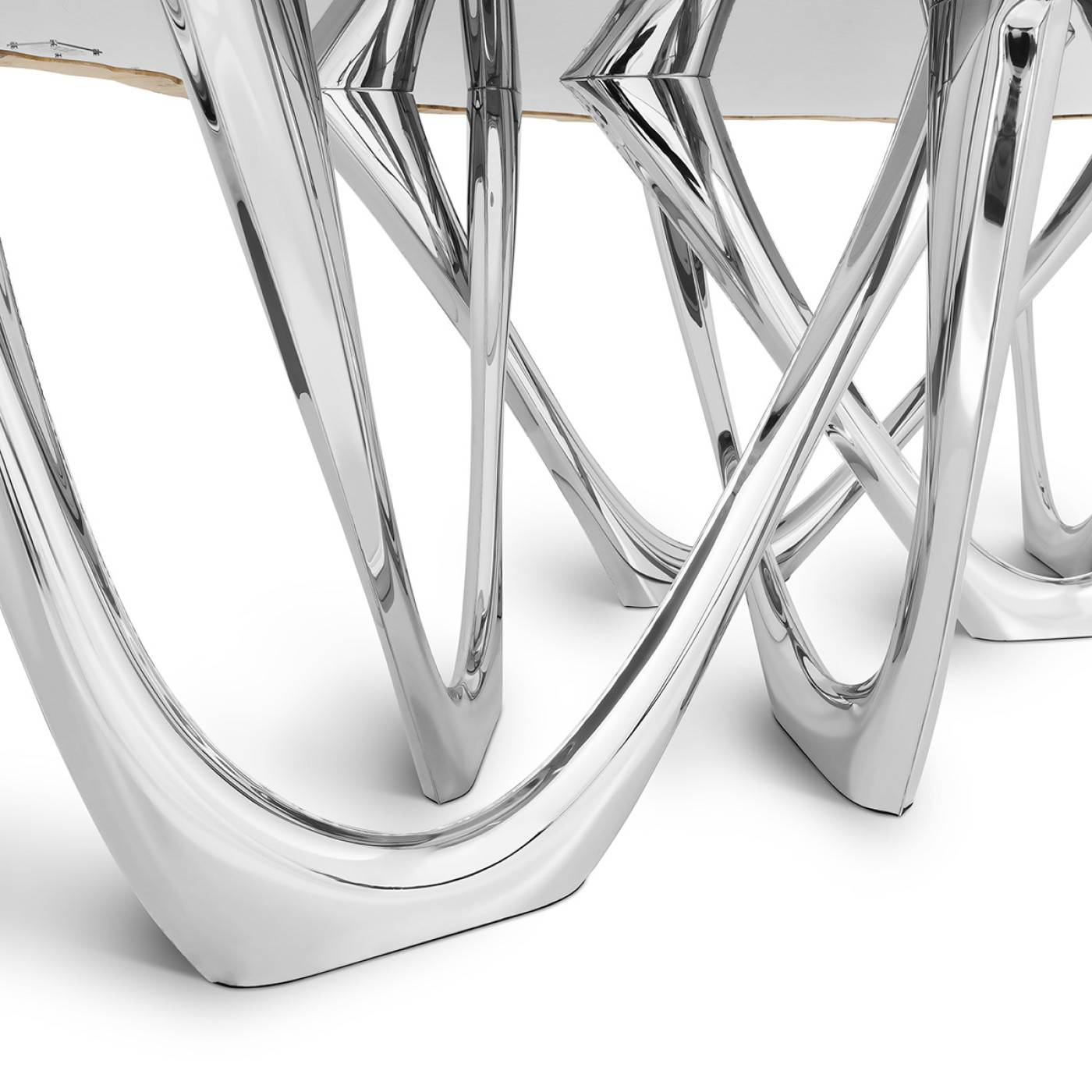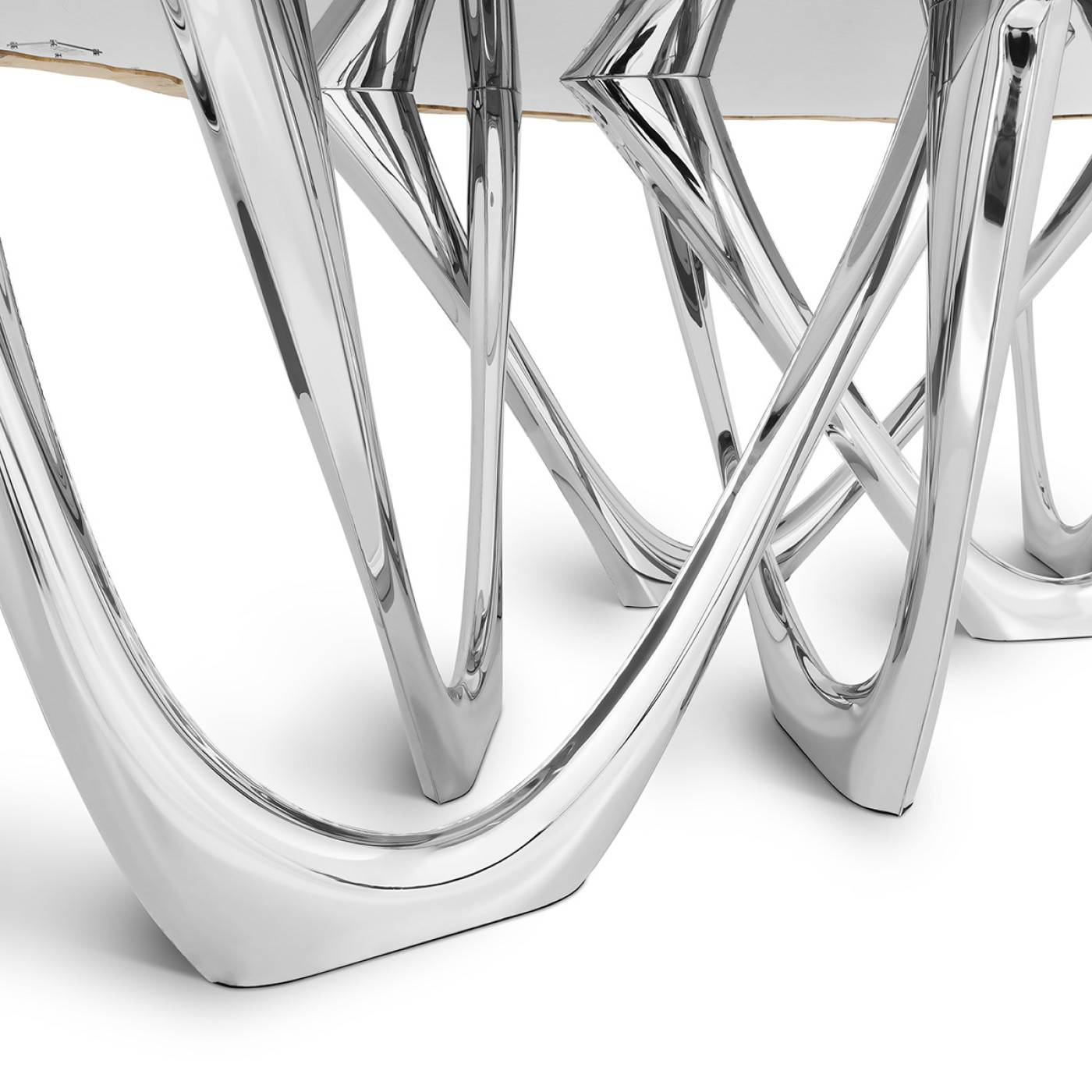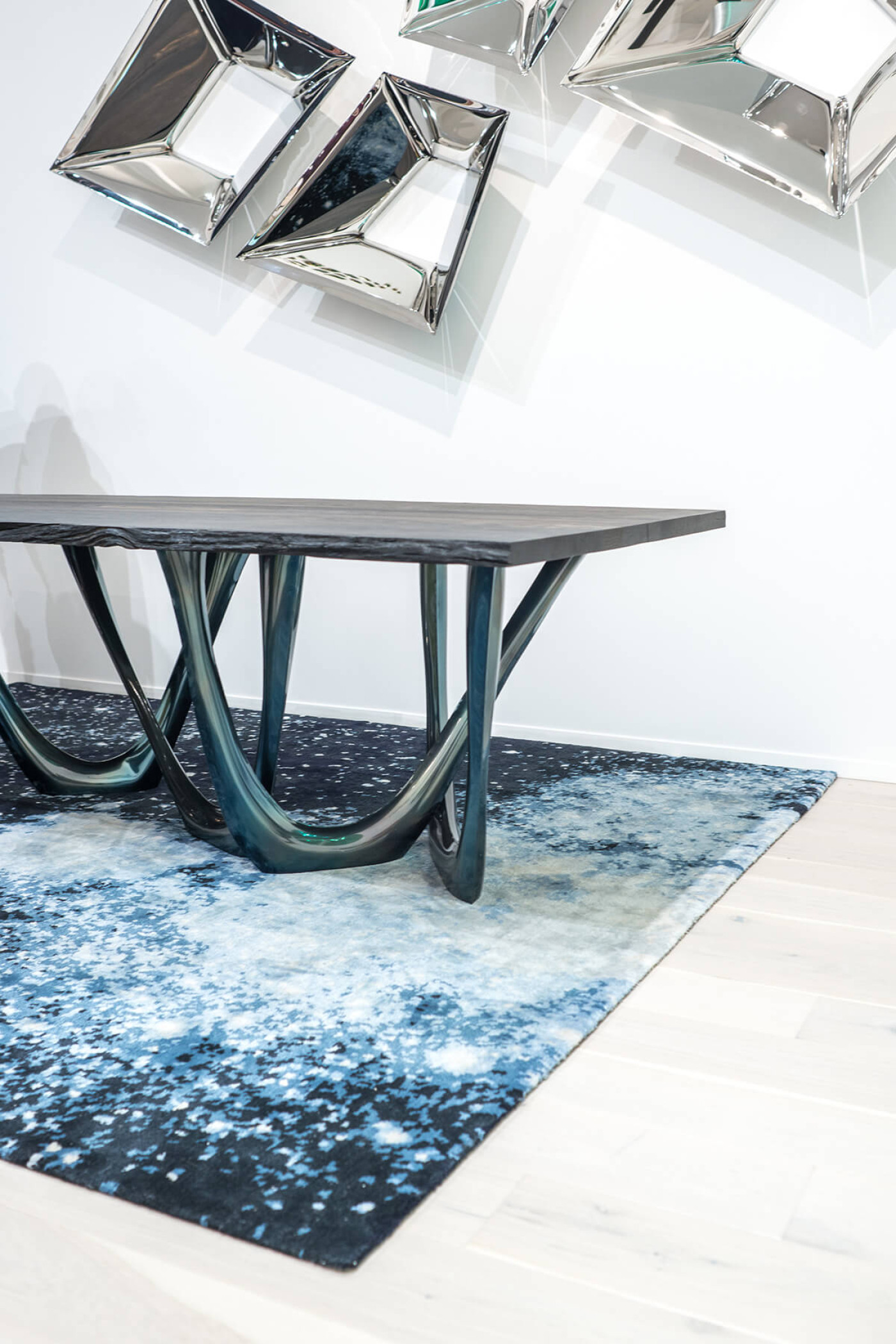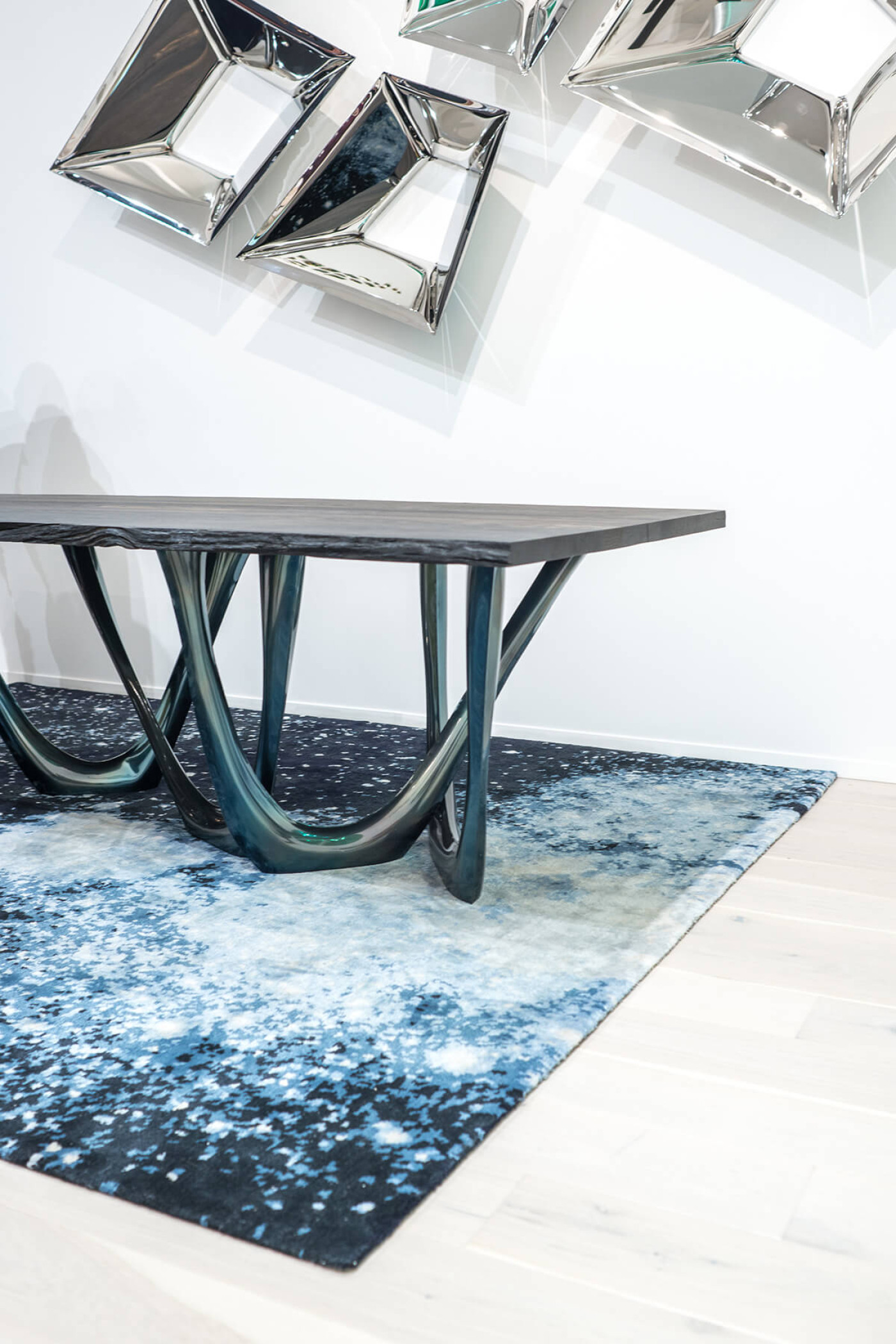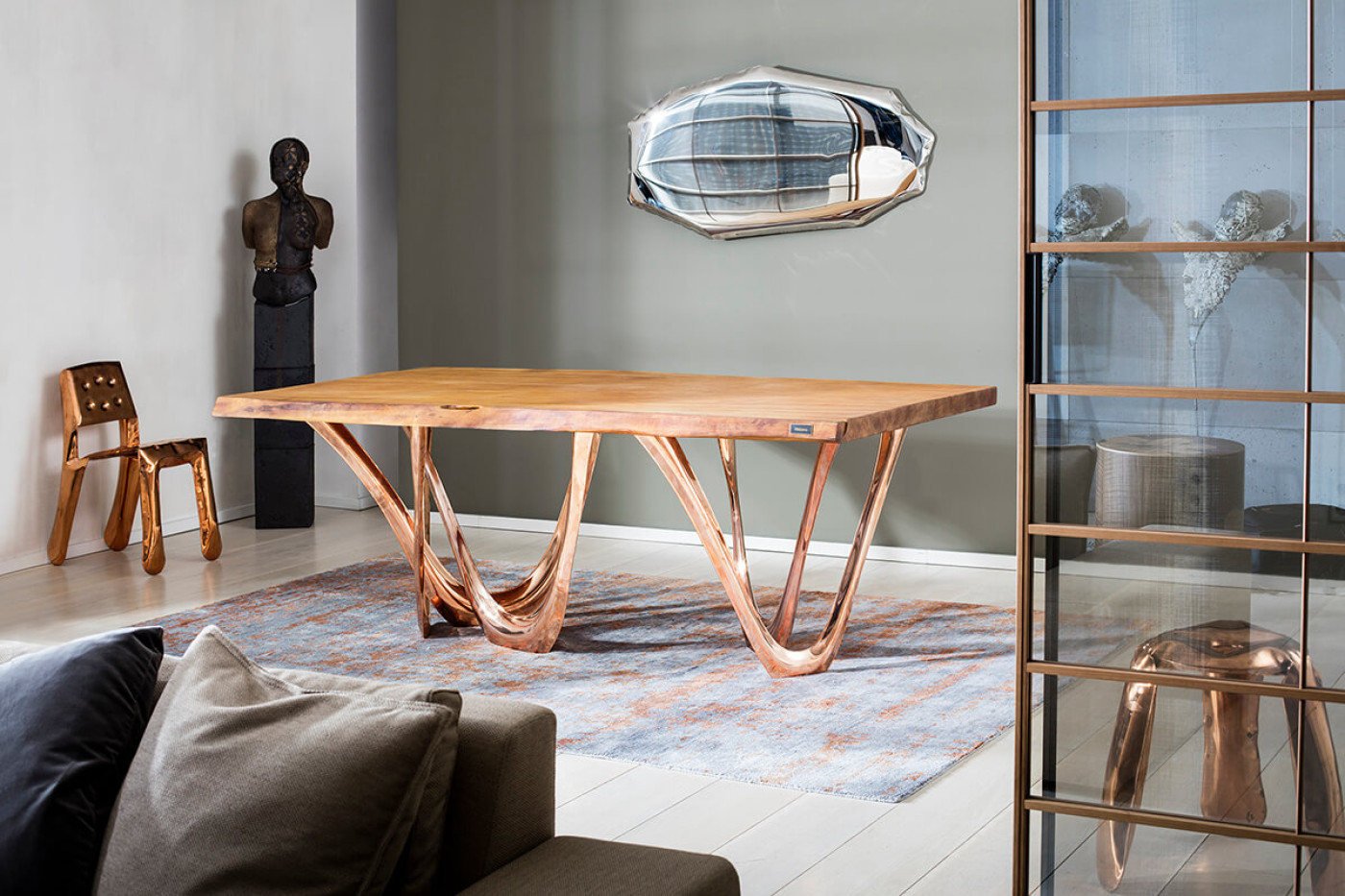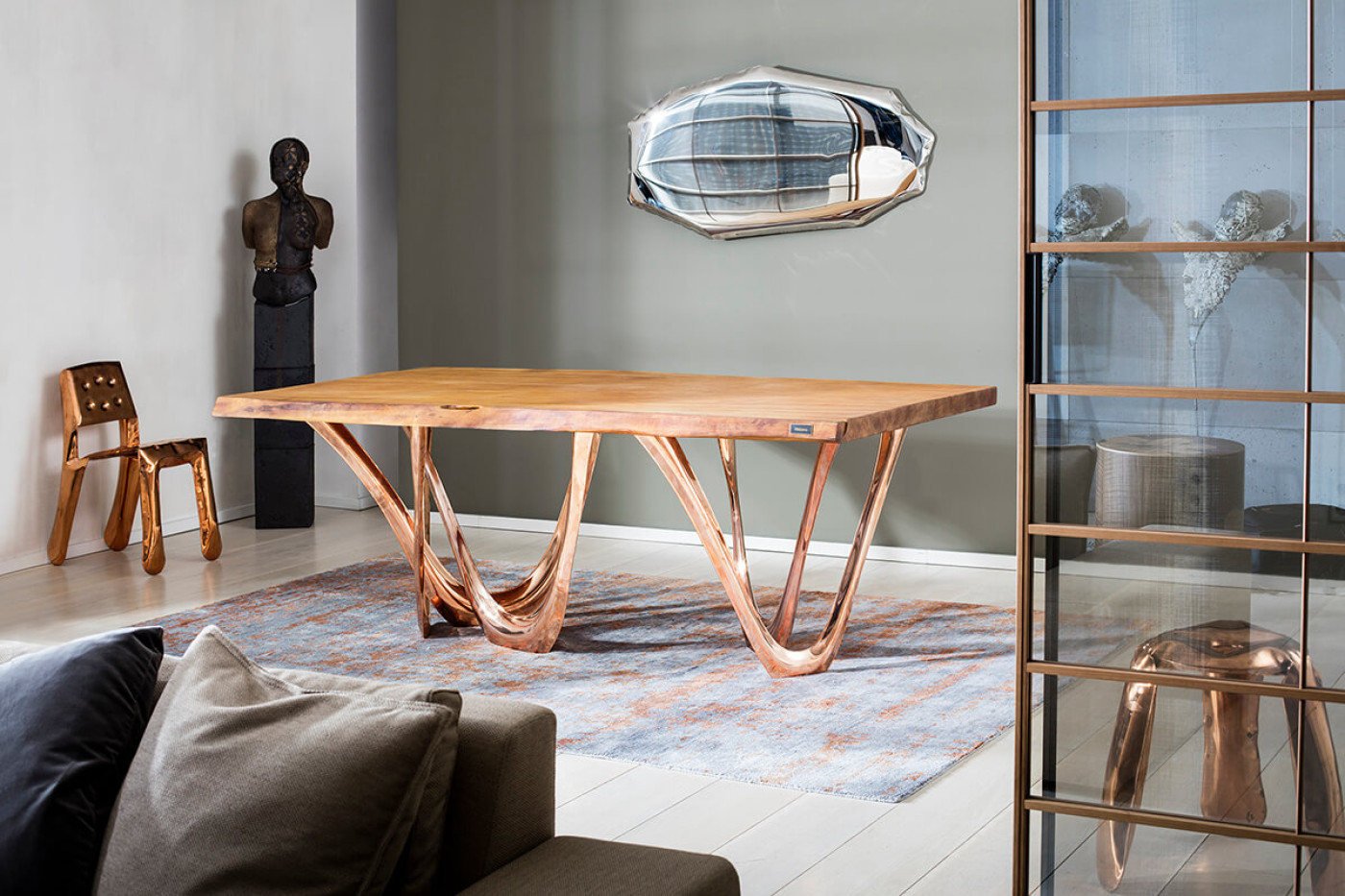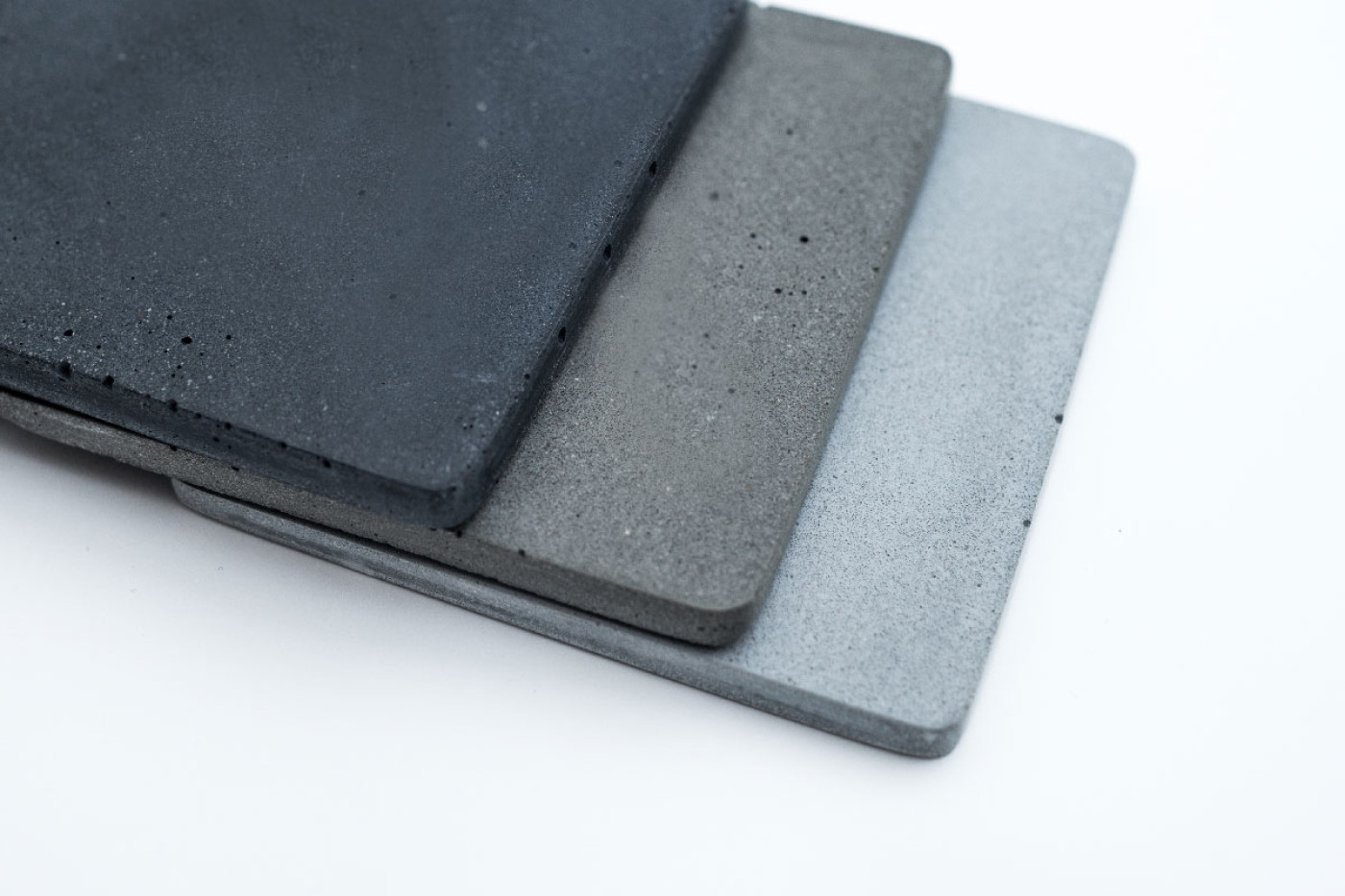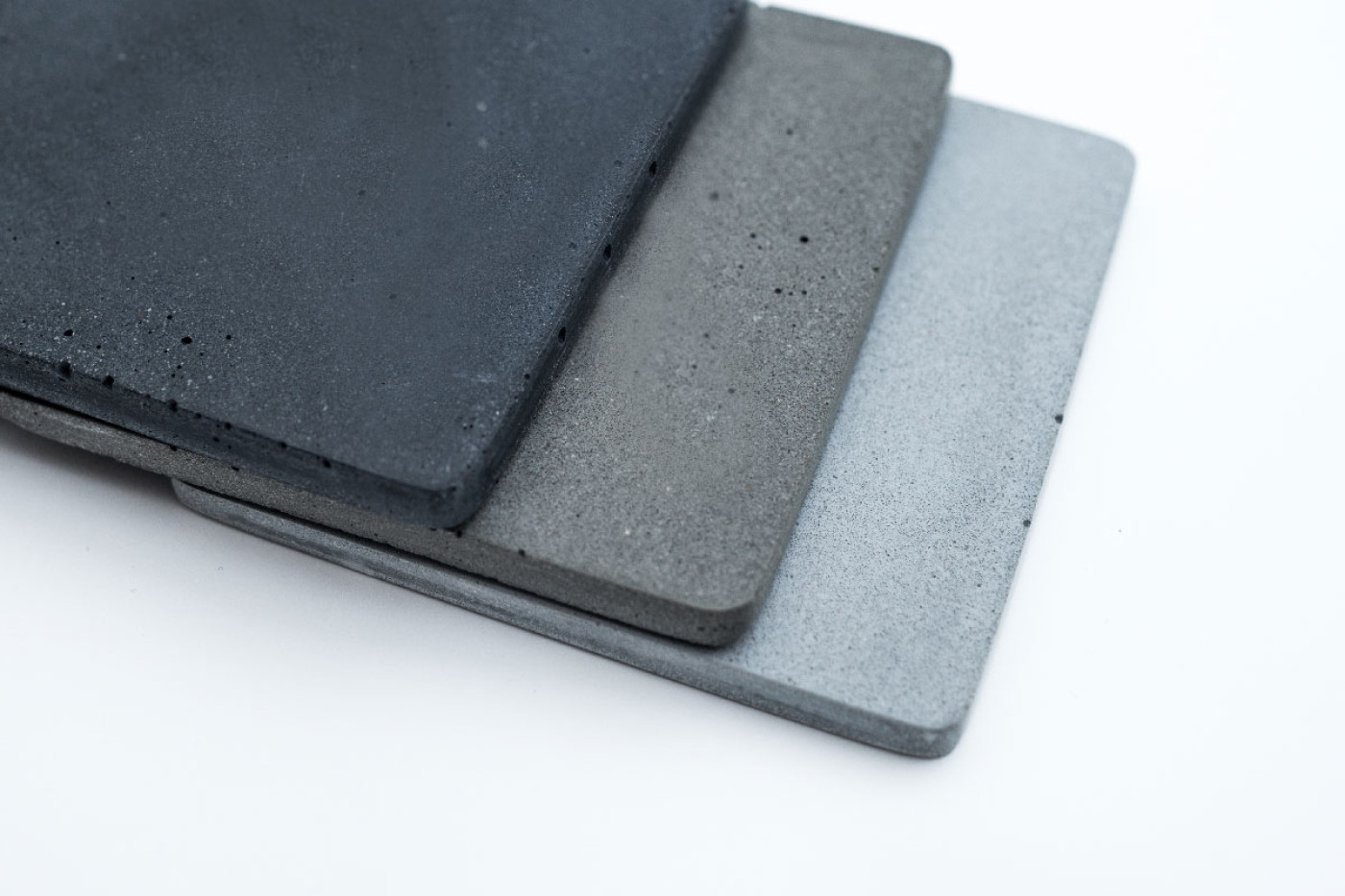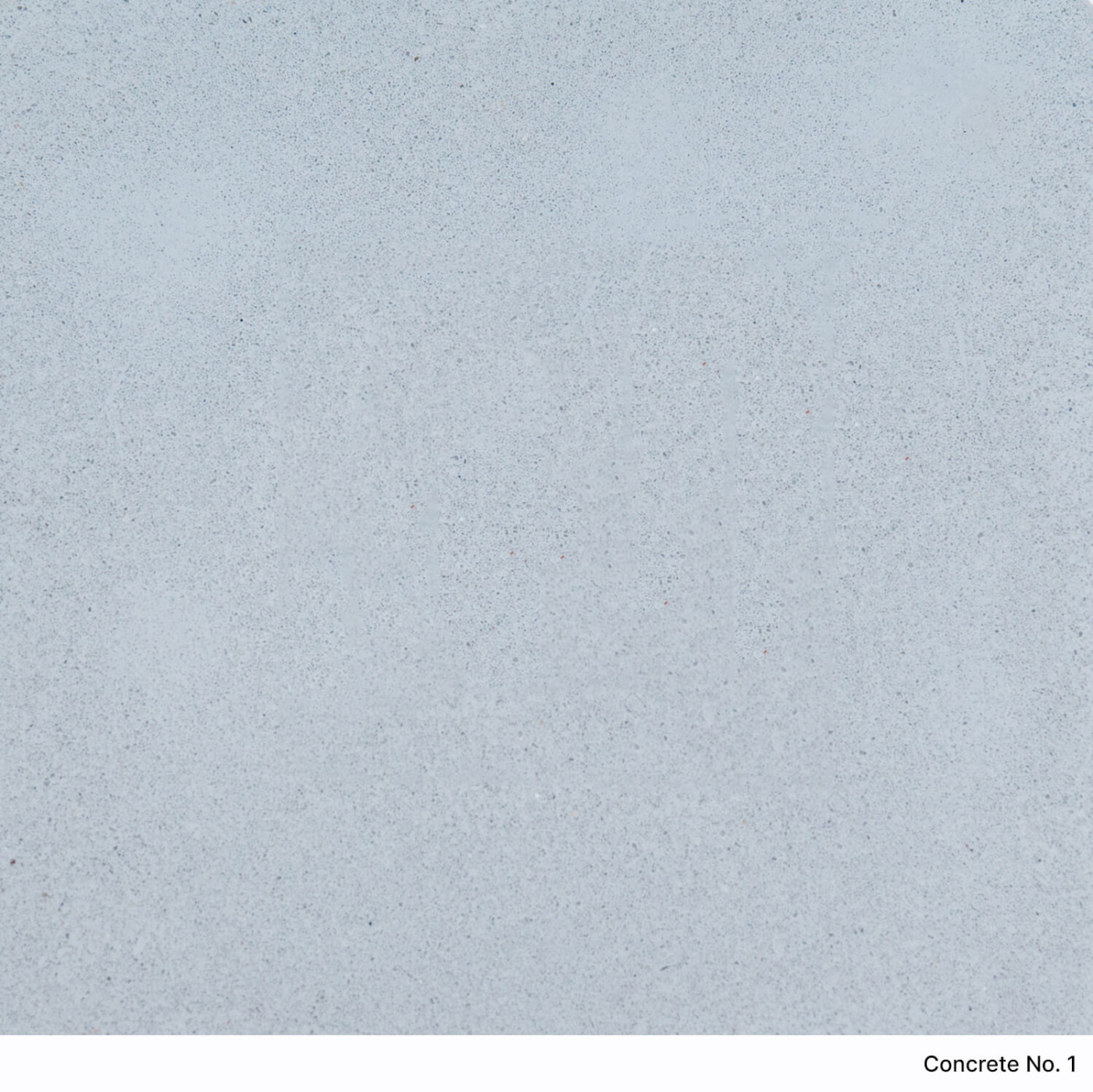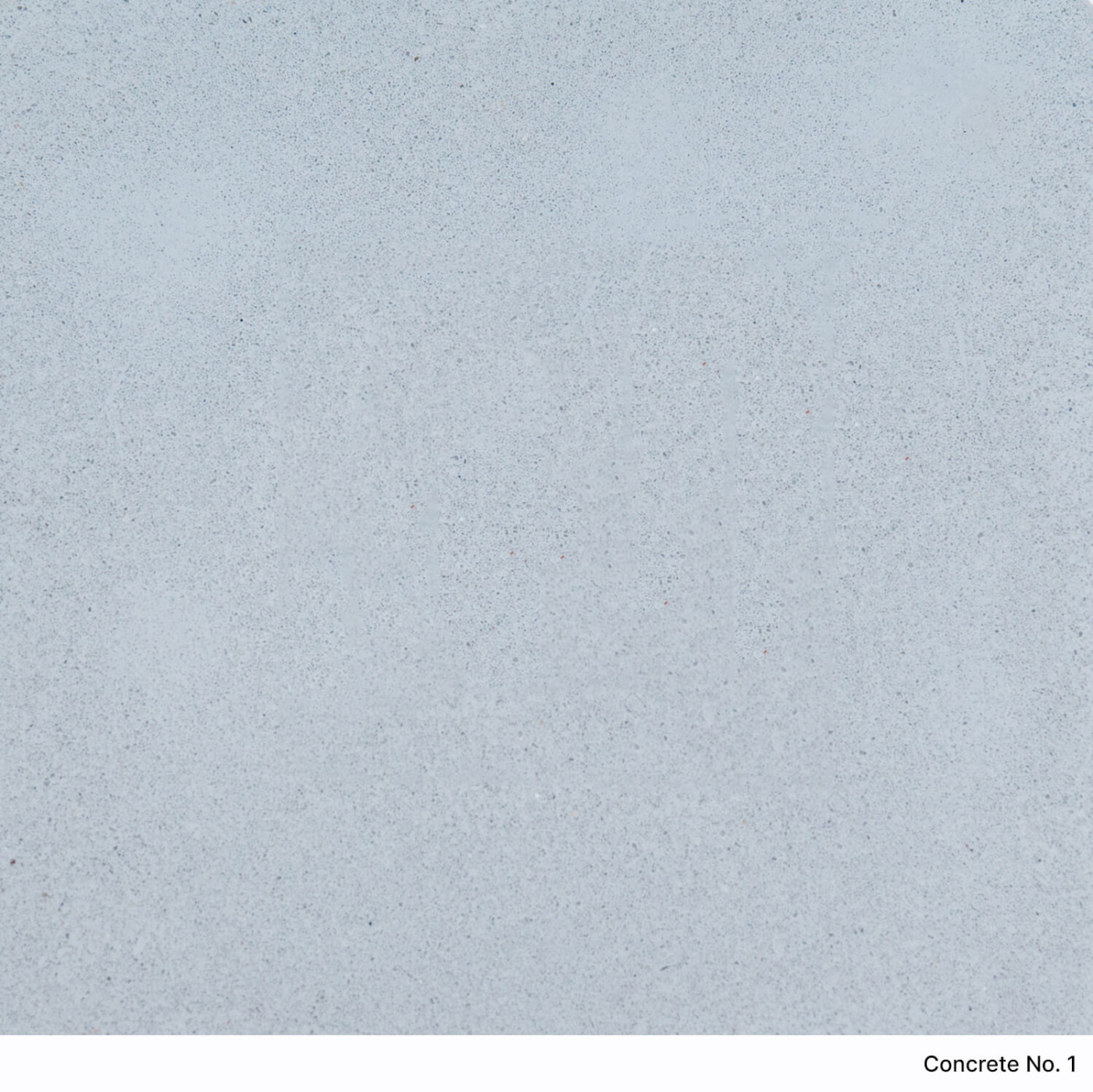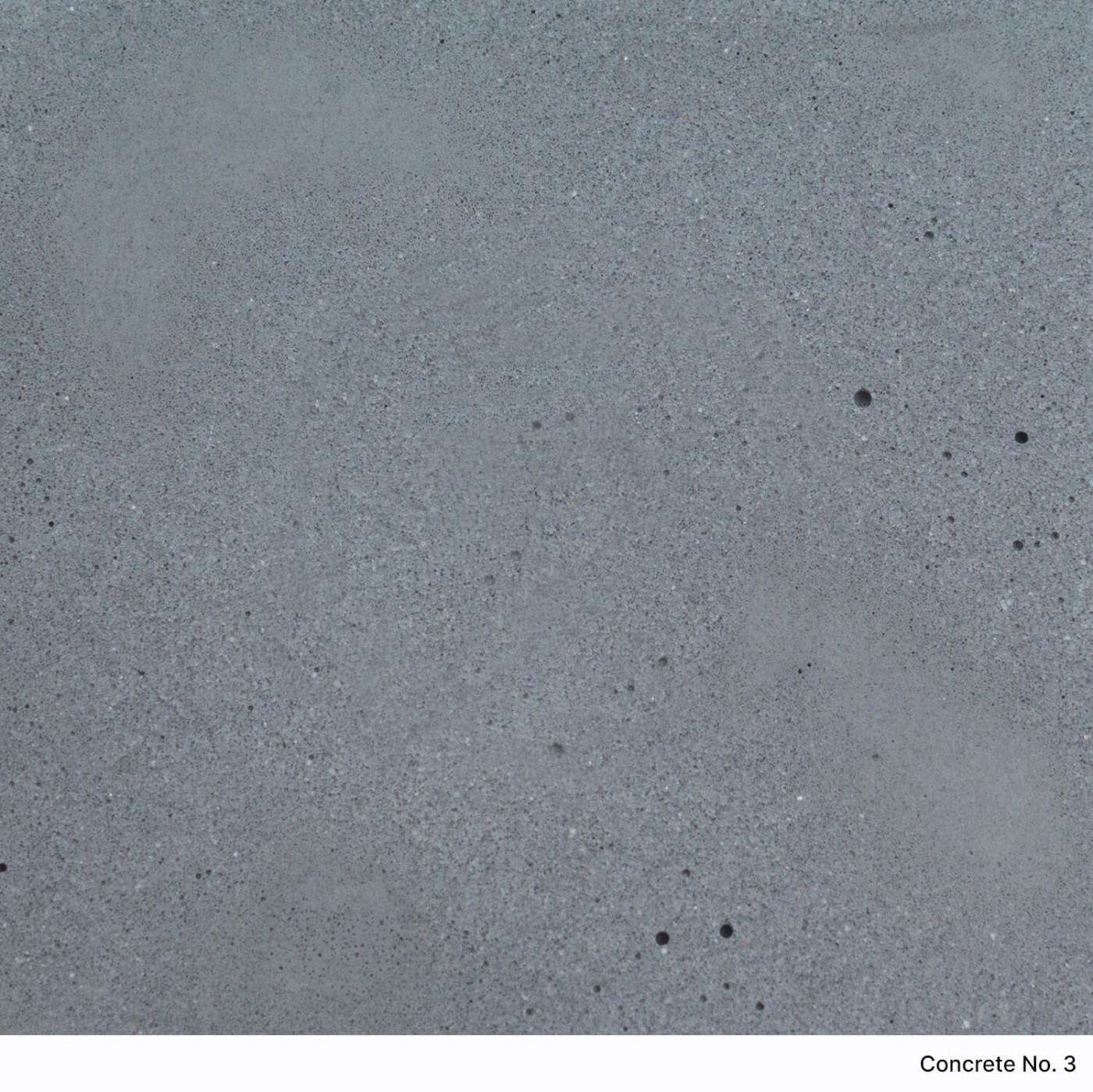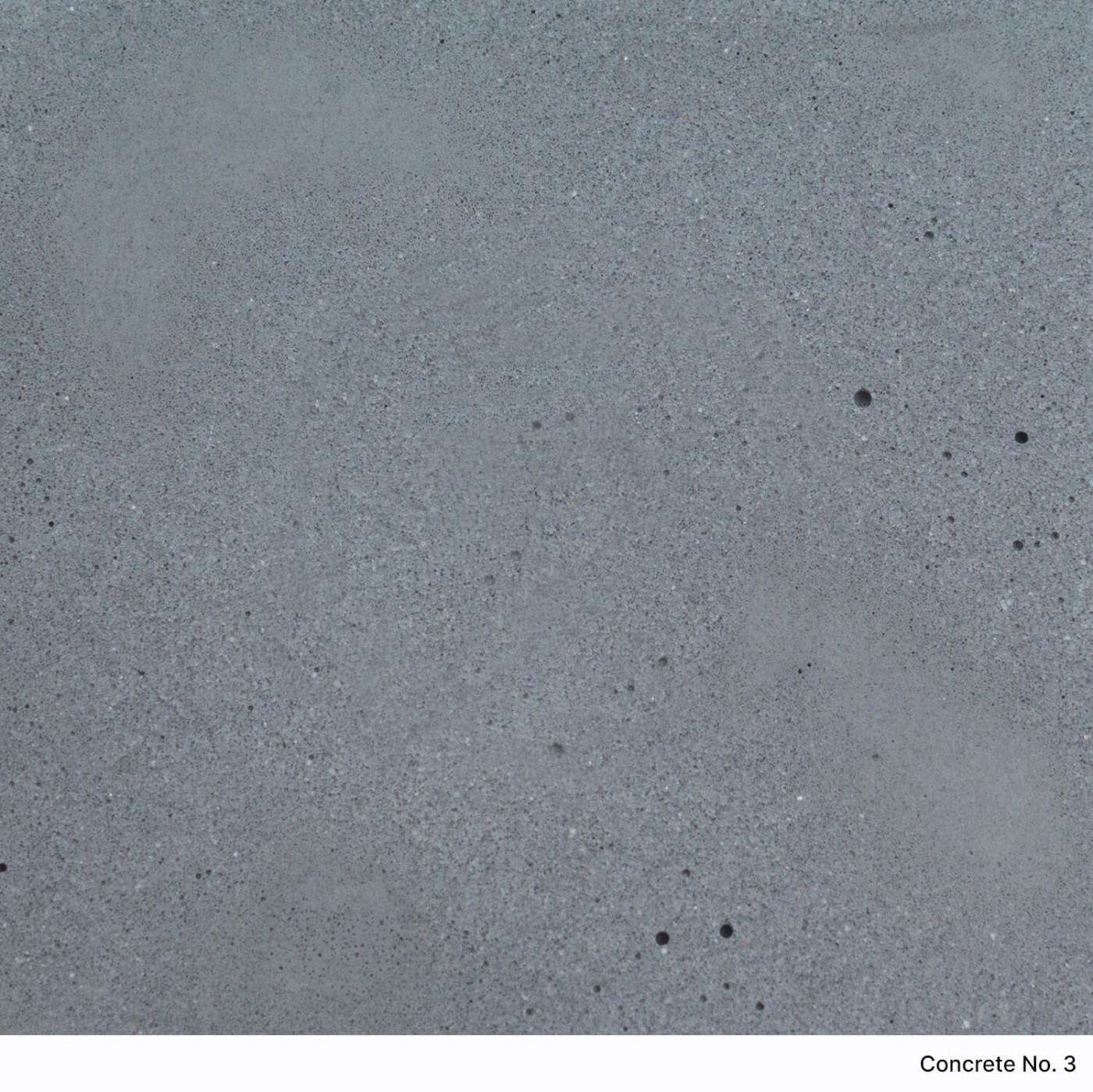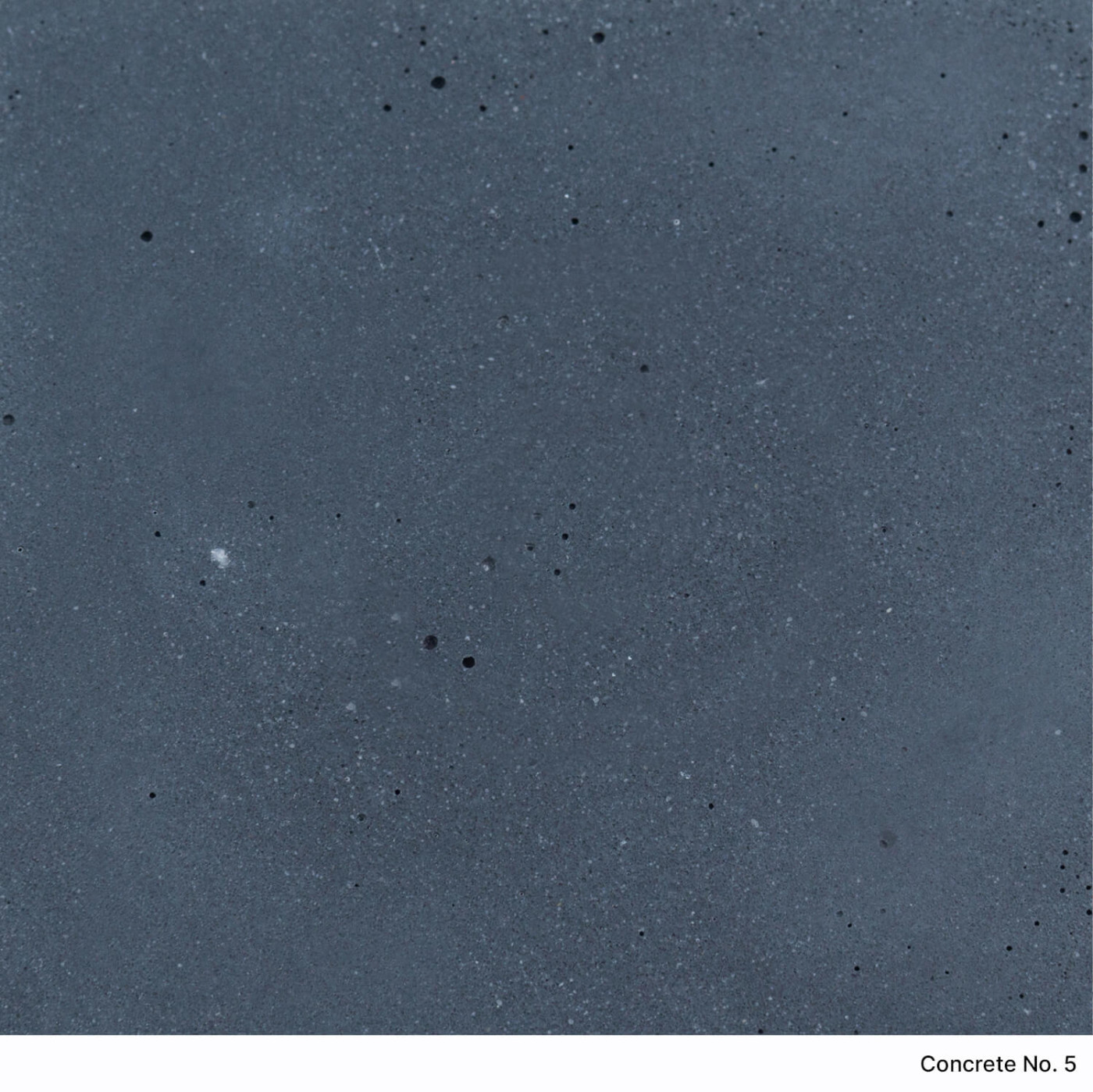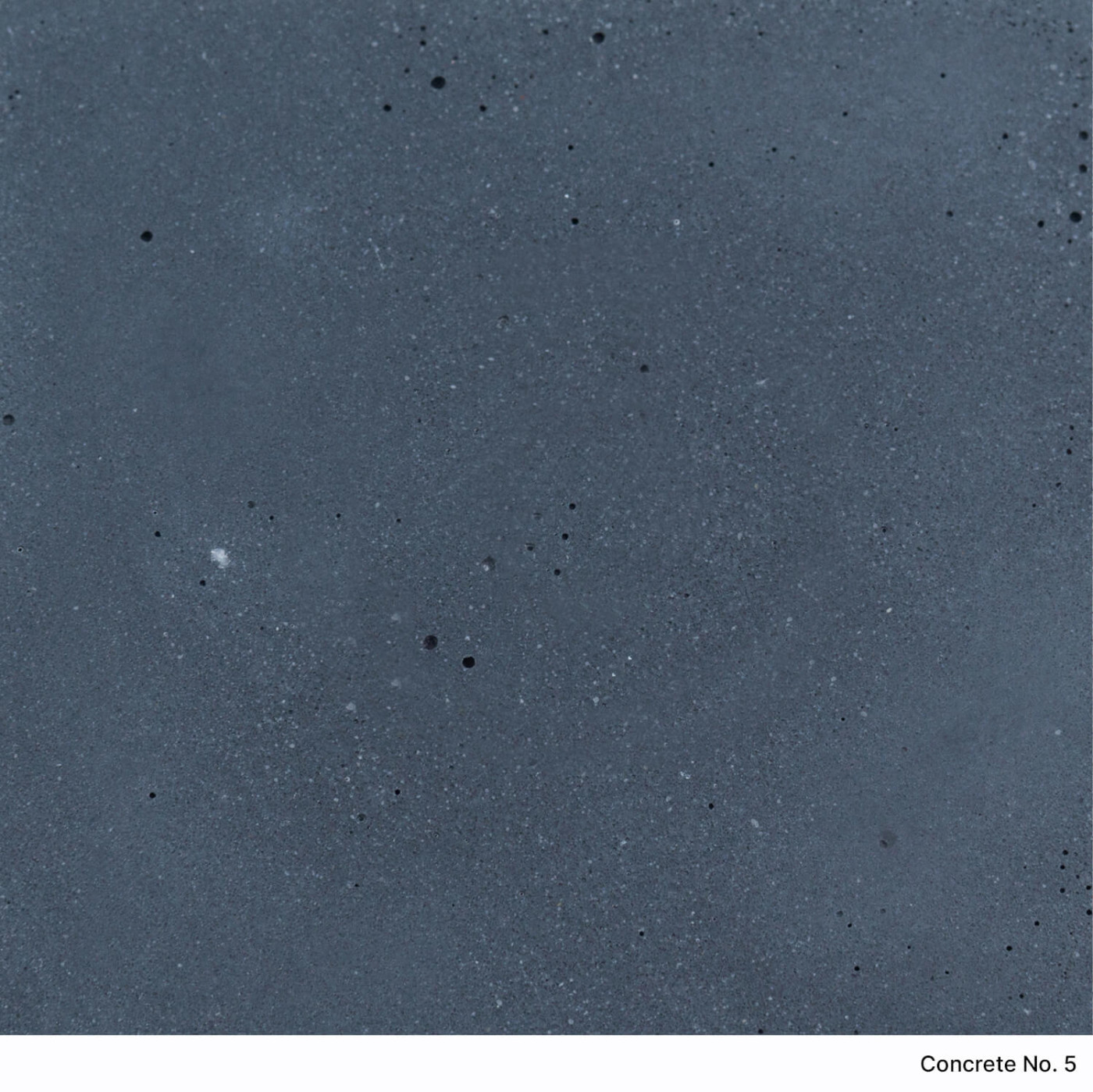 G-Table
Individually crafted comfort zones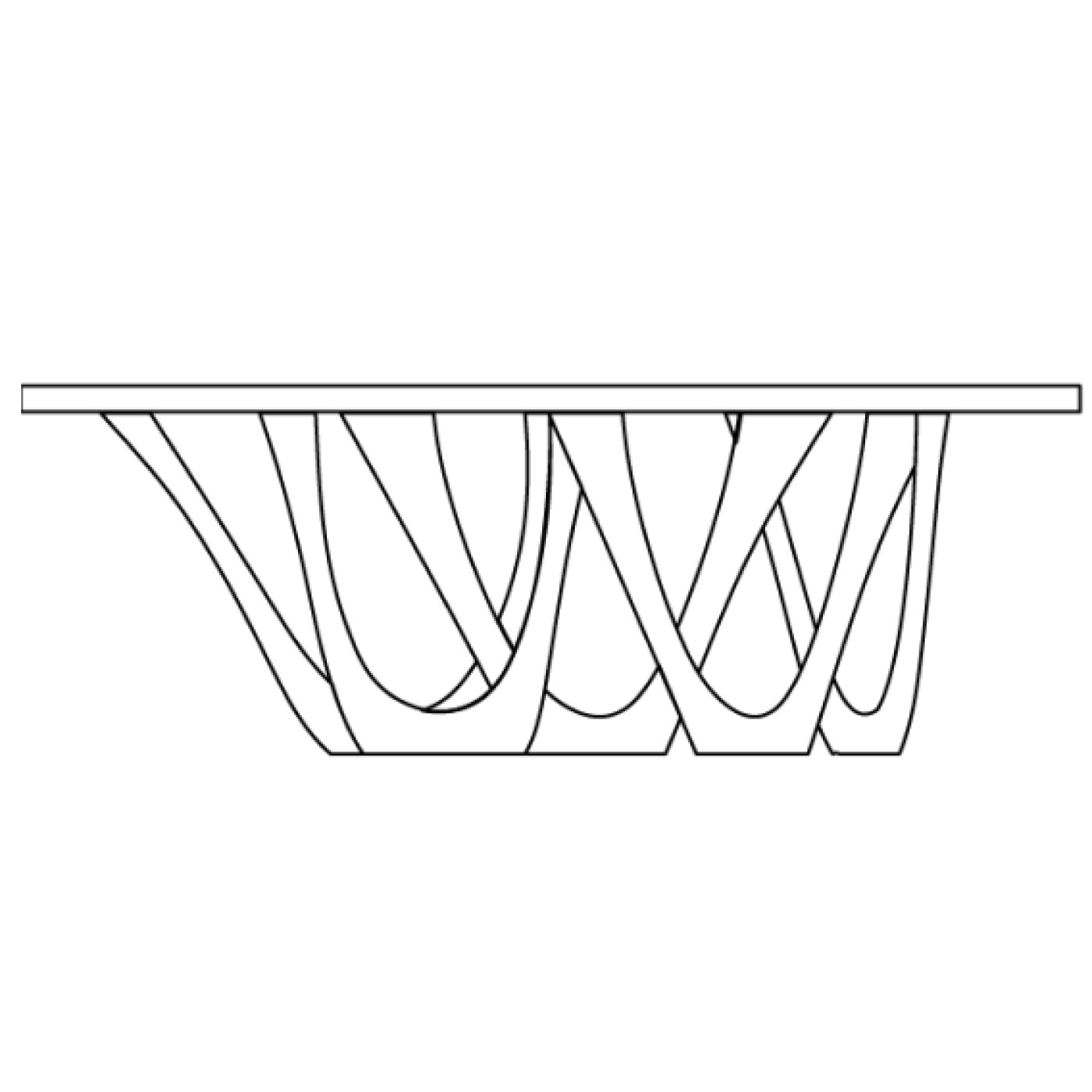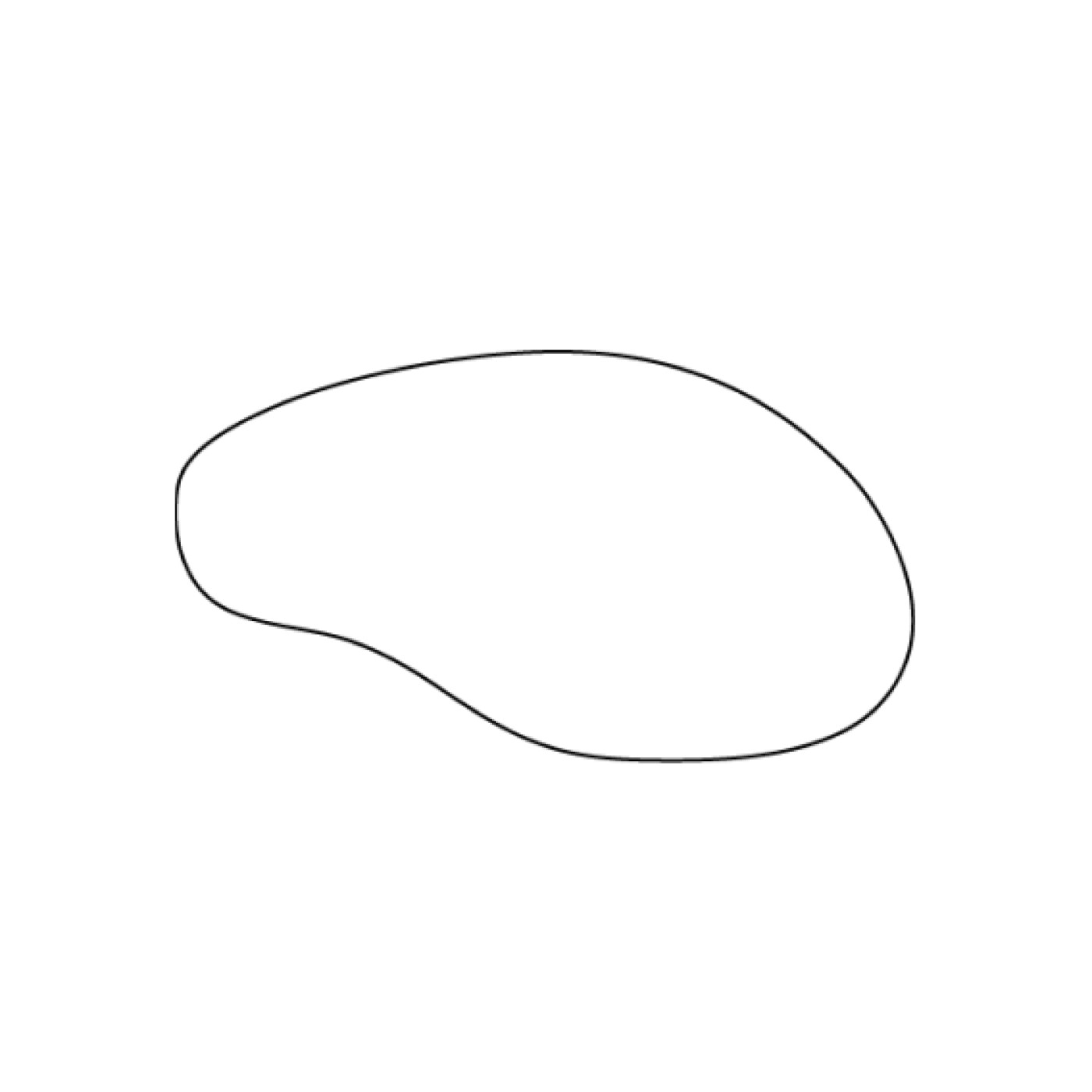 Dimensions
Height: 75.00 cm29.53 inch
Width: 220.00 cm86.61 inch
Depth: 110.00 cm43.31 inch
Weight: 230.00 kg506.00 lb
Gross dimensions (with packaging)
Weight: 461.00 kg1014.20 lb
* choose the type of concrete, and write in the comment section on the checkout page. Available options are included in the Product Card, download files and described below.
* weights, shapes and dimensions may vary, this is a characteristic feature of FiDU products


The colours visible on the screen may be presented differently depending on your monitor settings and screen resolution. Therefore we cannot guarantee an exact match between the colours you see on the screen and the colours of the actual products.
Individually crafted comfort zones
The G-TABLE is a bionically shaped object customized for the client's needs. Each table is parametrically tailormade and created together with the end user, who can choose from a variety of materials and finishes and also decide on the final specifications. The G-TABLE reflects a subtle dialogue. Depending on the type of material applied in the process of joining the tabletop and legs, either the top or the legs may predominate.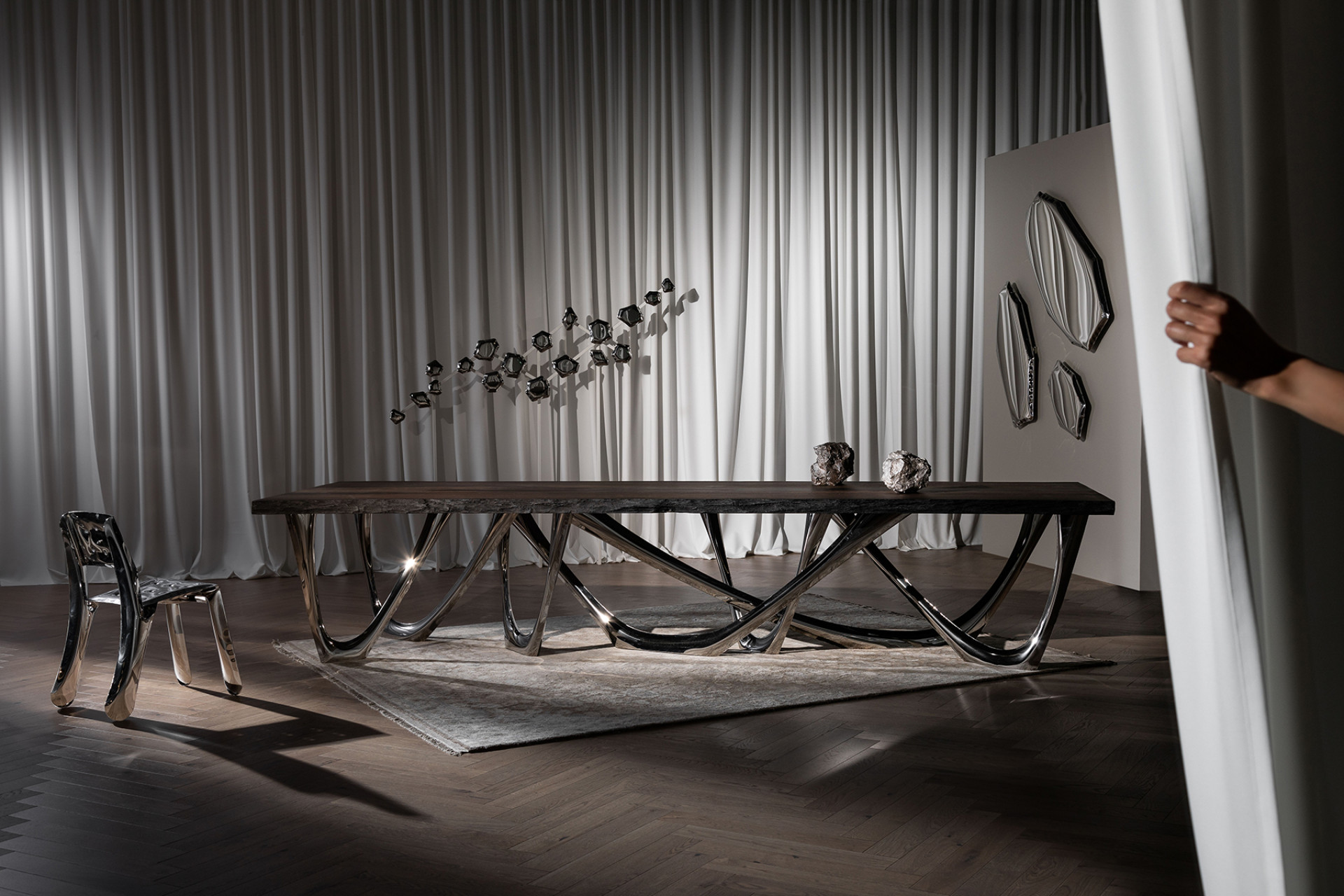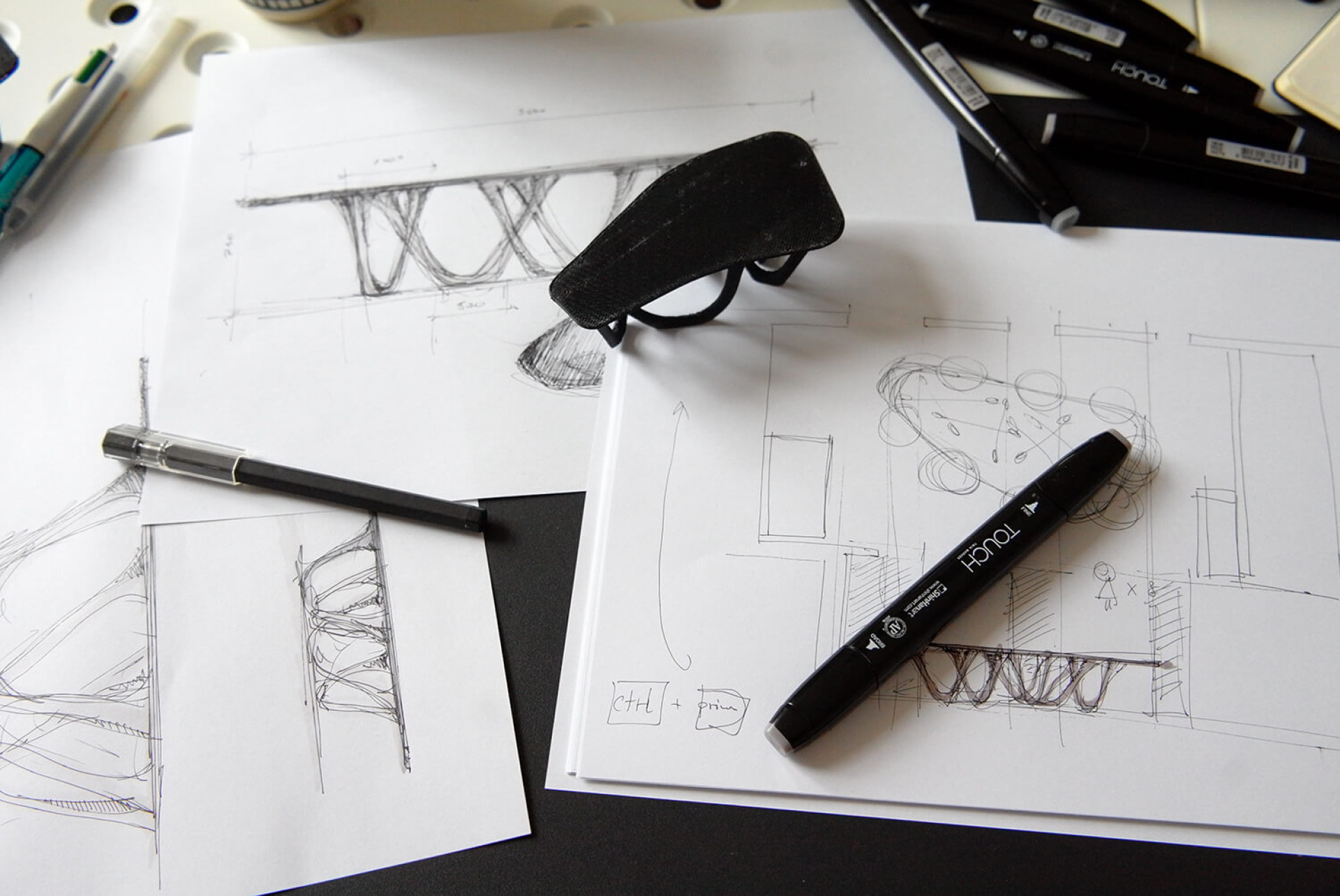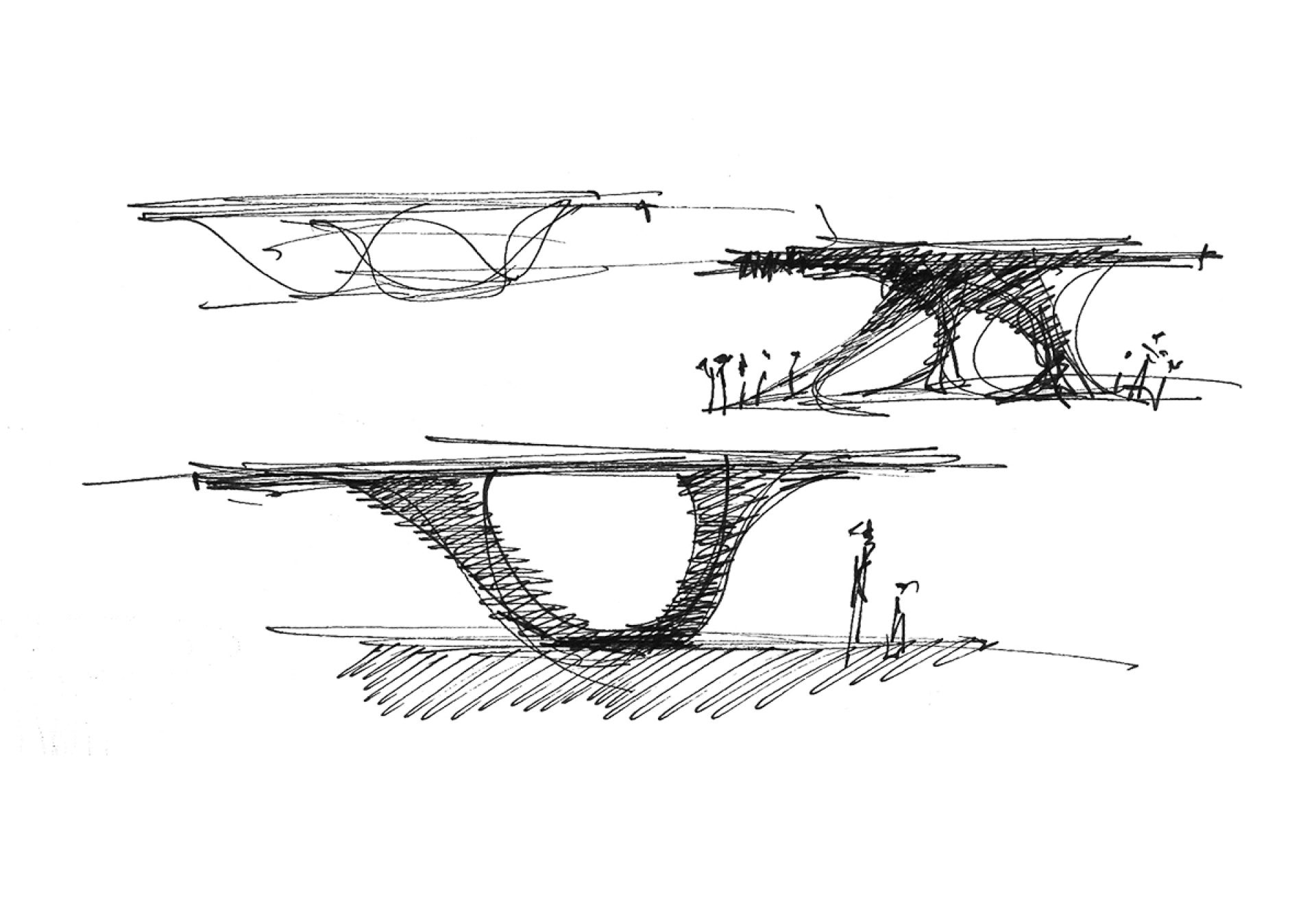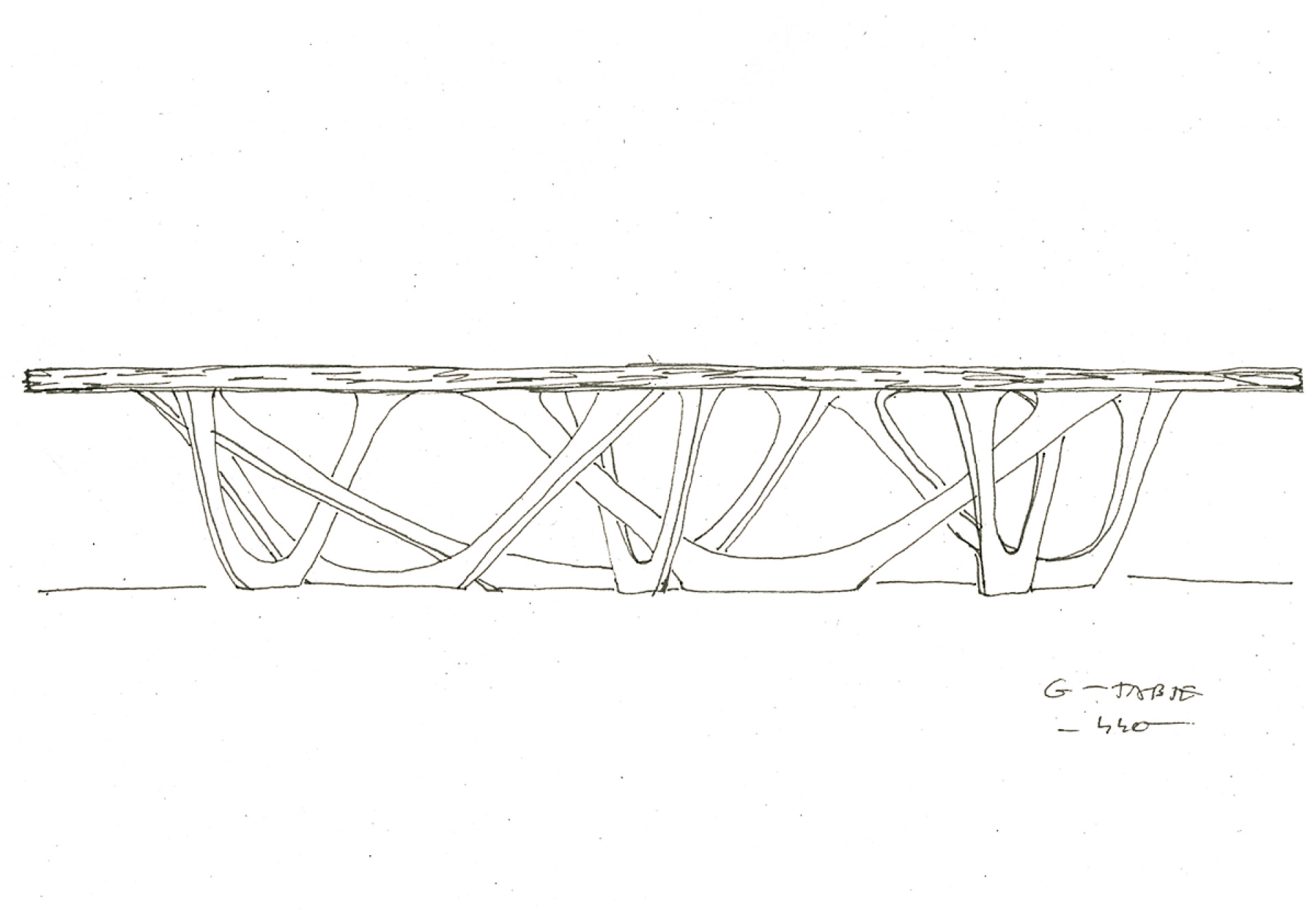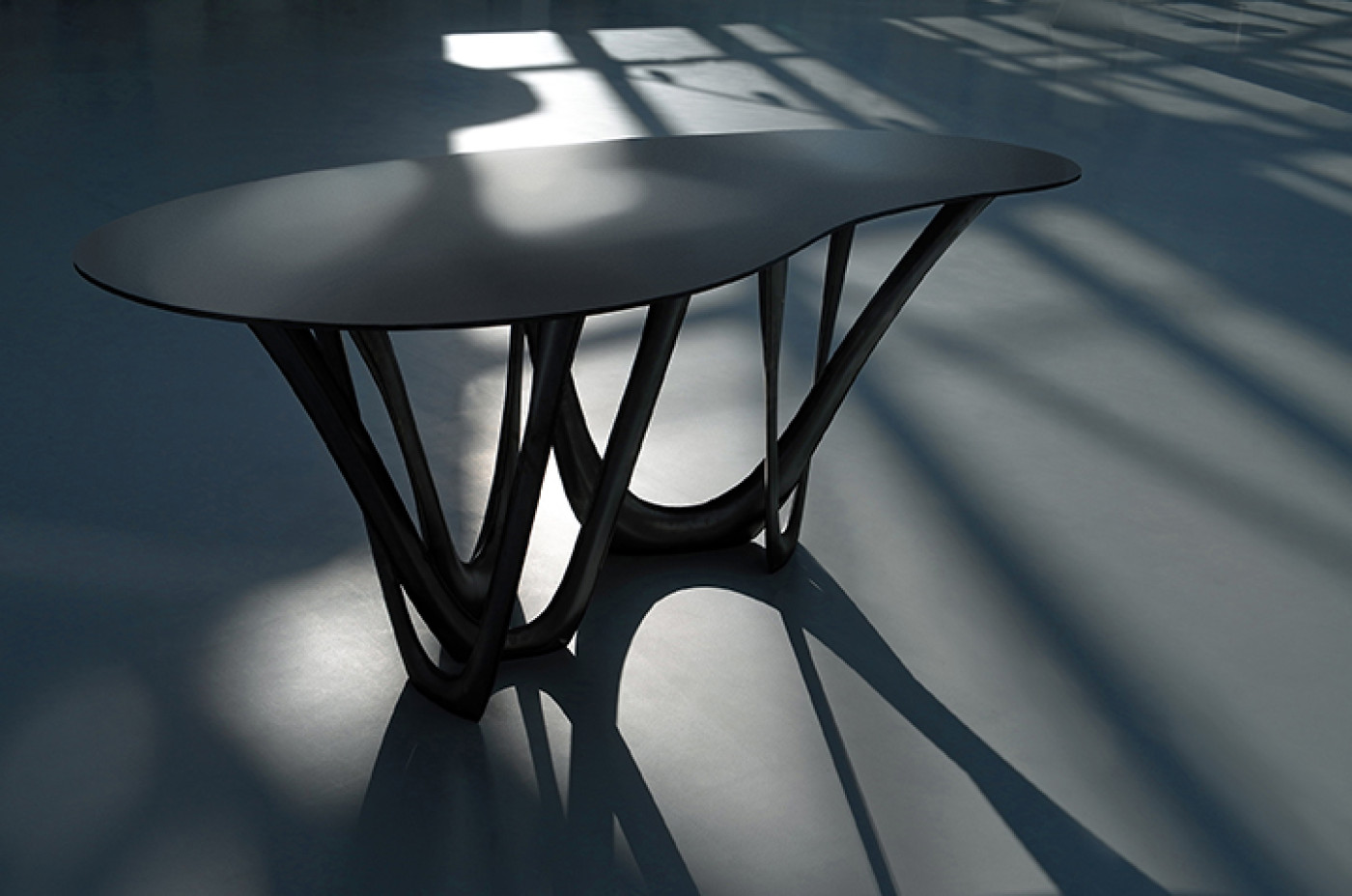 Bionic customization
Since its early works and first FiDU applications, Zieta Studio has used architectural software to generate optimal forms for specific objects. G-TABLES, a series of bionically shaped tables, are manufactured by combining FiDU technology with a dedicated parametric algorithm. The essence of the process of designing the shape of the G-TABLE top starts with defining such parameters as the number of people to be seated at the table, the table's required geometry, and its future setting.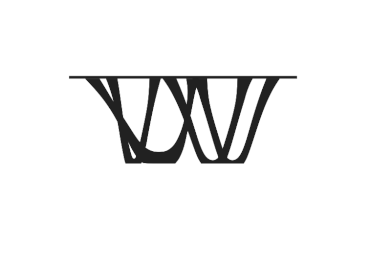 G-TABLE's metal base, which is also available in a variety of options, is made of parabolic forms. It is reminiscent of plants or tree roots, which symbolize constant change and harmony. Hence the diverse structure of the G-TABLE alludes to natural forms and processes.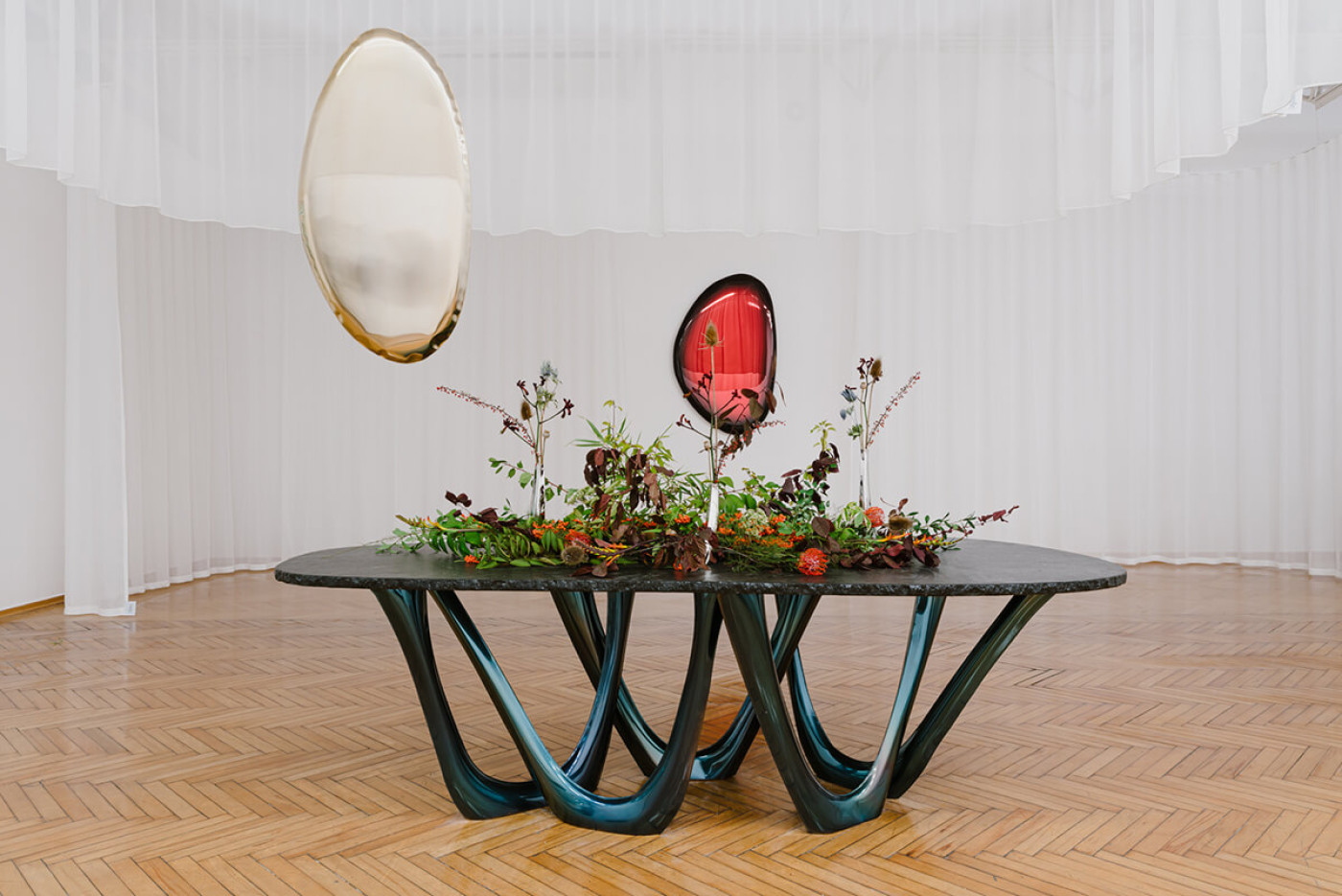 By modifying five features in the software, we can generate tailored parametric arches with no limits of scale. In general, the software allows us to create the basis for miniature models as well as huge art forms and structures. We are open to experimenting with scale and sizes to achieve a diversity of dimensions.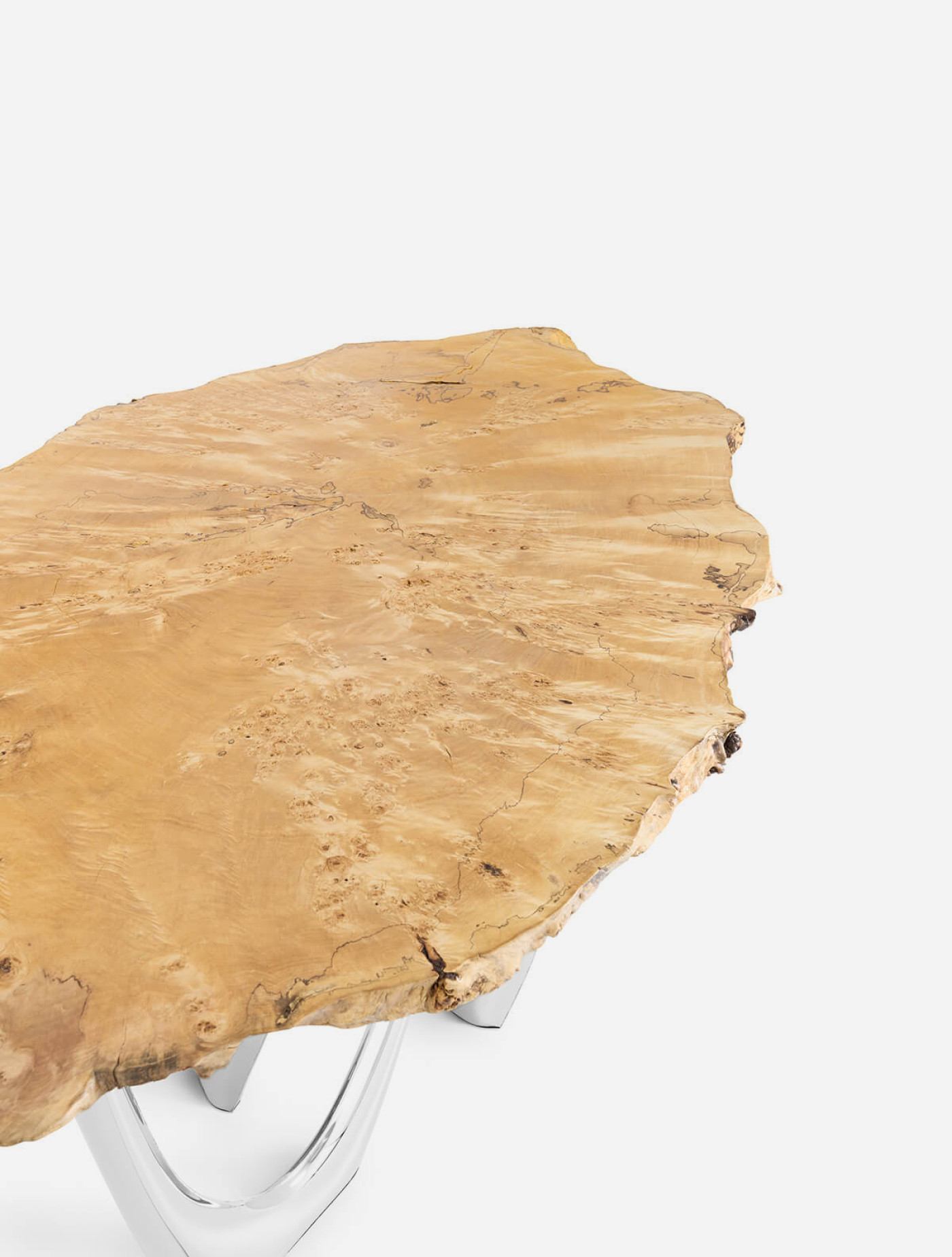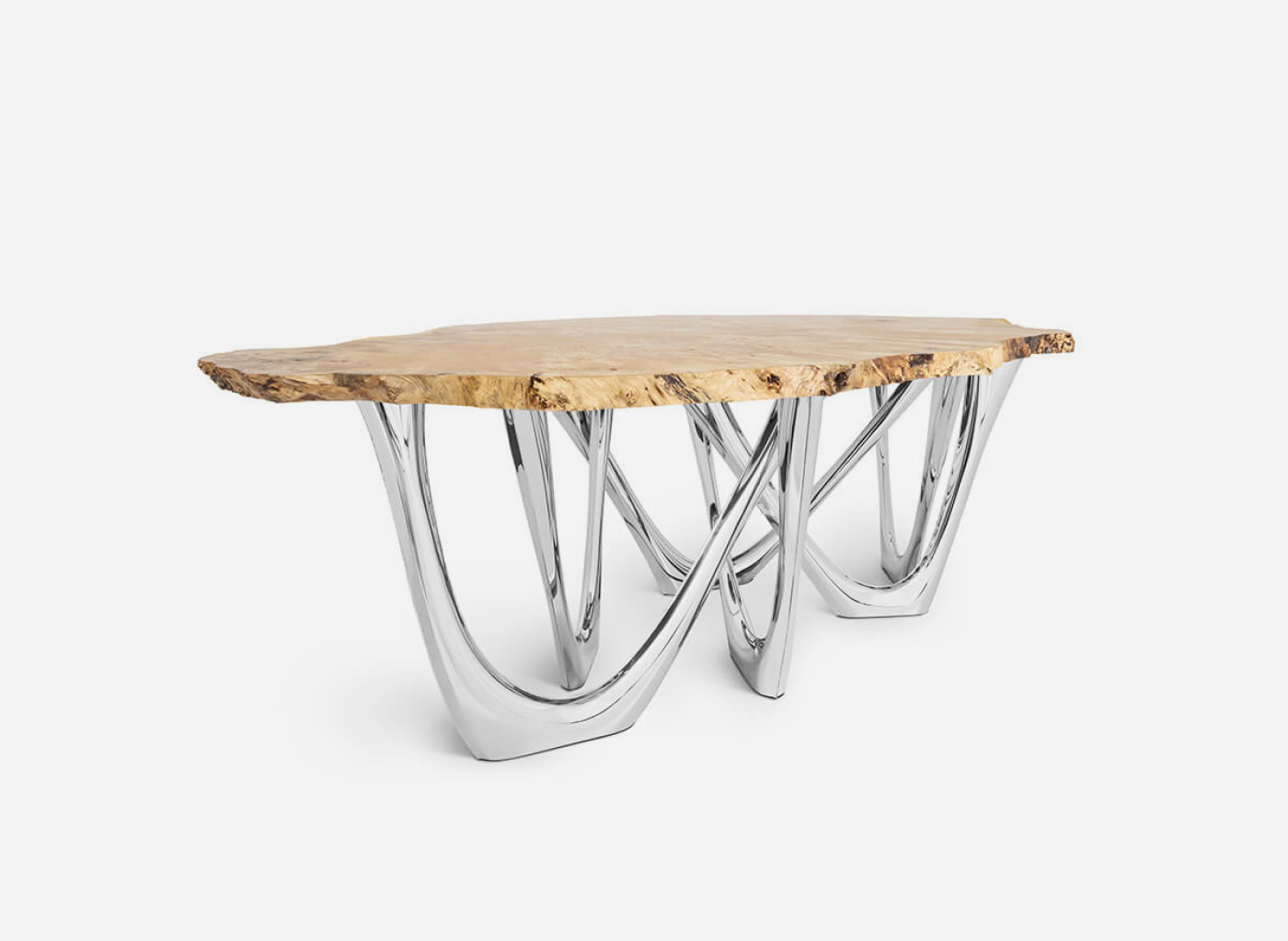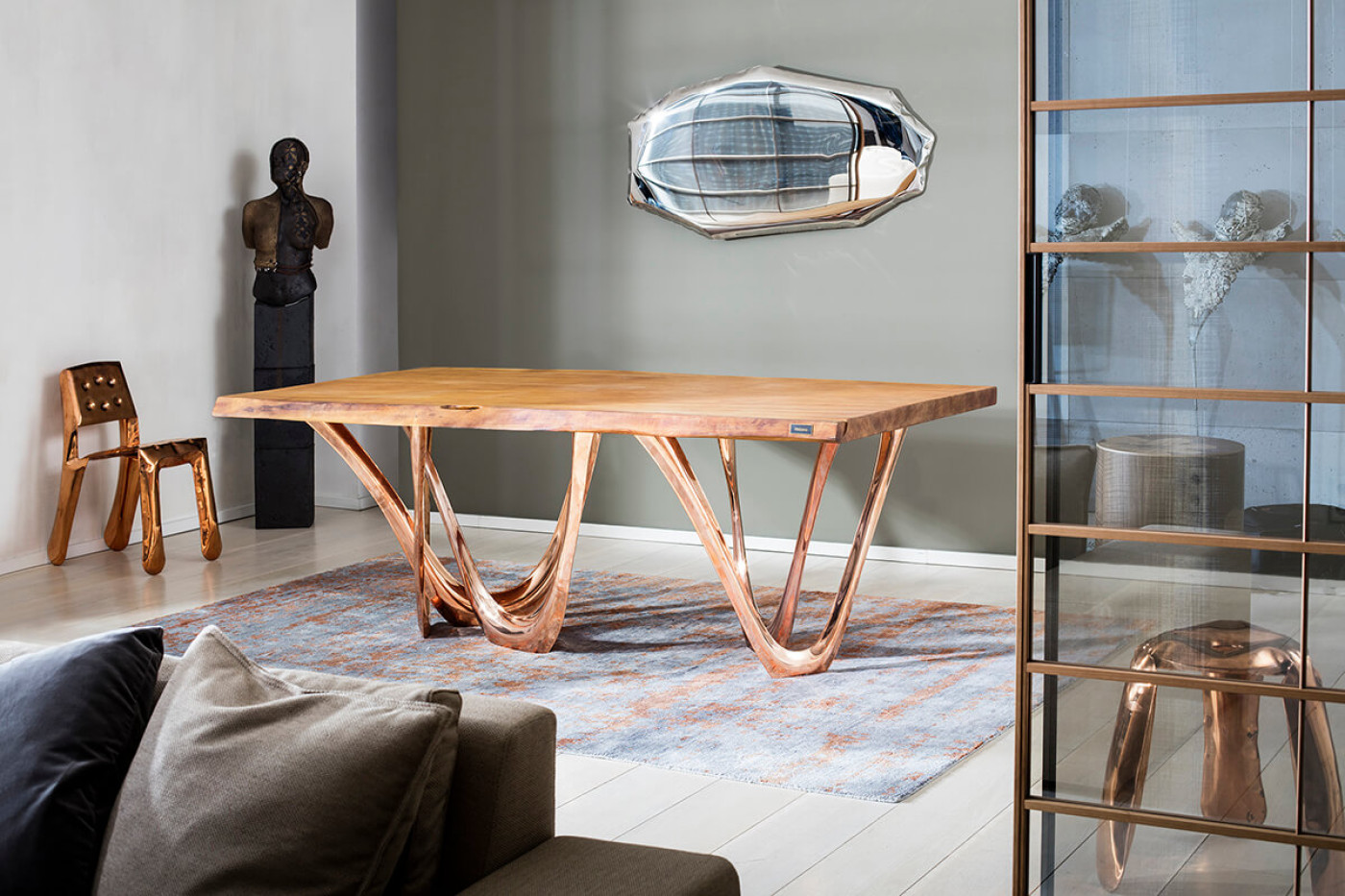 G-TABLE Kauri
G-TABLE K is made of copper and ancient Kauri wood, buried in the marshes of New Zealand for 50,000 years. Its past is recorded in a subtle and unique structure of tree rings. The pleasant scent of Kauri makes G-TABLE K not only an artistic object, but also an intensely sensual experience. Colours of the tabletop by Holzano and the copper base made with FiDU technology harmonize together and create a consistent entity. Kauri is the oldest wood in the world, while FiDU technology is the most innovative way of metal forming. This is where the past meets the future.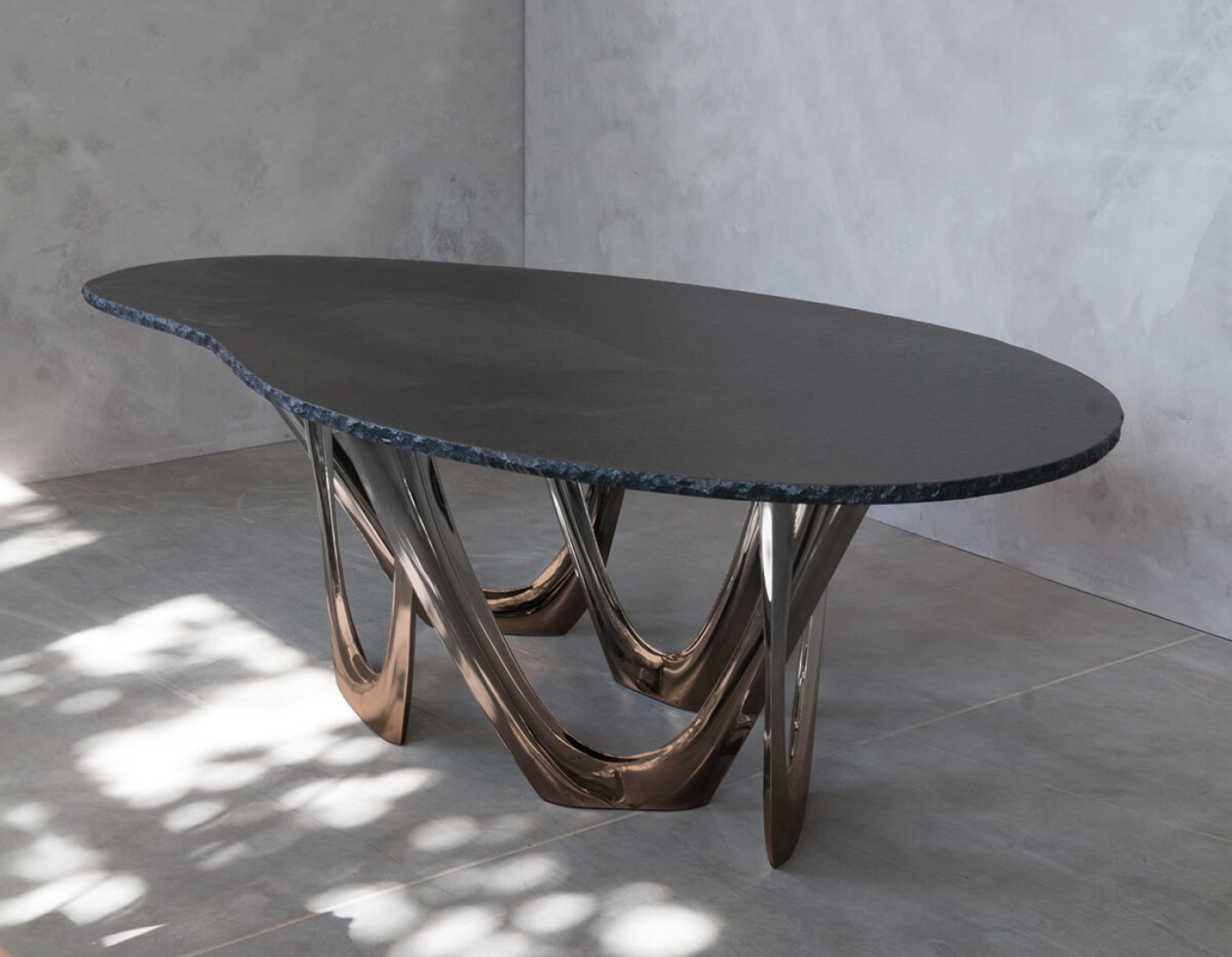 G-TABLE Gold Granite
The gold Inox G-TABLE was presented for the first time by Zieta at Rossana Orlandi Gallery. A custom-made table, a bionic symbiosis of black granite with a leather texture and bionic legs resembling vines and roots.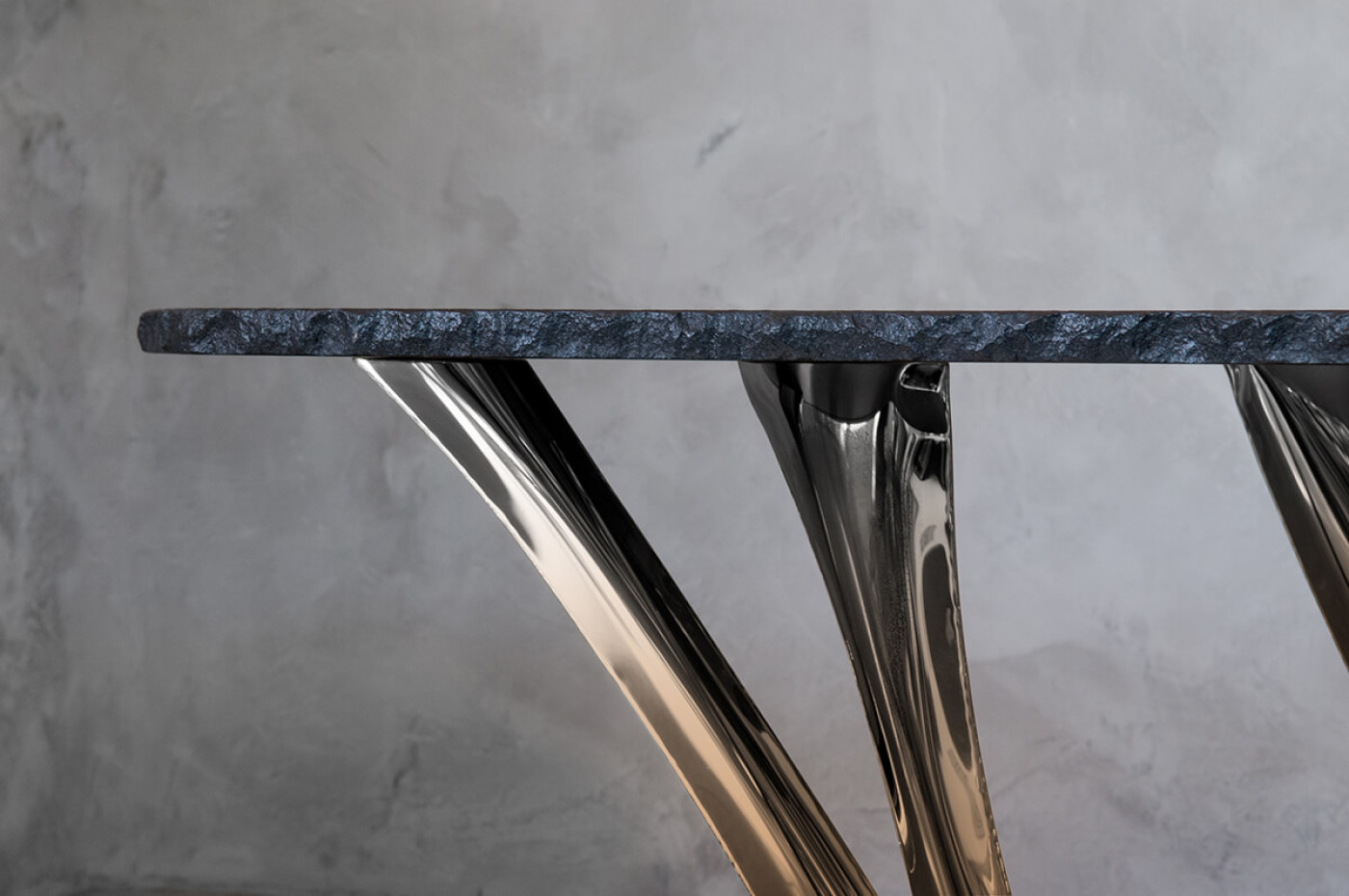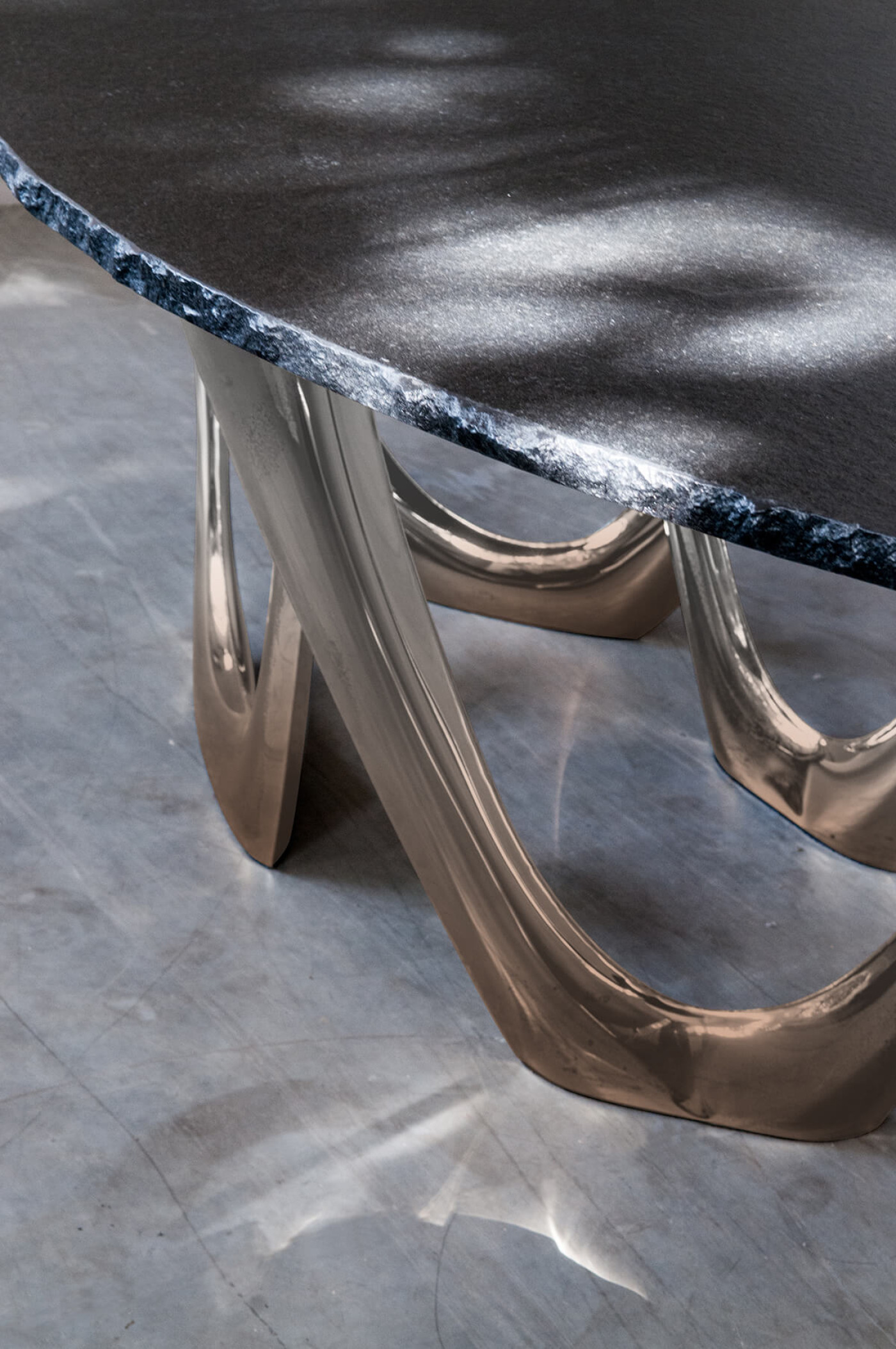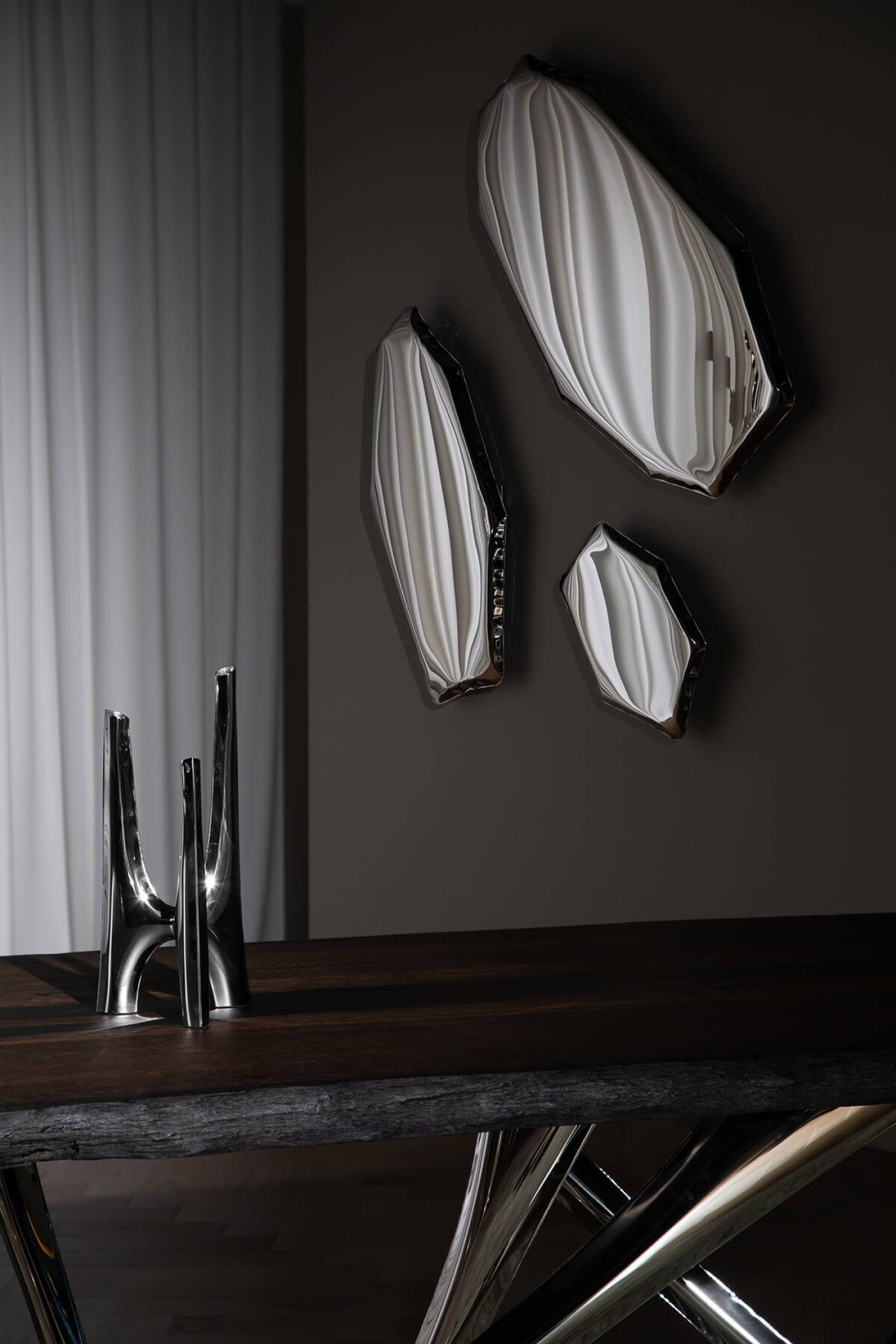 G-Table Dark Oak with Inox Base
G-Table Dark Oak is an elegant mixture of contemporary sculptural form with a traditional oak top. Finesse and an artistic approach to an object of everyday use make it stand out in the crowd of things. It is a showstopper, a piece of art that astounds and baffles.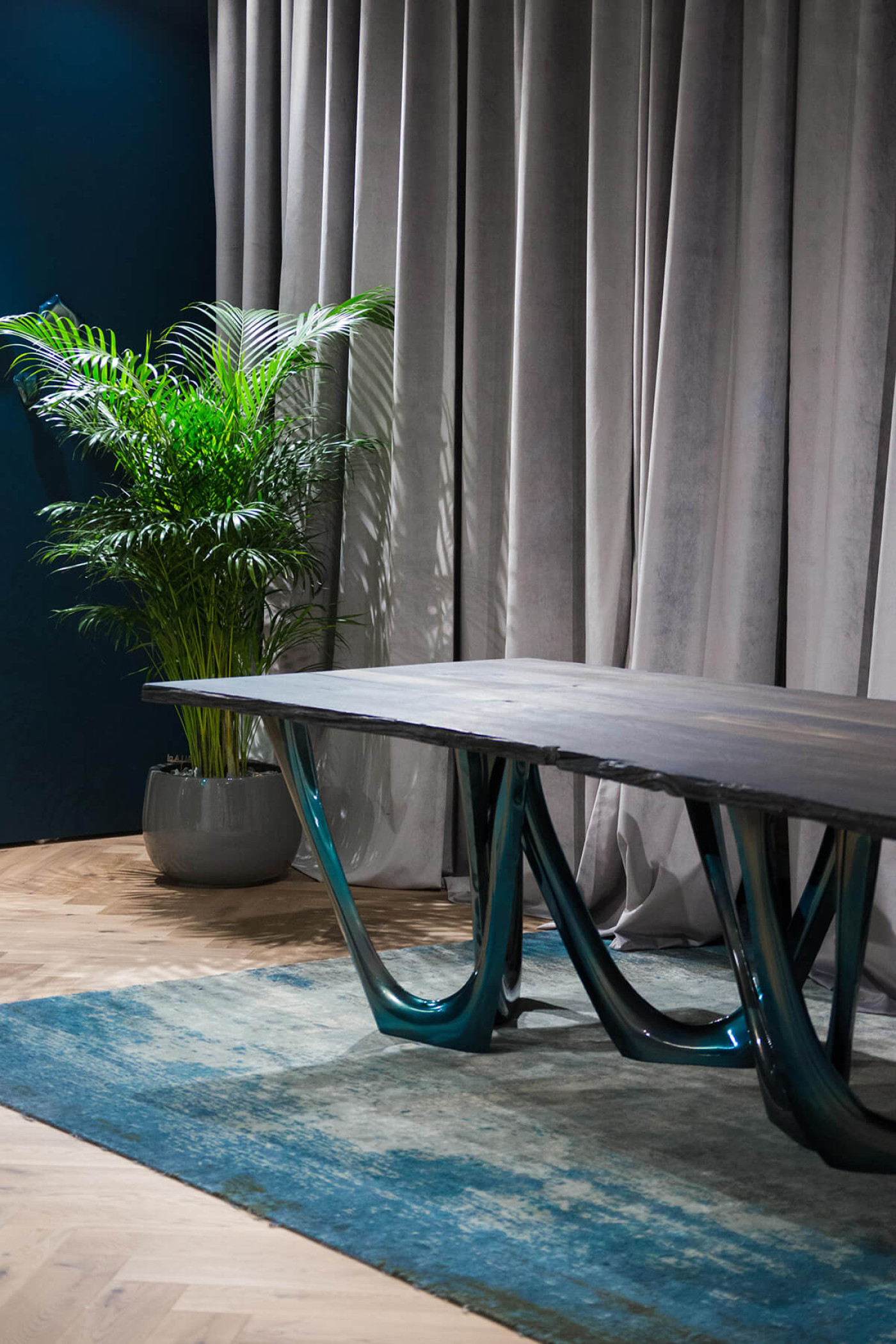 G-TABLE Cosmos Ancient Oak
Black Oak is the oldest wood in Poland. Hidden from the world at the bottom of Polish rivers and swamps for thousands of years, it is now mined and transformed into stunning tabletops with outstanding character and visual features that arouse our senses and open up our imagination. Owing to thousands of years of oxidization, mineralization, and active tannins, the wood has gained a dark grey to dark blue colour. Deep, dark and tempting with tint.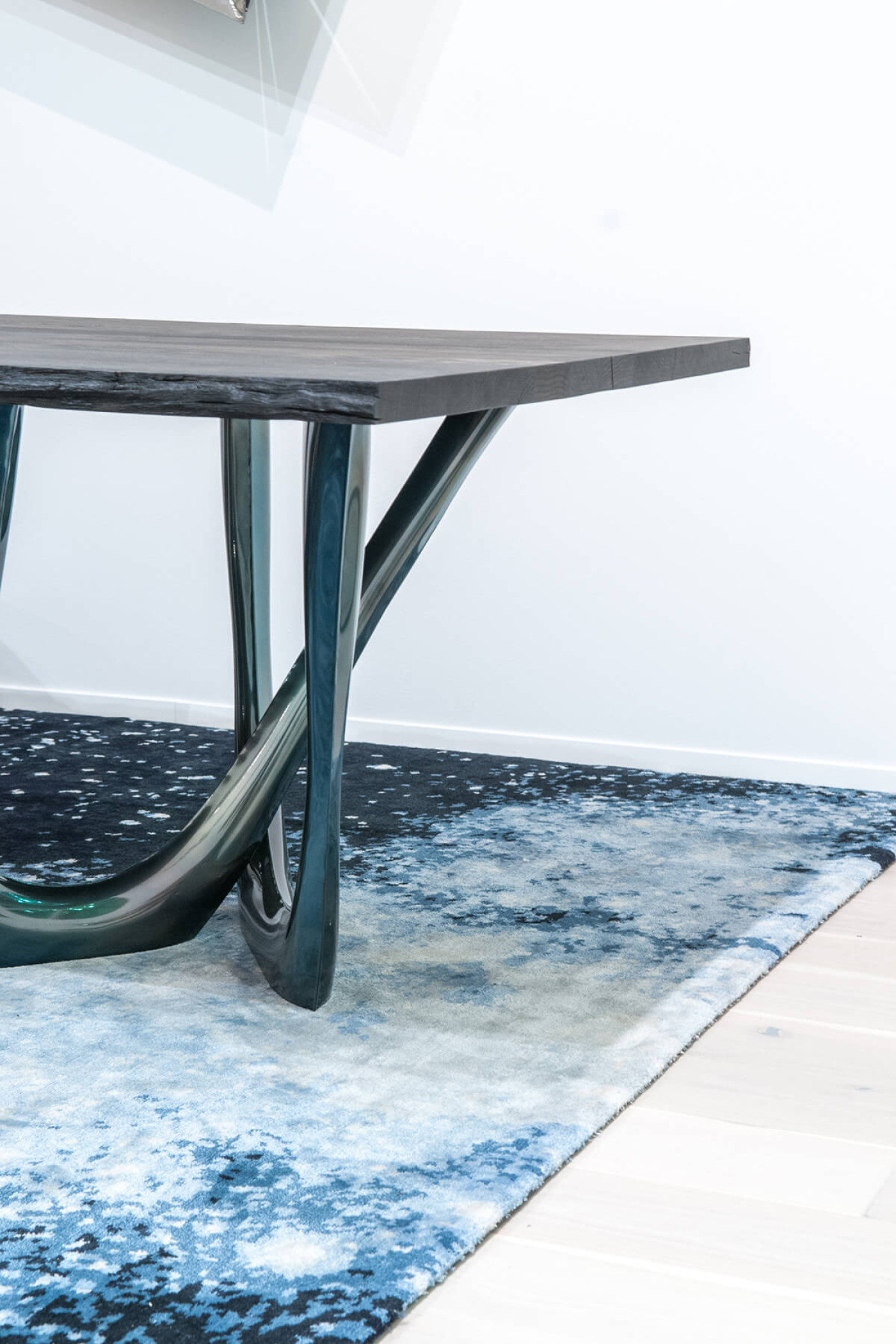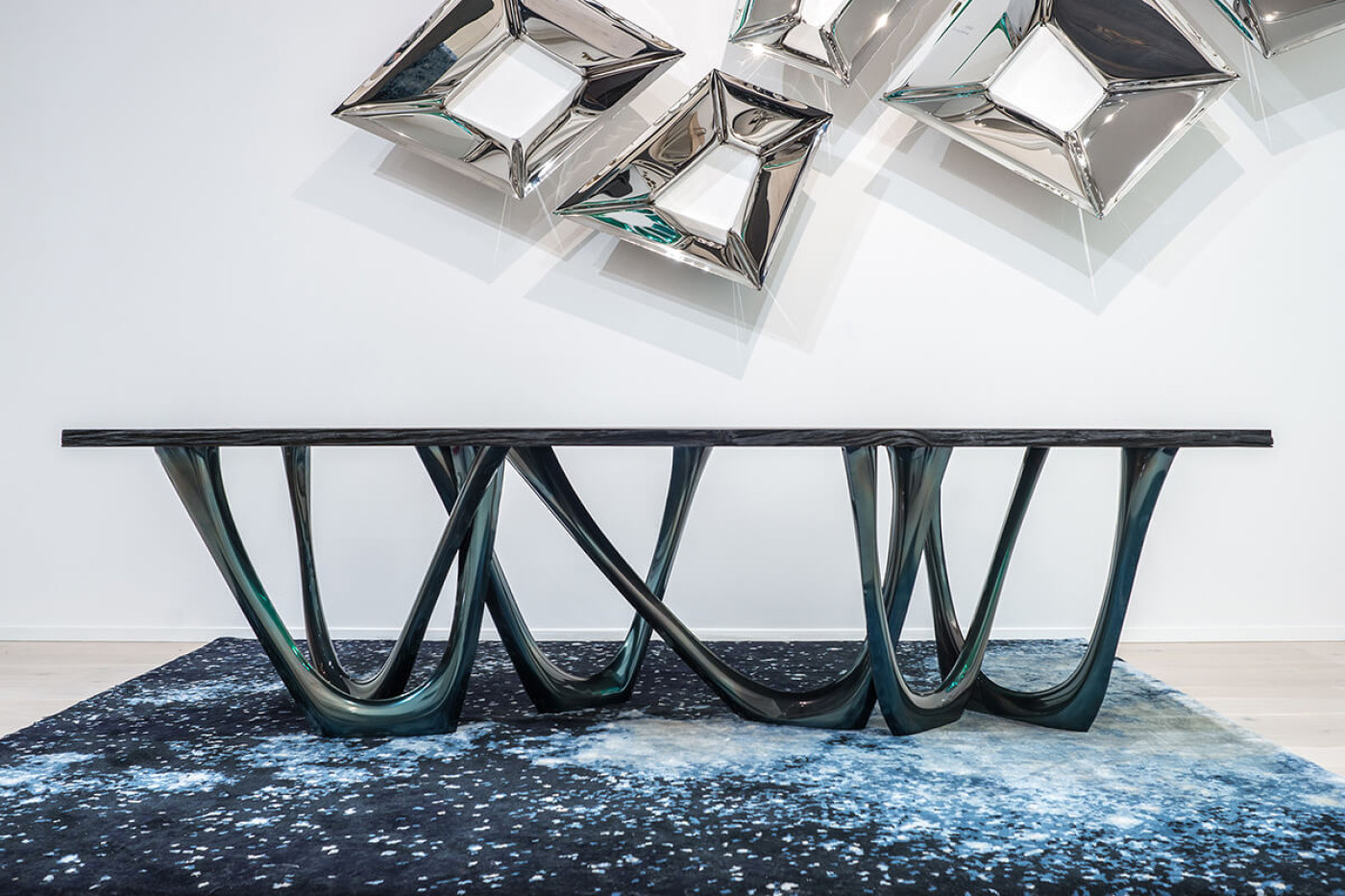 Concrete
Concrete tabletops are made of the highest quality raw materials from Polish suppliers. We offer three kinds of concrete hues, dark (No.5), medium (No. 3) and light (No. 1).
Materials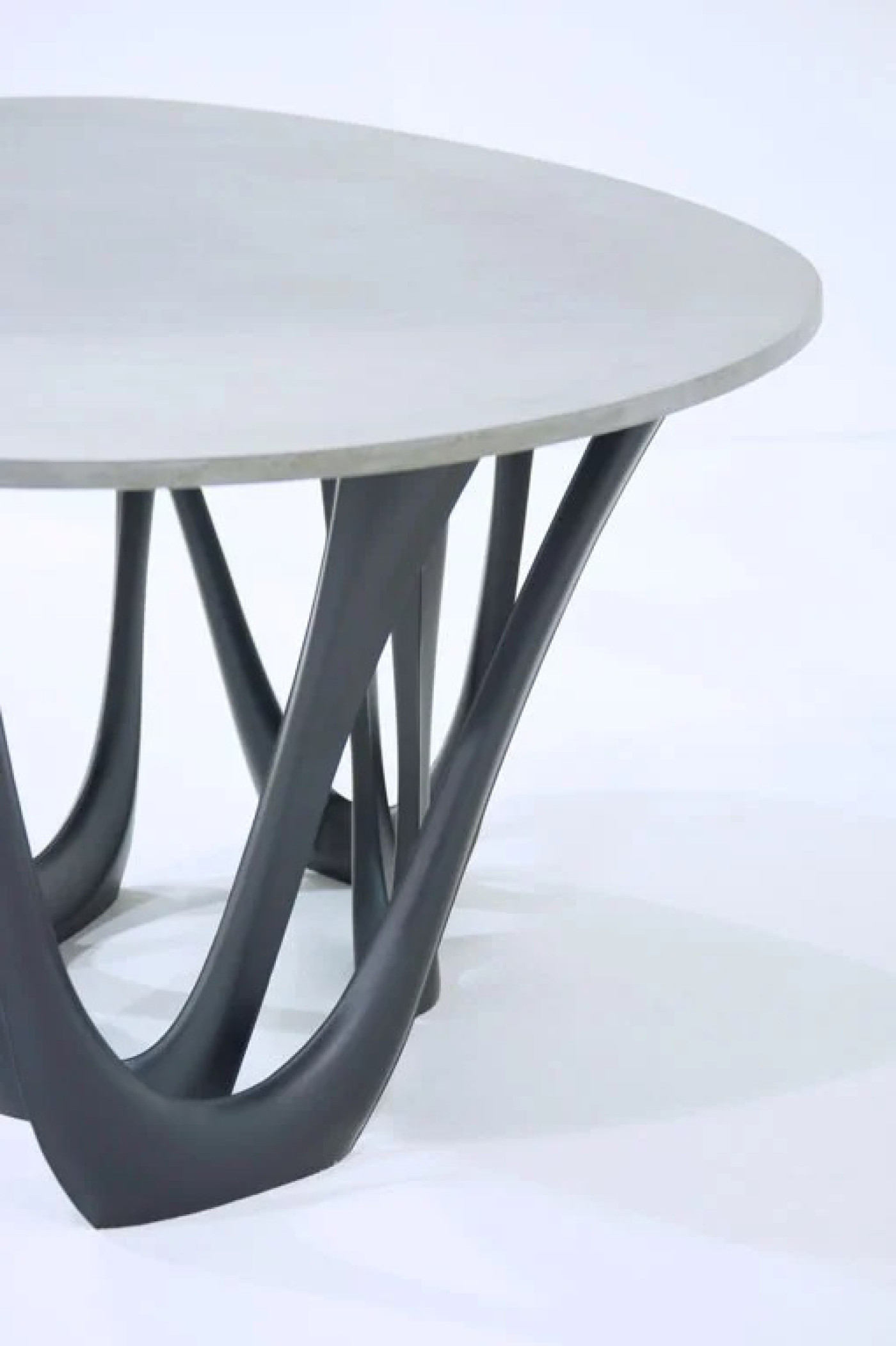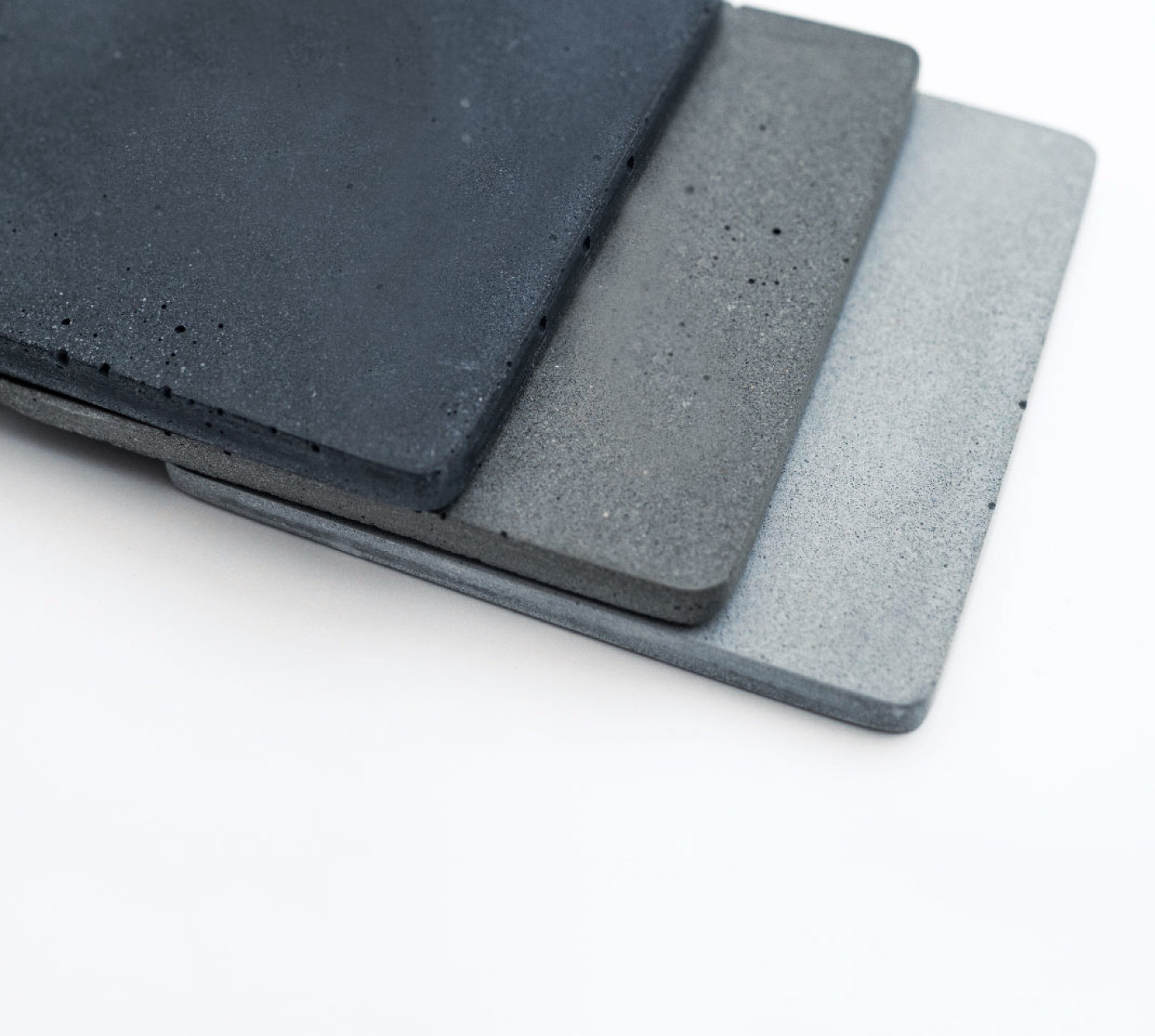 Wood

Each wooden tabletop is very distinctive and unique. In addition to oaks, we ofer poplar burl with natural edge shape. It is a rare material that is distinguished by an exceptionally decorative pattern of grains, spots and unexpected form.
Materials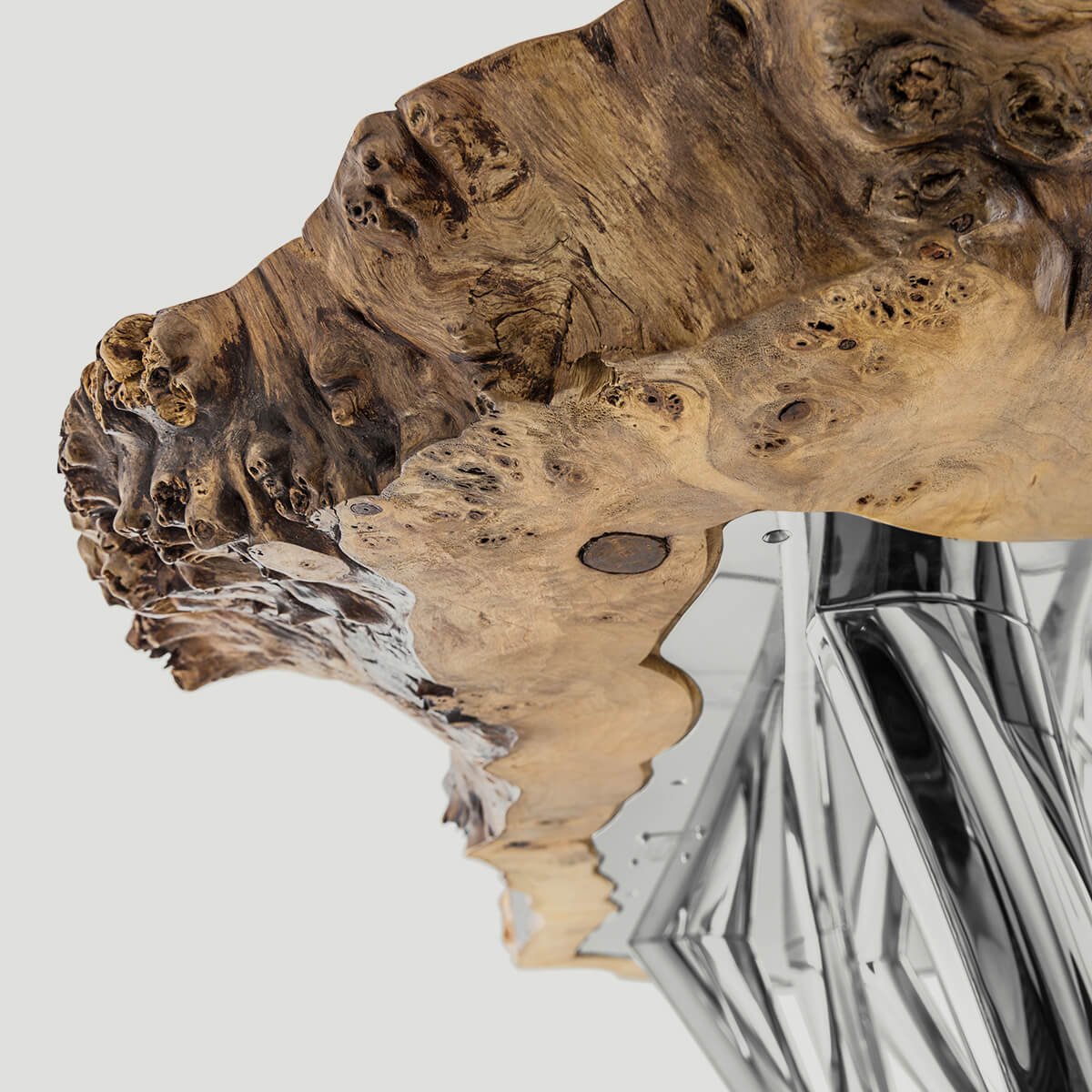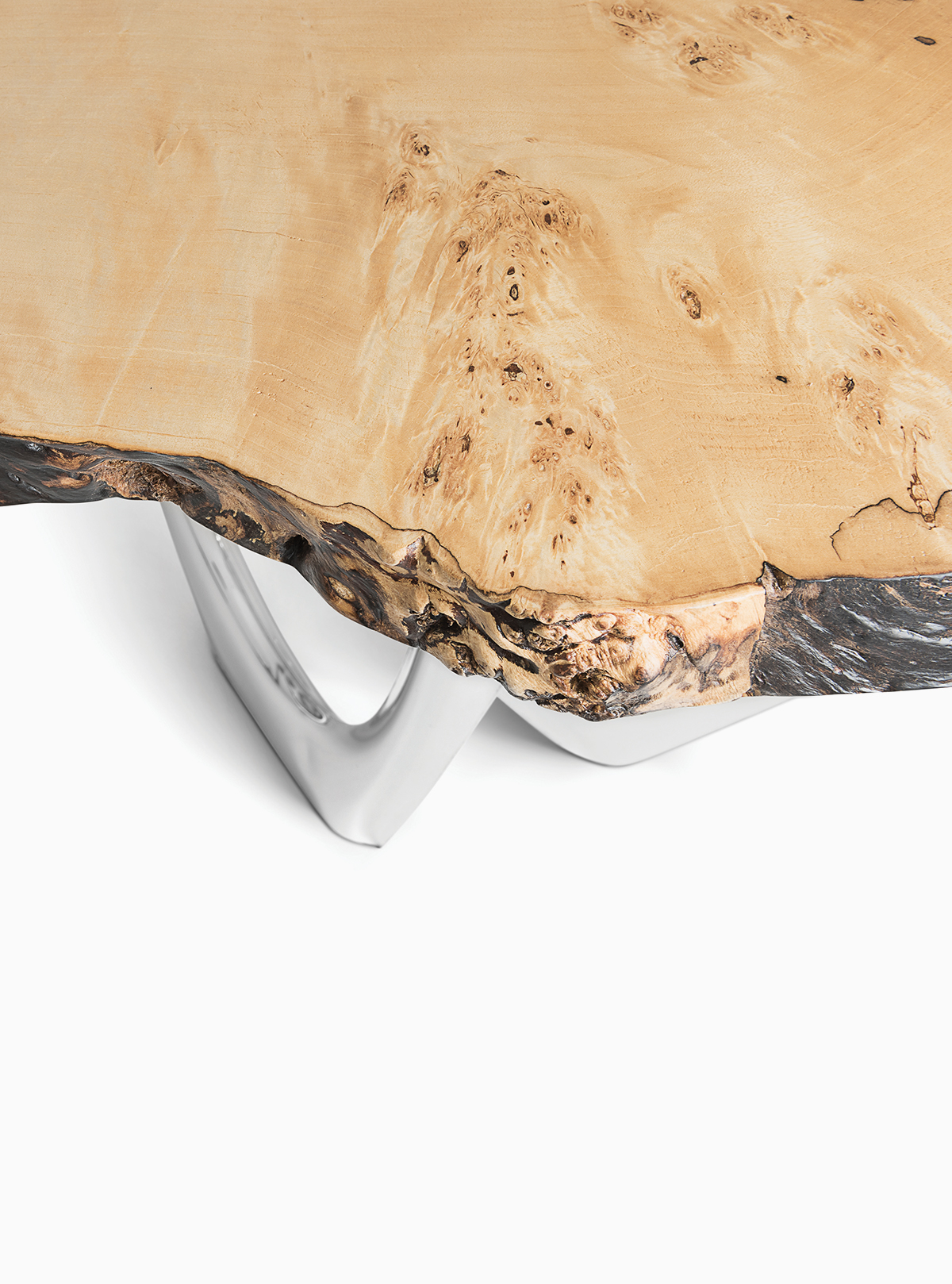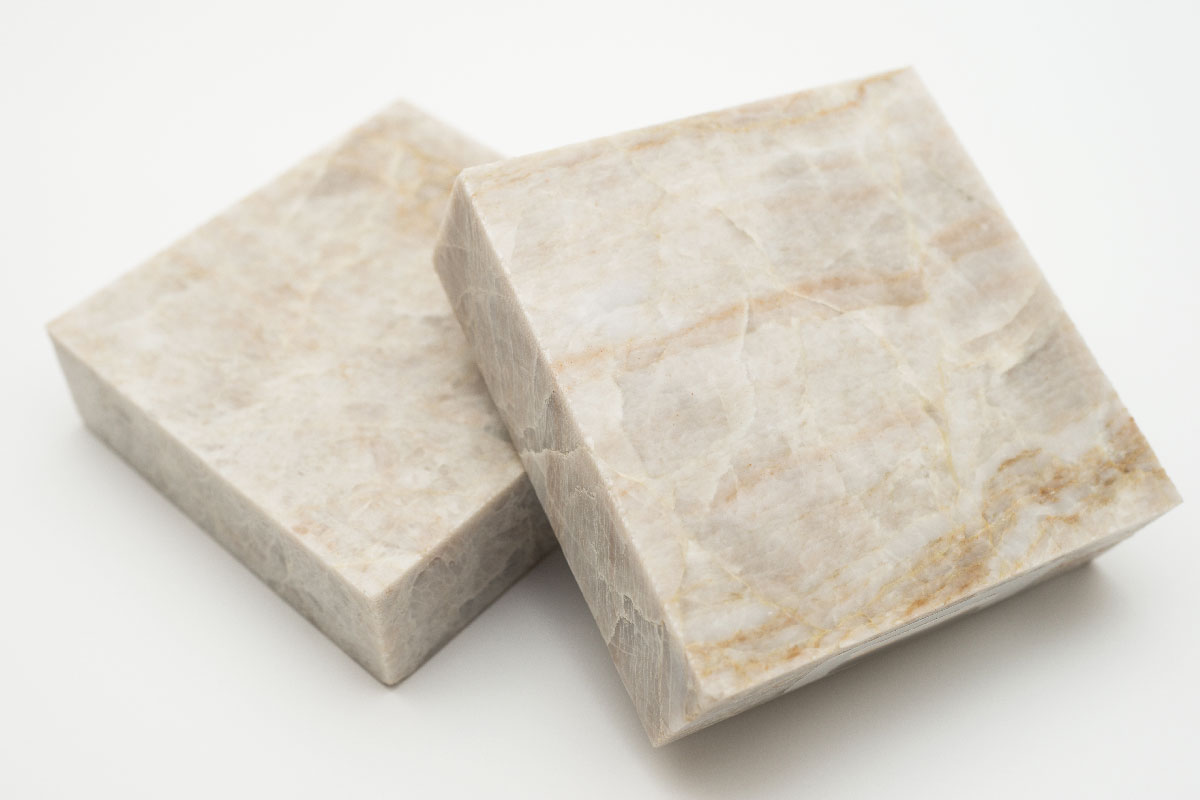 Stone
Stone tabletops come in many types and finishes that can be matched to designated space. Combination of bionic shape legs with natural form of stone creates a breathtaking addition to any room, with its natural beauty and timeless elegance. It possesses a unique texture and coloration that is unmatched by any other material, creating an aura of luxury and sophistication. We can help you choose the best option.
Materials
A testament to the power and beauty of nature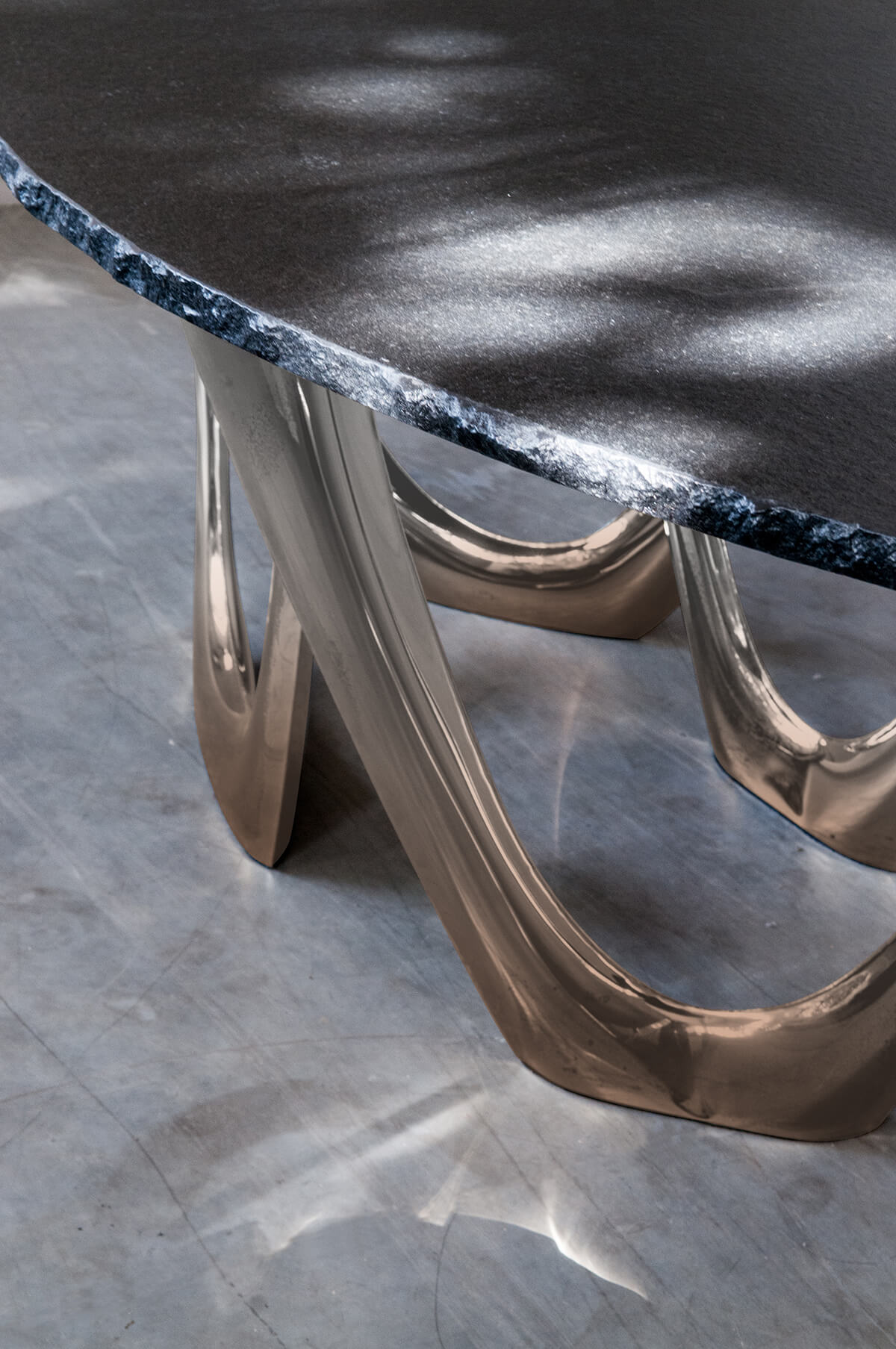 Get acquainted with
G-Table
Customization
Personalized objects
Shape
G-Table are dedicated to a given space, its surrounding and function. We prepare best parameters and generate optimal forms with use of AI program by analising customer's needs. Designers and artists develop this further with a sense of aesthetics and proportion to create truly unique object.
Materials
G-Table can be made of many type of materials and finishings for top or legs. We can offer the best-suited composition or use the customer's table top. More about:
Materials →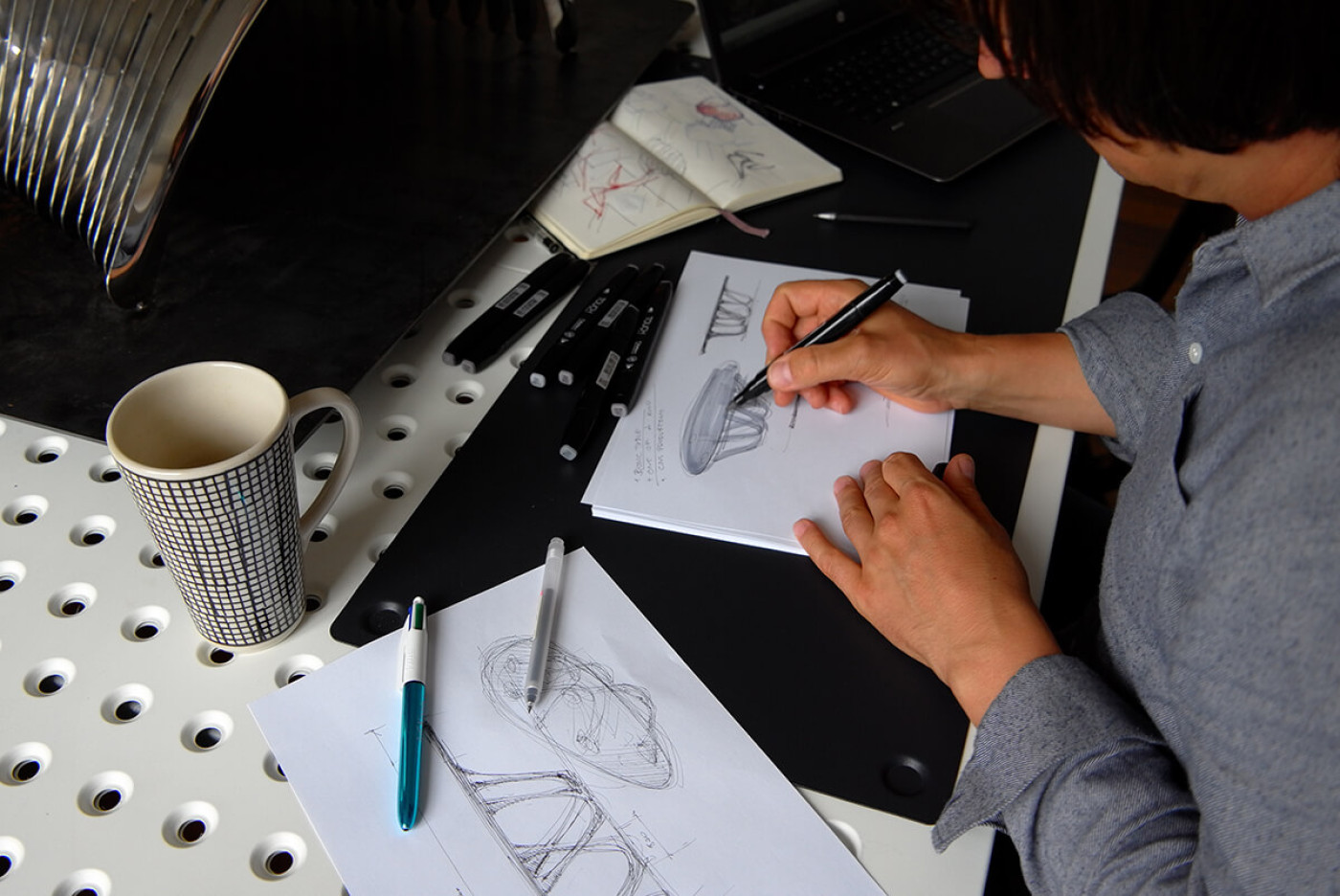 State of art
In collaboration with artists we create unique objects. One of a kind engraving, colorization, form or finishing requires commitment and dedication from all side.
Commission custom object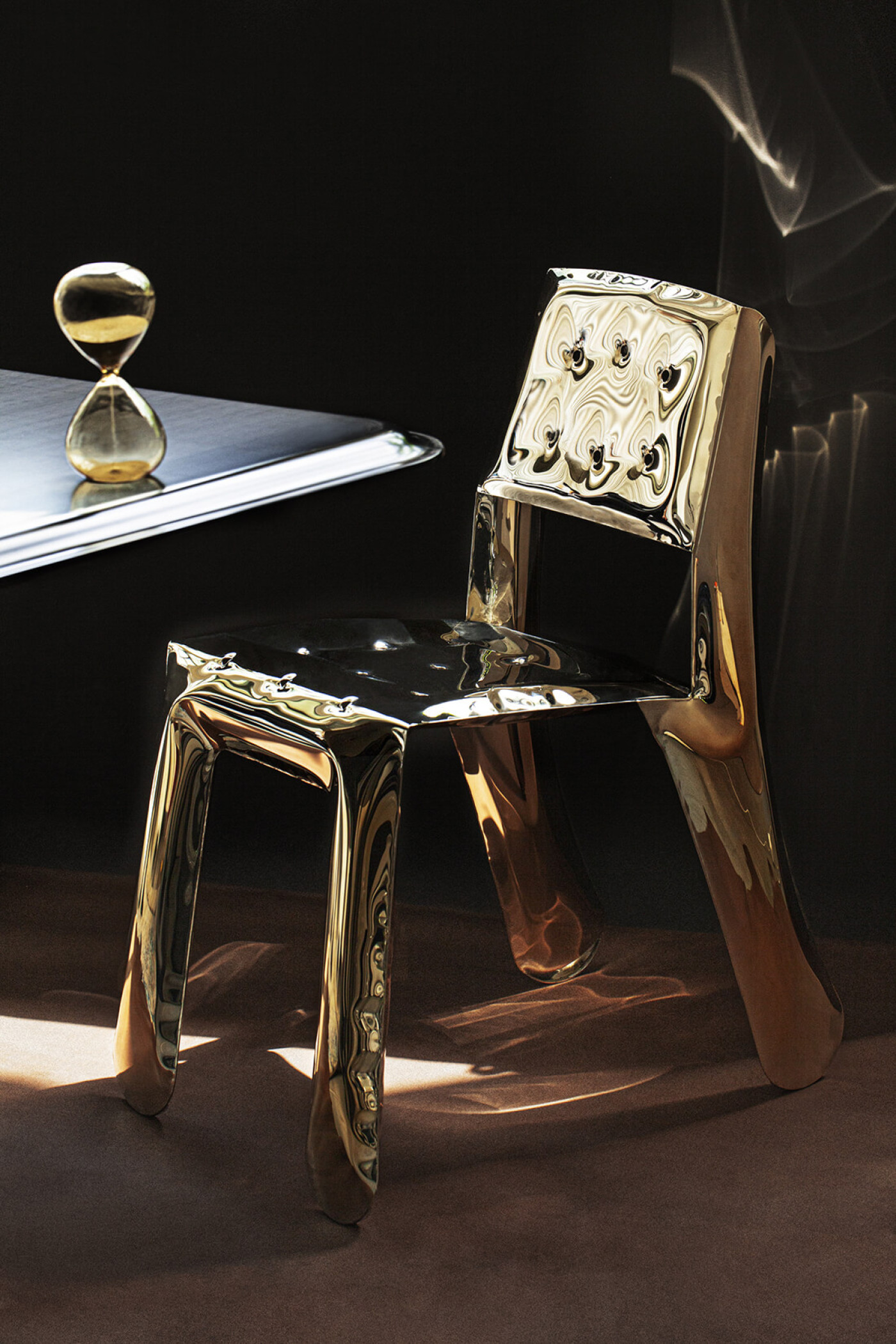 The art of heating
Thermo-colourized objects from the Zieta Collection in two rare colours: Flamed Gold and Cosmic Blue. Oskar Zięta used the natural properties of steel and, through his research, led to development of a technology using high temperature to colourize metal surfaces.
explore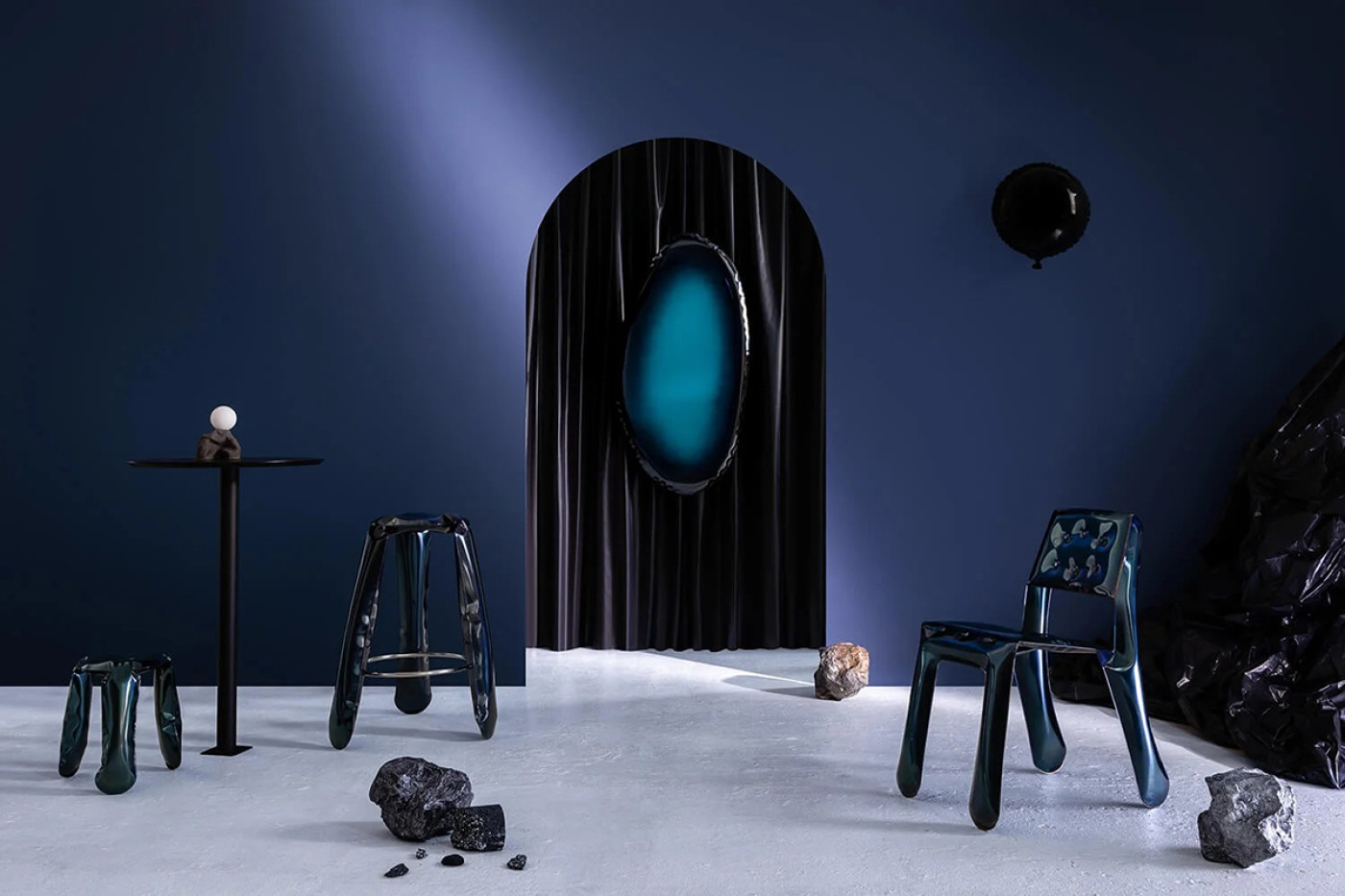 Studio's selection
Complementary choice
Our Journal
Related articles