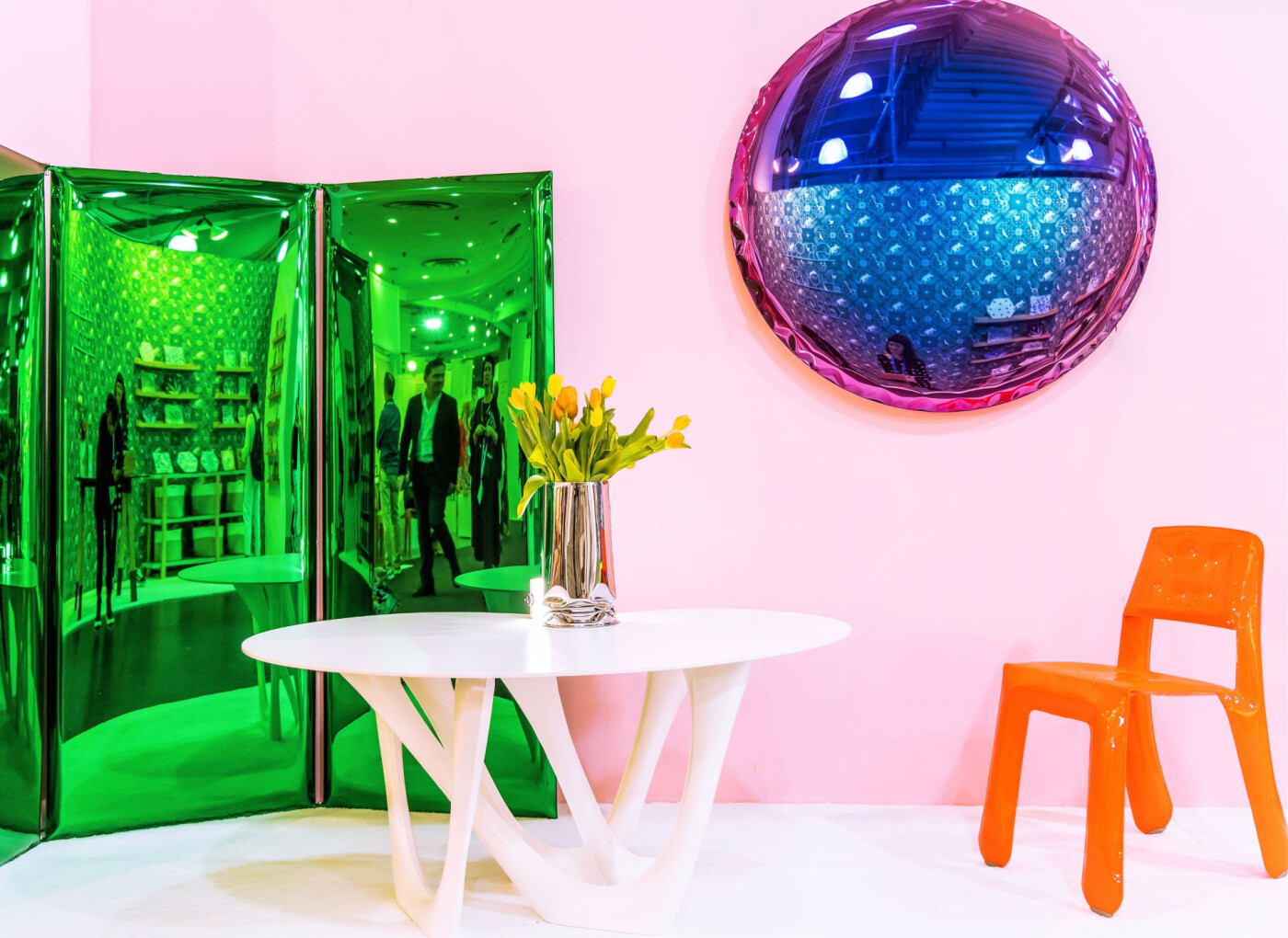 ZIETA STUDIO
Colors blown in metal
Pushing the boundaries of the Zieta Studio Inox trademark, the 2023 booth is about multilayered interpretations of color. It manifests the journey through various coloring techniques for metal surfaces. From glossy neon, through unobvious gradients, up to addictive white matte.
Among its wide array of furniture designs, ranging from minimalist and sleek to bold and avant-garde, Zieta Studio highlights the use of sustainable materials and advanced manufacturing and coloring techniques.
Its objects exemplify the deep relationship between form and function in contemporary furniture design.
A wall of mirages:
SONAR
.
Made of polished steel, it beautifully reflects the surroundings and refracts the light, creating interesting visual effects. Its grandeur and bold character make it a perfect addition to large contemporary spaces such as living rooms and bedrooms in private homes, as well as restaurants and hotel lobbies.
SONAR
is definitely at home in ambitious interiors, as a functional object and a sculpture
But mere color is not enough without a bold shape. The latter is demonstrated by unique wall mirrors like
RONDO
,
OKO
, and the proudly standing sculpture-like partition wall
SONAR
. The matte narrative from
Cotton Candy Collection
manifests itself through bionic shapes of Zieta consoles. To top it all, there's a neon twist added by the iconic
PLOPP
stools and
CHIPPENSTEEL chair.
Zieta Studio has instinctively followed the principles of the circular economy for years, due to its process-based approach to designing and completing in-house production. The essence of design is fuelled by its parametric dimension. Process automation is implemented, and new generative technologies are used, maximizing material and human potential and minimizing the consumption of energy and virtual data. The synergy of innovative solutions and fascination with material delivers one-of-a-kind, durable, and functional objects meant to last for generations.
We encourage you to attend and follow the ICFF as a unique opportunity to witness the latest trends and innovations in contemporary furniture and lighting design, and to be inspired by the limitless possibilities of creative expression in the ever-evolving world of design.
The ICFF provides a platform for designers, manufacturers, and enthusiasts to exchange ideas and inspiration, and celebrate the art and expression of design. The event fosters a creative and dynamic atmosphere, promoting innovation, sustainability, and global design perspectives. Zieta Studio is pleased to take its place at the table, widening its professional network and global reach.
The great news is that with the very beginning of the fairs we were awarded in the category of decorative accessories and for this reason we are very pleased.