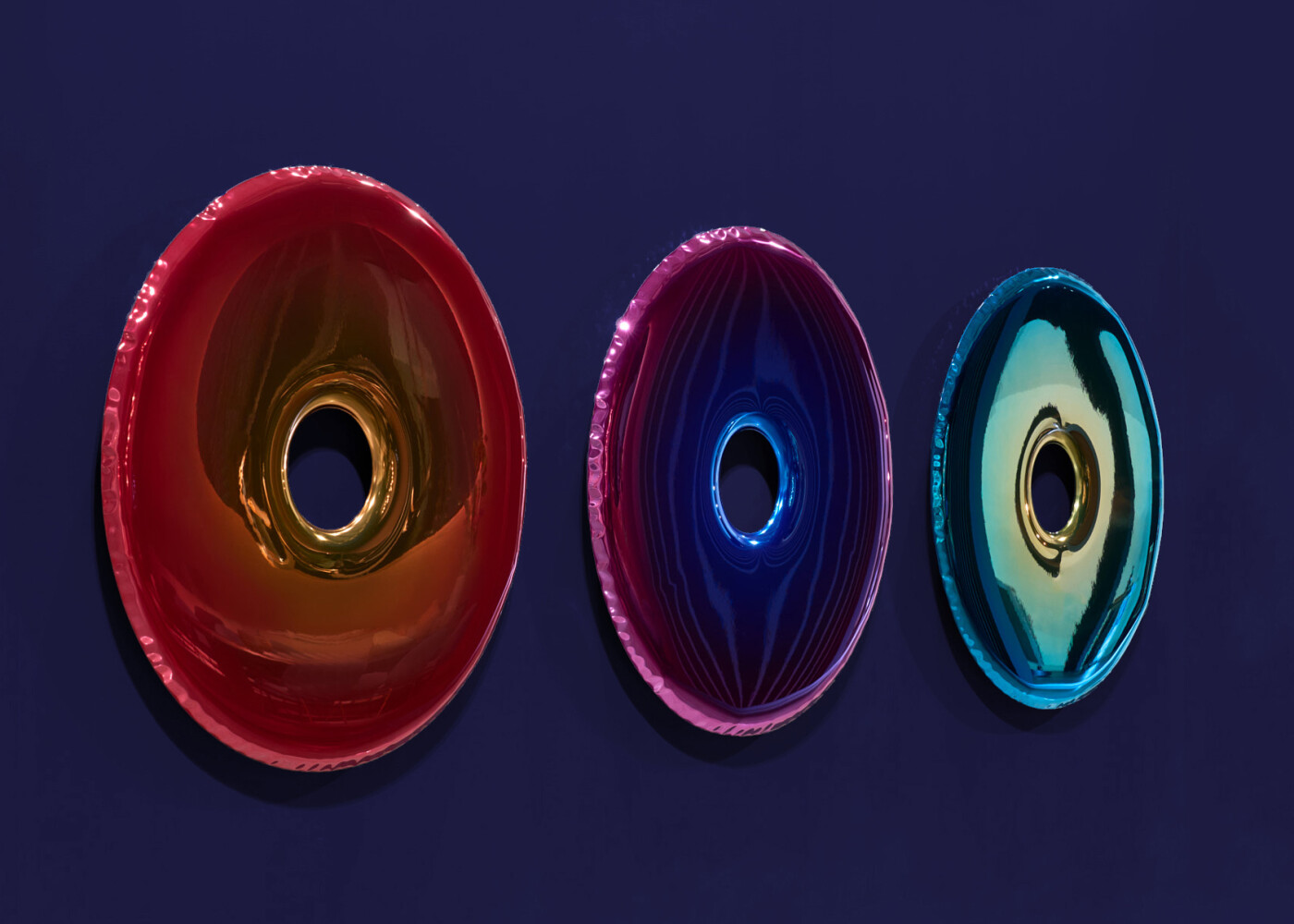 We call ourselves either technologically-minded artists or engineers/technologists who are uniquely sensitive to beauty. As a result, we constantly experiment with the properties of metal and create strikingly beautiful, innovative and unique objects for people who love design with a story behind it.
Magnetic nebula hues
After last year's successful presence during the BDNY, we're unraveling new threads on the topic of bold encounters with color. We're presenting a selection of Zieta Studio classic shapes in new, magnetic interpretations. This year's premieres are driven by the magnetic colorization of Zieta mirrors. We've expanded the Transitions Collection, introducing Helix Nebula, a concept of cosmic gradient finishes inspired by the celestial hues of the actual nebulas.
>>> BDNY
The experimentals
Zieta Studio is a space where we run a sort of hybrid design-development-research-production machine. It is a place where technology meets art, design intertwines with research into materials science and engineering, and flat metal membranes are inflated into three-dimensional objects.
Iconic manifestos
Along with the sculpture-like metal mirrors, we're sharing our concept of consoles and seatings - including the iconic PLOPP stool. This "Polish Air-Pumped Folk Object" manifests our proprietary FiDU technology of deforming metal since 2008 and has been exhibited in over 20 museums worldwide, including the Centre Pompidou in Paris, Vitra Design Museum and Denver Art Museum.
into narrow channels of the wing tissues, as a result of which the wings change their size and characteristics- they become a stable construction. We use a similar process of "pumping" metal sheets into 3D forms, and we refer to it as a volumetric expansion.
In nature we trust
We are truly inspired by bionics, which we treat as our encyclopedia. We carefully observe and analyze the complexity of various natural processes and mechanisms. The FiDU technology itself resembles the process in which a dragonfly extends its wings by pumping the body fluid
Circular potential
The PLOPP stool gives the best picture of the potential of our FiDU technology, which allows us not only to reduce the material, energy and virtual data consumption but also create beautiful, durable, and sustainable objects. We work with natural alloys, which can be processed repeatedly with almost no loss of quality.
Join us for this exceptional encounter with bold color and innovative technology.
Meet us at our booth #1257.
See you in NYC.
For generations to last
Zieta Studio objects will not get old - neither technologically nor functionally. And it is only a conscious decision to reprocess them into, for example, a metal sheet, that can complete the circular mission. But above all, we can treat them as collectible goods that are made to last for generations.