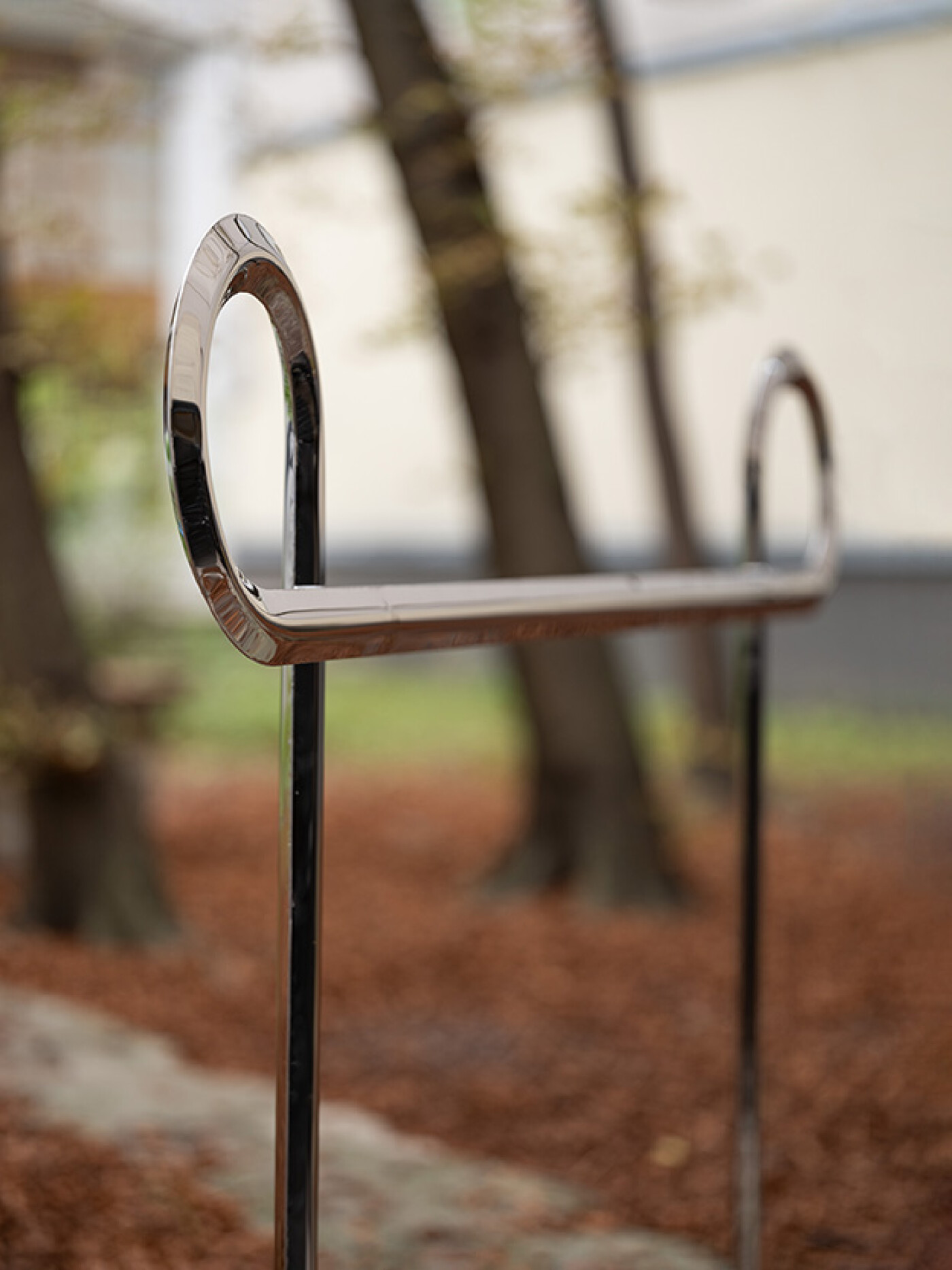 Transformation of Function into Form

In the Raster Sculpture Garden in Warsaw, the familiar form of the rug-beating frame (trzepak) in Polish courtyards is clothed by Oskar Zięta in a new guise: Trzepak 4.0. A modern and novel figure. A figure filled with air. A figure not yet deformed. A figure that is and will remain an experiment.

The TRZEPAK (rug-beating frame) is a focus of backyard meetings in Polish memories. An object whose primary function was lost amid children's acrobatics, exercises and serious conversations. The rug-beating frame is a symbol of carefreeness. The trzepak is an emotion. The trzepak is a cherished memory.
Oskar Zięta—architect, designer and artist—combines in his works a modernist fascination with technology and a passion for crafting novel forms with a postmodern sense of humour. Zięta's starting point for his creations is the material and its intrinsic characteristics. His proprietary FiDU technology enables the production of astonishing three-dimensional objects, sculptures, and even architectural elements from thin sheet metal. The cut shapes are welded together, and then, akin to balloons, inflated under pressure.
The solution proposed by Zięta represents a brilliant technological innovation, allowing for the creation of exceptionally lightweight yet durable objects, while simultaneously unlocking an extraordinary artistic potential. The beguiling simplicity of this method makes it tempting to experiment with utilitarian items as well as artistic objects. It facilitates mass production while preserving the individual traits of the items, because identical forms never inflate in precisely the same manner, and the unique properties of the metal offer nearly infinite possibilities for surface treatment and colouration.
The starting point for the series of steel sculptures realized in the Raster Garden was a metal rug-beating frame (trzepak) that had stood there "forever" but had long been unused. Zięta's exercises transmute this deeply rooted object from our backyard culture into a realm of abstract forms—ethereal and surreal. Gleaming, inflated like balloons, they are a reflection of gymnastic figures, somersaults and spins, functions that trzepaki often served more frequently than their originally intended purpose.
Zięta has not only established a globally recognized design brand and manufacturing company but has also crafted a distinctive form that is recognizable at first glance, a sort of creative perpetual motion machine. He intriguingly bridges two disparate disciplines—design and art—injecting into the latter previously overlooked qualities: technological innovation, a profound understanding of materials, and unbridled formal mannerism.
"The project takes the figure of a courtyard rug-beating frame as its starting point and uses it to explore the surprising space between a functional garden object and an abstract, futuristic spatial form."
Zięta is more intrigued by the fantastical nature of the objects that surround us than their utilitarian dimension, emphasizing the potential for engaging with imagination and memory. His mirror-surfaced objects capture the beguiling superficiality of design while embodying the uncompromising selflessness of art. Iconic and reflective, they seem to combine apparently irreconcilable yet highly contemporary desires: for a more spectacular life and for art as a visual sensation, liberating through the play of pure forms.


~ RASTER GALLERY ABOUT THE STUDY
A wholly different but linguistically related translation is the sculpture GENERATIONS in Zielona Góra. It imparts new three-dimensional meanings to the flat geometry of Marian Szpakowski's bas-relief, translating them into the language of generative design and FiDU technology.
Learn more about the GENERATIONS sculpture >>>
Zięta resurrects old forms and ideas, infusing them with a fresh, often provocative expression. The steel with which the artist primarily works is remarkably malleable and receptive, thanks to Zięta's in-depth study of the material. The polished material becomes a mirror-like surface that reflects the surrounding environment. Sculptures placed outdoors become mirrors for greenery, the sky, and observers. They beckon for close encounters—especially during this autumn, beneath the courtyard rug-beating frames in the Raster Gallery Sculpture Garden in Warsaw.
Oskar Zięta redraws, modernizes, and translates forms into his own FiDU alphabet. Such translations can be observed in the construction of the arched pavilion NAWA in the city of Wrocław. Heavily leveraging the historical context of the location, the artist expanded the definitions of arches in sculpture and architecture into FiDU arches. Steel, deformed by air, exquisite and stable.
Learn more about the NAWA pavilion >>>