When Cassina began producing the Superleggera chair designed by Gio Ponti in 1957, the experiments with strength and lightness of the structure belonged primarily to the world of architecture. Such creators as Buckminster Fuller and Jean Prouve raised in their projects the idea of ​​the primacy of construction quality over form. In 2019, Oskar Zięta decided to face the challenge of lightness again in the design of a functional product. The result of his research is Ultraleggera – a chair that amazes with its featherweight and attracts with its charm.
How to represent lightness? How to combine the material form with the ease of use? How to ensure that lightness translates into neutrality towards the natural environment? The Ultraleggera chair answers all these questions. It is a synonym of an ecological, easy-to-recycle piece of furniture, which is also extremely user-friendly in a direct contact.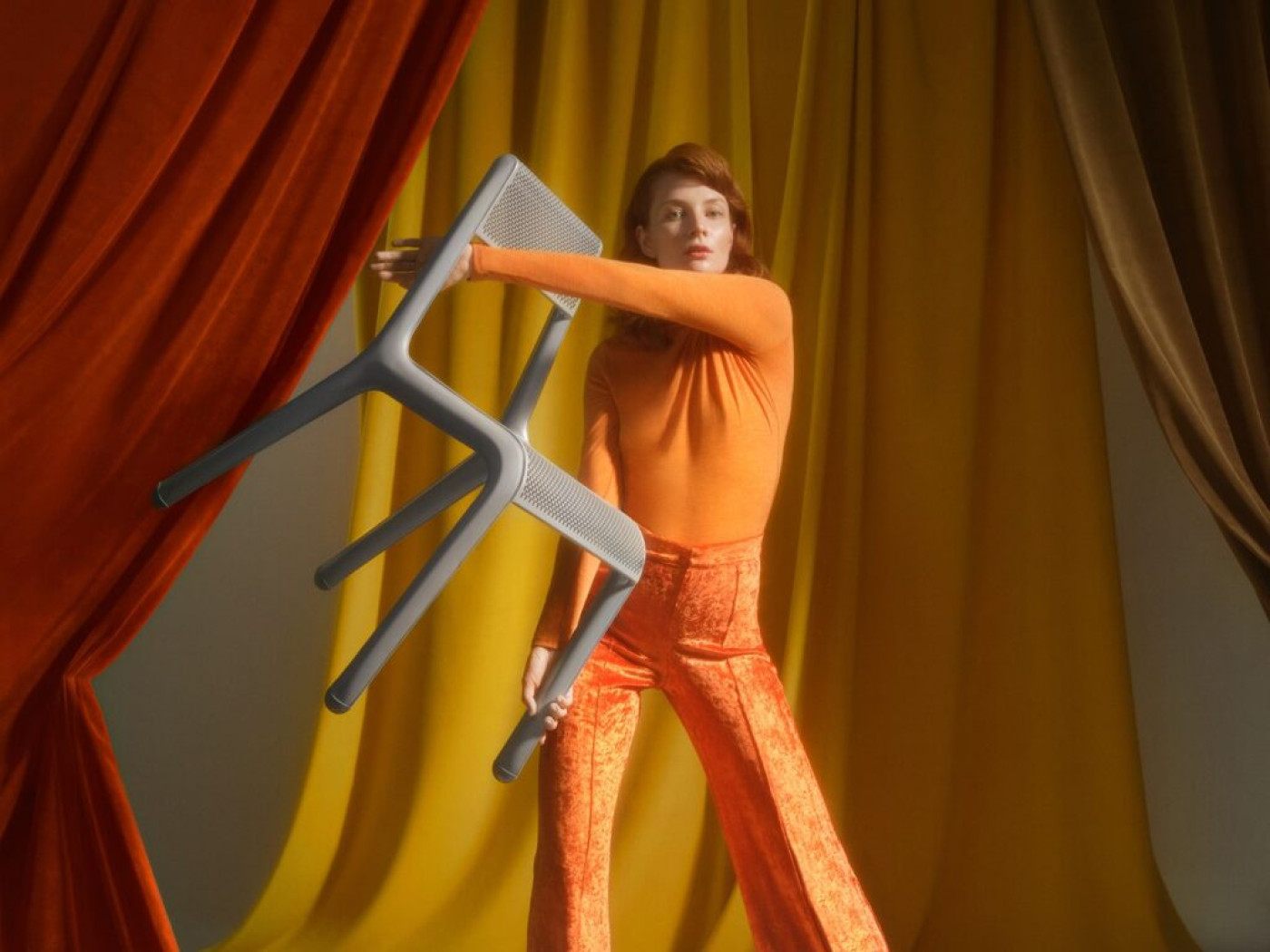 The surprise effect that comes after picking up the Ultraleggera for the first time brings enough satisfaction to justify many days and hours spent on prototyping and subtracting more grams of aluminum. This reductionist approach is also visible in the minimalist shape of the chair.
In Ernest Wińczyk's photos, the chair is shown in three different finishes: anodic black, anodic natura and white matt, in three arrangements featuring protagonists of different generations. It is a story of how the Ultraleggera was created to be treated as a companion for all activities – from childhood to the advanced age. Light and therefore easy to use, great even just for fun. It is a chair that inspires and which, thanks to its simple form, becomes an inseparable part of life – an extension of the body. The models' poses and dance gestures full of tenderness show the multi-functionality, but also the poetic character of this product. The scenes with a child refer to the iconic photograph by Giorgio Casali, where a boy easily lifts the Superleggera chair with a manual scale.
Ultraleggera, a chair entirely made of aluminum, is characterized by simplicity and stability inspired by constructions from the natural environment that have been optimized in the process of evolution, such as delicate but extremely strong dragonfly wings, durable chitinous beetle shells or light and stable pneumatic bird skeletons. This is a breakthrough project with which Zięta redefines the concept of timelessness and ecology in design. The exceptionally light chair weighing less than 1660 g is another mono-object next to the famous Plopp stool, a piece of furniture that is a manifestation of a modern approach to creating things in the era of overproduction. In the scenes arranged by Ernest Wińczyk, shrouded in soft light, it is the main protagonist, an element of everyday life, which gives it an extraordinary character.
Creative Directors: Ernest Wińczyk & Koka Skowrońska
Photographer: Ernest Wińczyk
Client: Zieta Studio
Models: Nina Starkel, Pola Łangowska, Bartek Stawiński,
Gustaw Stawiński
Lighting Artist: Mateusz Skraba
Costumes Designer: Marcela Stańczyk
Costumes Assistants: Kuba Czarnotta
Set Design: Piotr Piwowar
Makeup & Hair: Kamila Jankowska
Photographers Assistants: Krzysztof Durmaj, Roch Adamczak
Studio Asistant: Karolina Gołos
Postproduction: Agata Bielska
Production Assistant: Katarzyna Sojka
Studio: Pinup Studio
Special thanks: Dekoma Fabrics, Fuji Film Poland, Pinup Studio